Death toll rises to more than a dozen after powerful Hurricane Fiona lashes Caribbean
Hurricane Fiona left more than 1 million without power in Puerto Rico amid widespread flooding and mudslides there and in the Dominican Republic as more than 20 inches of rain fell in spots and wind gusts topped 80 to 100 mph.
PONCE, Puerto Rico – At least a dozen people are now reported to have been killed in the Caribbean after powerful Hurricane Fiona lashed the region with high winds and torrential rain that led to catastrophic flooding and widespread power outages this week.
More than 1 million people in Puerto Rico were left in the dark when Hurricane Fiona's impacts overwhelmed the island's power grid on Sunday.
Since then, power has slowly been restored to some residents, but most of the island is still without power as of Thursday, according to PowerOutage.US.
HOW TO WATCH FOX WEATHER ON TV

Puerto Rico
Hurricane Fiona first crashed into the extreme southwestern coast of Puerto Rico on Sunday afternoon as a Category 1 hurricane, blasting parts of the island with 70- to 80-mph winds and rainfall totals that measured in feet.
The town of Ponce, on the southern coast of Puerto Rico, reported a wind gust of 103 mph as Hurricane Fiona hugged the coastline.
The storm led to a complete failure of Puerto Rico's power grid and plunged the island's nearly 1.5 million customers into darkness.
In addition to the blackout, torrential rain from Hurricane Fiona caused "catastrophic flooding" across Puerto Rico, the National Hurricane Center said.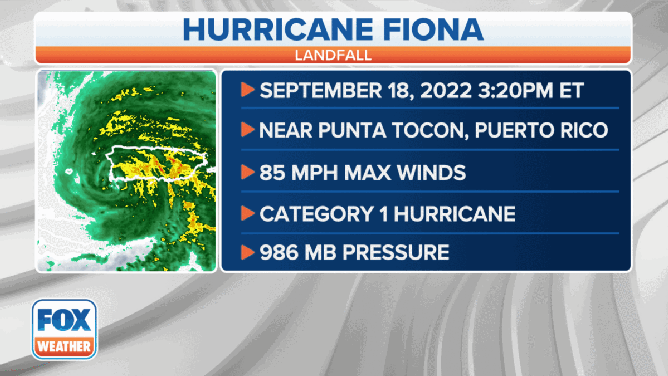 The National Weather Service office in San Juan issued a Flash Flood Emergency for parts of Puerto Rico on Sunday night as the catastrophic flood event produced 2 to 4 inches of rain per hour. Heavy rain led to mudslides and landslides as well.
Dramatic photos posted to Twitter by the Puerto Rico National Guard showed rescue attempts in areas of the island that had been ravaged by flooding this week.
The National Guard had urged people in low-lying areas to evacuate the area and get to higher ground to escape the flooding.
One image also shows a man clinging to a cement pillar to prevent being swept away by the raging rapids. Another photo thankfully shows the unidentified man's rescue.
According to a report from Reuters, at least eight deaths may be attributed to Hurricane Fiona's fury, including a four-month-old infant.
Torrential rain also triggered a landslide near the island's capital of San Juan.
Officials said the landslide swallowed a large fence, vegetation, a playground and part of a parking lot.
Puerto Rico's Health Department said they are investigating at 16 deaths that could be connected to the storm.
FOX Weather multimedia journalist Will Nunley was in Ponce, Puerto Rico, as Hurricane Fiona swirled by to the south and west.
"This is an ongoing emergency," Nunley said while on the ground in Ponce. "We don't even have a full scope yet of the true damage to this island. Because emergency crews by large have not been able to get out."
In Utuado, a bridge over the Guaonica River was swept away by raging floodwaters. 
The temporary bridge had been installed after the previous bridge washed away in 2017 during Hurricane Maria.
Dominican Republic
After making landfall in Puerto Rico, Hurricane Fiona also barreled toward the Dominican Republic and made landfall there early Monday morning.
Hurricane Fiona was slightly stronger for its second landfall in the Dominican Republic, with maximum sustained winds estimated at about 90 mph – still a Category 1 hurricane. The Punta Cana International Airport clocked a 79-mph wind gust near the time of landfall in the pre-dawn hours of Monday.
Video recorded in the Dominican Republic on Sunday and early Monday morning showed the fury of Hurricane Fiona's winds as the storm spun closer to the island of Hispañiola.
Another video posted to social media showed heavy rain and strong winds blowing through Punta Cana.
That region sits on the country's eastern coast and is a popular tourist destination for people around the world.
Guadeloupe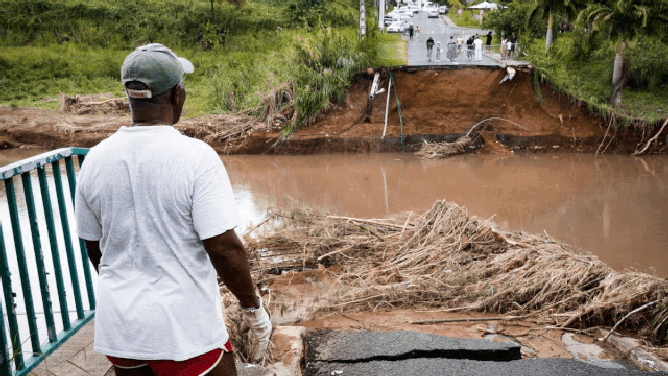 The island, home to around 400,000 people, reported a wind gust over 50 mph and rainfall that reached over a foot as Hurricane Fiona trekked from the Atlantic into the eastern Caribbean.
The island's Basse-Terre district was particularly hard hit, with at least one man being swept away to his death by raging floodwaters.
Officials toured the damage on Saturday and said torrential rainfall caused waterways to spill out of their banks, and roadways were blocked by debris.
Photos from the island showed mud covering streets and damage to homes and vehicles.