April ranked below average for severe weather despite continuously active month with multiple outbreaks
There were 2,112 combined reports of tornadoes, damaging winds and large hail last month, well below April's long-term average of 2,760 combined reports
While April 2022 was continuously active with severe weather, featuring significant severe weather events throughout the month, April as a whole still ranked below average for total severe weather activity.
According to Shane Brown, senior weather data specialist at FOX Weather, there were 2,112 combined reports of tornadoes, damaging winds and large hail last month, well below April's long-term average of 2,760 combined reports.
Eight days had above-average severe weather activity, five of which far exceeded the daily average. The busiest day for severe weather was April 13, which alone had 342 reports – the most of any day so far in 2022.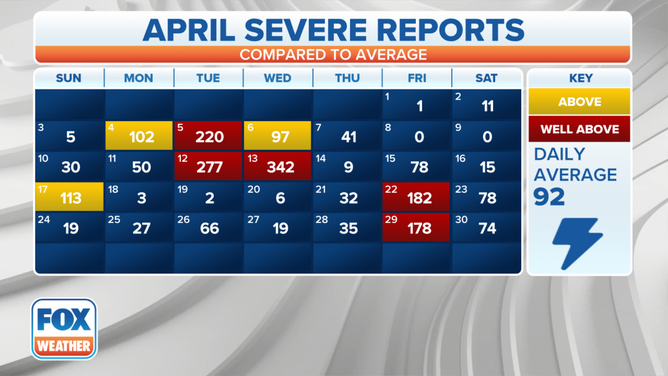 April 13 was part of a multiday severe weather outbreak that tallied 735 total reports, including 68 reports of tornadoes, 430 reports of damaging winds and 237 reports of large hail.
Unlike previous months this year, the weekends in April were mostly quiet, with the busier severe days occurring on Tuesdays, Wednesdays and Fridays.
HOW TO WATCH FOX WEATHER ON TV
Tornadoes
Following a record-breaking March for tornado reports, April – which is typically the second most active month for tornadoes – finished just slightly below the long-term average, with 242 reports of tornadoes. An average April would have 288 such reports.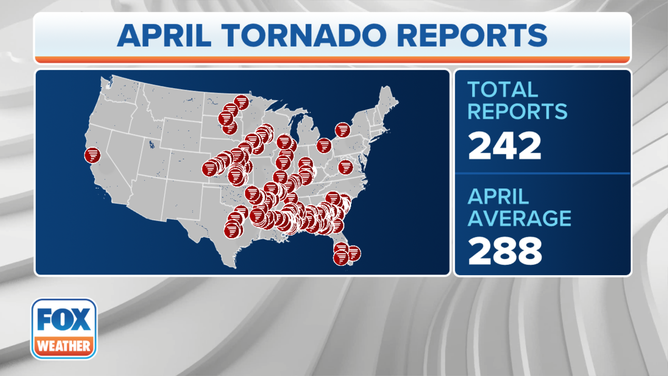 At least 27 states had a tornado report, the bulk of which occurred in both the traditional "Tornado Alley" in the Plains and the other tornado hotspot in the South. Rogue tornado reports were also made in California, Ohio, Virginia and New York.
HERE'S WHERE TORNADOES ARE MOST LIKELY TO OCCUR IN EACH MONTH
The calendar shows six separate tornado-outbreak events, which we define as single days with at least 10 tornado reports. The busiest tornado day was April 5, which had 76 reports.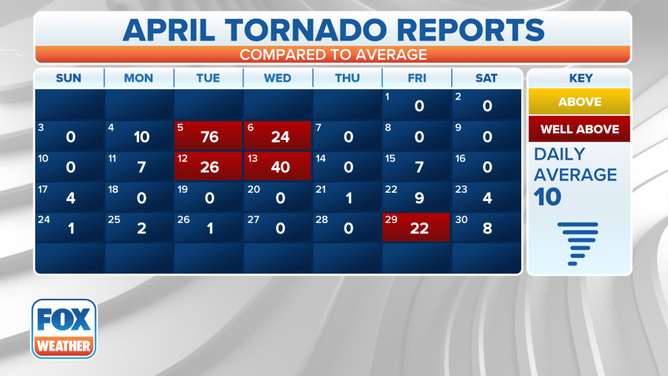 The strongest tornado of the month was an EF-4 in Pembroke, Georgia. The tornado was responsible for one fatality and 12 injuries as it swept entire homes off their foundations, flipped cars and snapped concrete reinforced light poles at their bases.
DEADLY GEORGIA TORNADO BECOMES STRONGEST OF 2022 WITH 185-MPH WINDS
In total, 193 tornadoes were confirmed by the National Weather Service, including 17 EF-2s and five EF-3s.
Just shy of 600 tornado reports have been made so far this year, which is above the average to date of 500 such reports. Mississippi continues to lead the nation in tornado reports, with 109 through the end of April. Texas and Alabama round out the top three, with 80 and 76 reports, respectively.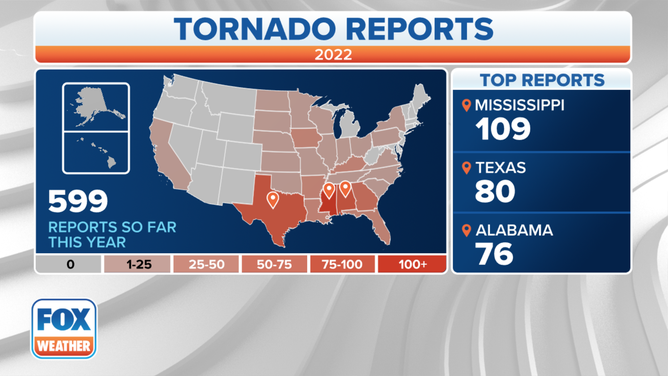 Wind
More than 1,000 reports of damaging winds were tallied in April, which is right on par with what we would expect to see in the month.
The strongest report made was a booming 91-mph gust clocked by a personal weather station in Davenport, Iowa, on April 29 as a round of powerful thunderstorms rolled through the Midwest.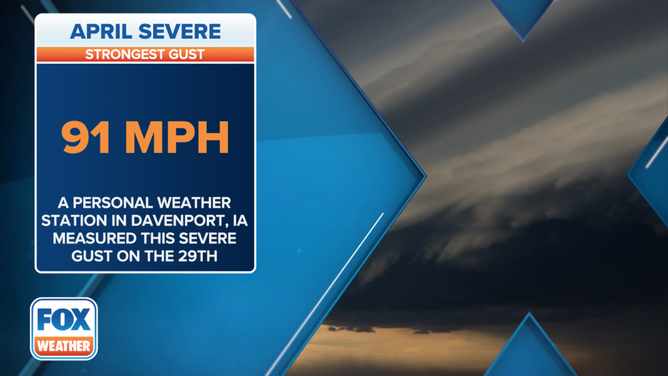 Nearly 2,000 damaging wind reports have been made so far in 2022, which is right in line with an average year to date. Mississippi leads the U.S. with a whopping 279 reports of damaging winds. This is followed by Alabama and Texas, with 160 and 125 reports, respectively.
BUSINESSES AND HOMEOWNERS ARE NOT FINANCIALLY COVERED FOR RECENT WEATHER EXTREMES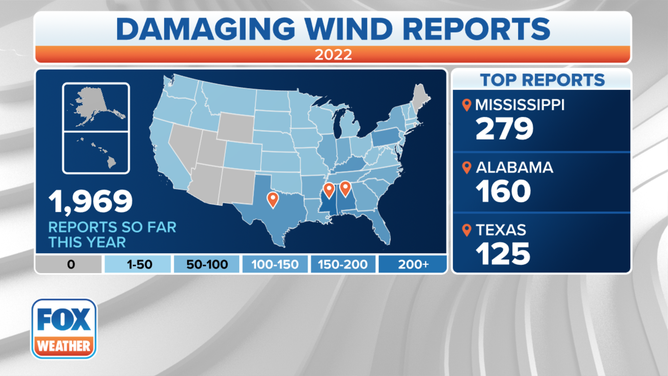 Hail
Almost 730 reports of large hail were recorded in April, making it by far the busiest month for hail activity this year.
However, the year as a whole still ranks below average for total hail activity, with 1,008 total reports compared to the average of 1,591 hail reports through the end of April.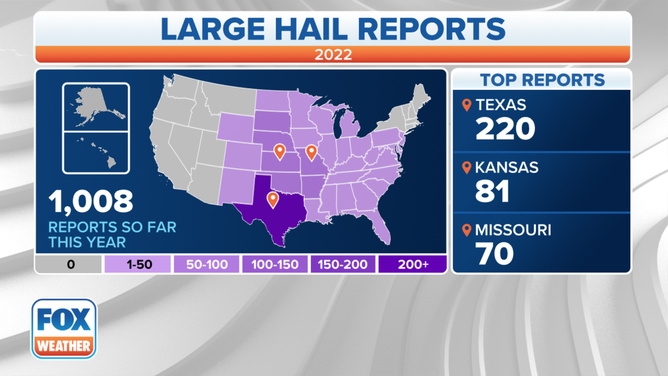 The largest stone was a greeting card-sized 5.5-inch monster hailstone that fell in Salado, Texas, on April 12. This tied for the fourth-largest hail in Texas history. The record in the Lone Star State is a 6.4-inch stone from April 2021.
HAIL LARGER THAN GRAPEFRUITS FALLS OVER CENTRAL TEXAS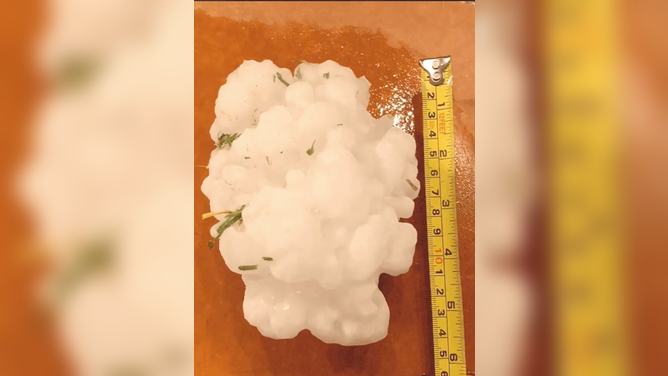 Flash flooding
More than 150 reports of flash flooding were tallied in April, including the busiest day for flash flooding so far this year: 45 reports on April 13.
CLICK HERE TO GET THE FOX WEATHER UPDATE PODCAST
The good news is that we continue to lag behind the long-term average, as the 407 total reports of flash flooding so far this year is well below the year-to-date average of about 600 such reports.
Alabama leads the U.S., with 80 reports of flash flooding through the end of April. Mississippi and Missouri round out the top three, each with 45 reports.