Deadly Georgia tornado becomes strongest of 2022 with 185 mph winds
The Pembroke tornado touched down on April 5, causing 12 miles of damages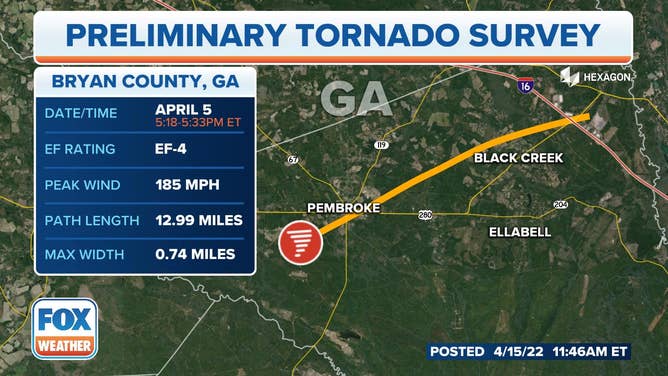 BRYAN COUNTY, Ga. – After an extensive investigation, officials at the National Weather Service in Charleston, South Carolina, said Friday that the tornado that ripped through the town of Pembroke, Georgia, on April 5, killing one person, was a violent EF-4 tornado, the strongest so far this year.
The tornado was part of a severe weather outbreak with damaging thunderstorms and deadly tornadoes across the Deep South and Southeast. 
According to the NWS preliminary report, the tornado started west of the Bryan County courthouse, uprooting trees and damaging buildings. Then, the twister moved northeast, damaging a home on Stubb Farm Road before moving through a subdivision and the Black Creek Golf Course. This is where the tornado reached its maximum intensity with 185 mph winds and ¾ miles wide. 
TWISTERS CAUGHT IN ACTION: 7 VIDEOS TOO CLOSE FOR COMFORT
According to NWS officials, as the tornado continued northeast, it destroyed several mobile homes on Homestead Drive, killing a woman and injuring several others.
According to the report, the Pembroke tornado finally died off east of Oracal Parkway Circle. Its path is estimated to be 12 miles long.
Tornadoes are rated on the Enhanced Fujita Scale, with EF-0 being the weakest with 65 to 85 mph winds and violent tornadoes rated EF-4 with wind speeds above 166 mph. The rarest and strongest tornadoes with winds above 200 mph fall into the EF-5 category. 
Before the Bryan County tornado, a March twister in Winterset, Iowa, was the strongest of the year, with 170 mph peak winds.
HOW TO WATCH FOX WEATHER ON TV
The April 5 tornado is the strongest since the mid-December tornado outbreak in western Kentucky, including the EF-4-rated tornado that destroyed much of the town of Mayfield, Kentucky. The Mayfield tornado traveled more than 165 miles with peak winds of 190 mph. 
According to NWS officials, a damage survey team cannot designate a tornado stronger than an EF-3 until a national team reviews the damage photos. The Pembroke, Georgia, tornado was initially given an EF-3+ rating until NWS experts could review all the information.