These 7 videos tell the stories of this week's tornadoes across the South
Watch videos that describe the destruction wrought by deadly tornadoes in the South this week.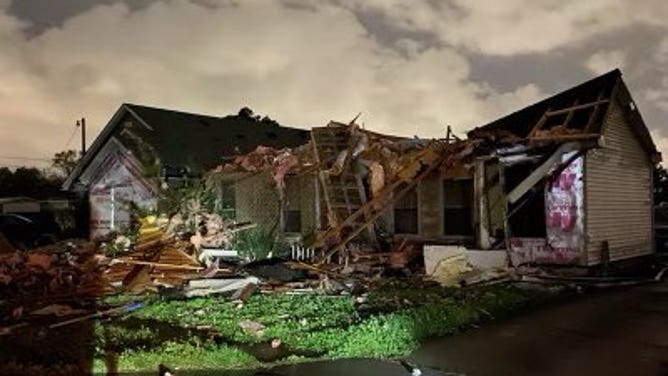 Two are dead and many more injured this week after tornadoes tore across Texas, Oklahoma, Louisiana, Mississippi and Alabama. Governors declared States of Emergency as countless homes were destroyed.
FOX Weather compiled seven videos to describe the power that ripped down walls, the force that tossed cars like toys, the fear of those fleeing harm and the shock of those cleaning up the aftermath.
[FOX Weather is live with the FOX Weather Wire covering live updates on the multiday outbreak threatening the South, impacting millions of Americans. Click here for live updates.]
A storm chaser caught this truck not quite outrunning the twister in Elgin, Texas. Watch as winds roll the vehicle over, and the teen driver is still able to drive away.
Drone video captured the moments the Elgin, Texas tornado pulled homes from their foundations and sent roofs flying in pieces.
HOW TO WATCH FOX WEATHER ON TV
Terrified shoppers flee a tornado near the parking lot as a Walmart employee tries to get people to safety in the store.
There was no school for students in Jacksboro, Texas, Tuesday after a tornado ripped apart the gym.
FOX Weather's Hunter Davis spent the morning combing through what was left of a section of Crockett, Texas.
Watch a multi-vortex tornado tear into the Greater New Orleans area.
Residents of Arabi, Louisiana emerged from their safe places to find parts of their neighbor's home in the front yard.