Florida sees highest number of unprovoked shark attacks on Earth in 2022
According to the data, there was a total of 57 unprovoked attacks in 2022, most of which occurred in the United States and Australia. Of those reported unprovoked shark attacks, five were fatal. That's down from nine deaths in 2021 and 10 in 2020.
Florida once again reported more shark attacks than anywhere else in the world, new data released by the University of Florida's International Shark Attack File shows, while the U.S. and Australia saw the most unprovoked shark attacks in 2022.
That statistic sounds terrifying, but the ISAF reports that overall the number of unprovoked shark attacks worldwide decreased last year, trying with 2020 for the fewest number of bites in the last 10 years.
GROUNDBREAKING RESEARCH SHOWS GREAT WHITE SHARKS MAY CHANGE COLOR TO BETTER HUNT THEIR PREY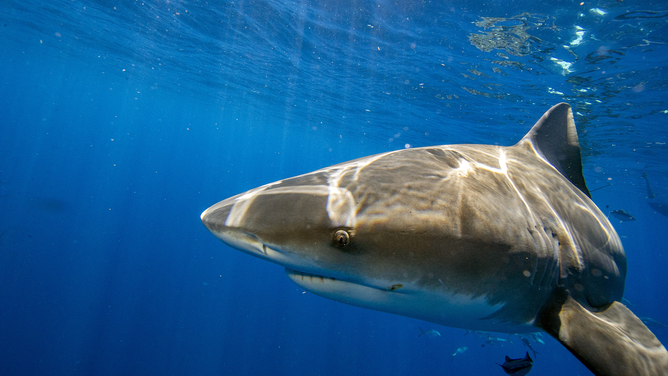 According to the research, there were a total of 57 unprovoked attacks in 2022, most of which occurred in the United States and Australia. 
Of those reported unprovoked shark attacks, five were fatal. That's down from nine deaths in 2021 and 10 in 2020.
The ISAF reports there have been an average of 74 unprovoked shark attacks around the world every year since 2013, with 2020 being the exception because of COVID-19 travel restrictions and beach closures.
In addition, the reduction in the number of unprovoked shark attacks last year could also be due to the overall global decline of shark populations. 
According to a recent study, "immediate action" is needed to protect coral reef sharks and rays worldwide, as nearly two-thirds of species are being threatened with extinction due to overfishing and climate change.
SEE THE GREAT WHITE SHARK CAUGHT BY 12-YEAR-OLD BOY IN FLORIDA
"Generally speaking, the number of sharks in the world's oceans has decreased, which may have contributed to recent lulls," Gavin Naylor, director of the Florida Museum of Natural History's Florida Program for Shark Research, said in a news release."It's likely that fatalities are down because some areas have recently implemented rigorous beach safety protocols, especially in Australia."
The report, however, doesn't include shark attacks that may have been prompted by factors including fishing lines cast in the direction of sharks or the presence of chum in the water. The ISAF reports an additional 32 shark attacks in 2022 that meet the criteria for having been intentionally or unintentionally provoked.
"Unprovoked bites give us significantly more insight into the biology and behavior of sharks," Naylor said in the release. "Changing the environment such that sharks are drawn to the area in search of their natural food source might prompt them to bite humans when they otherwise wouldn't."
WHERE DO MOST SHARK ATTACKS HAPPEN IN THE US?
Florida: Shark bite capital of the world
The ISAF says the U.S. had the highest number of shark attacks last year, and Florida had more reported bites than anywhere else on the planet.
The good news: None of Florida's 16 unprovoked shark attacks was fatal, but two required medical treatment that required amputations.
And one woman who was swimming in the Dry Tortugas off the Florida Keys was attacked by a lemon shark, which doesn't attack humans that often. In fact, the attack marked only the 11th known unprovoked attack from that species, according to the ISAF.
HUSBAND REPORTS WIDE MISSING AFTER SHARK ENCOUNTER WHILE SNORKELING IN HAWAII
Last year, the United States only reported one fatal shark attack.
That attack occurred last year when a snorkeler went missing along Keawakapu Beach in Maui, Hawaii.
Internationally, ISAF reports nine unprovoked shark attacks in Australia, and single attacks were also reported in New Zealand, Thailand and Brazil. There were also two fatal shark attacks on the same day in Egypt's Red Sea.
South Africa also reported two fatal shark attacks last year.
SUMMER OF THE SHARK: TIMELINE OF SHARK ATTACKS, SIGHTINGS IN NEW YORK, NEW JERSEY PUTTING BEACHGOERS ON EDGE
Shark sightings, attacks close New York, New Jersey beaches
New York and New Jersey beaches experienced a string of shark sightings and attacks last summer that put beachgoers on edge. 
The ISAF says New York saw a record eight unprovoked shark attacks in 2022, with six of those being confirmed. The state only saw a total of 12 reported unprovoked shark attacks before last summer.
Naylor says most shark attacks last year were likely from sand tiger sharks.
"The Gulf Stream's eddies ebb and flow each year. Sometimes they can come very close to shore, bringing nutrients and fish with them. The juvenile sand tigers will follow the fish, which in some cases leads to an uptick in encounters with people," he said in the release. "But local perceptions of shark bites rarely map to global statistics. If you zoom out, these eddies unpredictably break off from oceanic currents all over the world in haphazard ways."
STAY SHARK SMART: WHAT TO KNOW WHEN YOU HEAD INTO THE WATER
How to protect yourself from shark attacks
Last summer, FOX Weather correspondent Nicole Valdez visited Massachusetts, a popular tourist destination and the home to the infamous movie "Jaws", to talk to researchers about shark interactions.
The Atlantic White Shark Conservancy says they know of less than 10 shark attacks around Cape Cod since 1937, and it's because humans are not on the menu, despite what the popular movie might suggest.
The nature conservancy says that there are a few things swimmers can do to try and avoid getting too close and personal with one of these sharks:
Stay close to shore where you can hear any warnings if they go out
Swim in groups. Don't go out alone
Avoid marine life. Seals and fish that can be food for sharks
Avoid dark, murky water you can't see through
Always pay attention to flags or signs - a purple flag means sharks frequent that area
Don't splash around
And most importantly, listen to the lifeguards if they warn you to get out of the water. Lifeguards get these alerts firsthand from researchers and are in charge of deciding if and what action to take, if there could be a shark nearby.