See the great white shark caught by 12-year-old boy in Florida
Campbell Keenan and his family were visiting Florida from Massachusetts. They were on a sport fishing charter boat off the coast of Fort Lauderdale when Keenan reeled in a catch of a lifetime.
FORT LAUDERDALE, Fla. – On Tuesday, Campbell Keenan was fishing off the coast of south Florida when he caught a great white shark.
The 12-year-old Massachusetts boy was visiting Fort Lauderdale when he experienced this catch of a lifetime.
Videos of the moment show Campbell sitting strapped into a chair on the sport fishing charter He was holding onto a large reel that was also strapped to his body.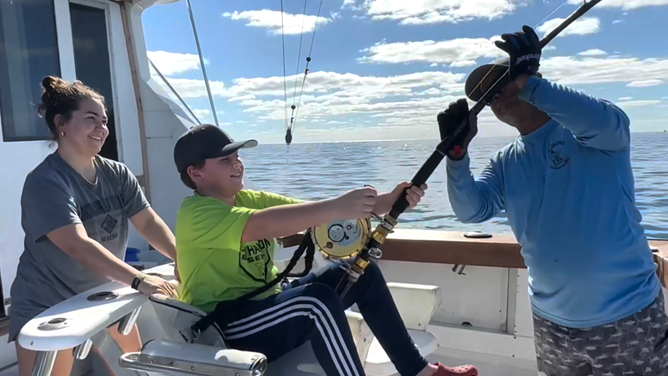 A charter employee could be seen assisting Campbell, as the reel bent and pointed down toward the dark blue water.
Campbell fought with the fish for about 45 minutes, and then he was able to bring up his catch.
From the water emerged one of the most iconic carnivores on the planet: a great white shark.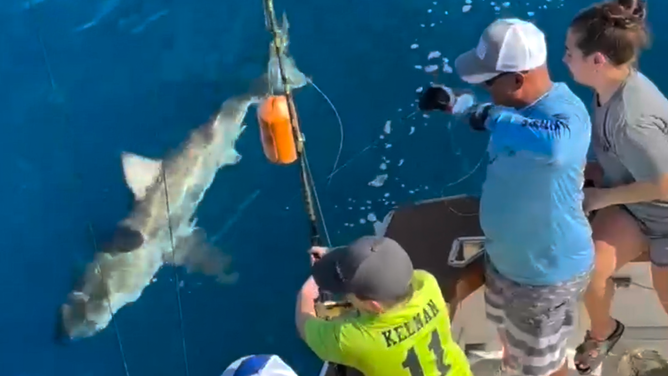 MEGALODON SHARK TOOTH DISCOVERED BY 9-YEAR-OLD GIRL IN MARYLAND
The shark was tagged and measured at about 10.8 feet long.
As the family was in South Florida for a hockey tournament for Campbell's sister, they named the shark "Jan Jan" after his sister's hockey coach, who was also in the boat when the shark was caught.