Hurricane Lee's dangerous surf puts Florida beaches on shark alert, expert warns
Shark researcher warns beachgoers to expect sharks in the water for the next few days. Hurricane Lee drove the bait fish in to shore and the sharks followed.
Hurricane Lee is expected to bring dangerous surf to Florida's coastline – and with that, comes the threat of sharks. 
After two people were bitten by sharks within 24 hours at two Florida beaches this week, Gavin Naylor, director of the University of Florida's shark research program, told FOX 35 News Orlando that people should stay vigilant about sharks at the beach in the coming days. 
TROPICAL STORM WARNINGS EXPANDED ACROSS NEW ENGLAND AS HURRICANE LEE MAKES FINAL APPROACH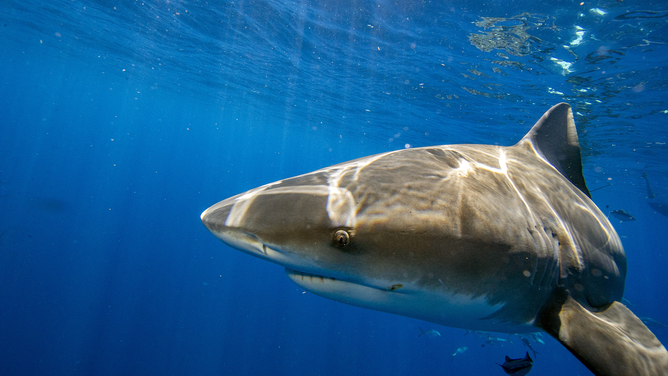 Hurricane Lee, currently located about 200 miles west of Bermuda, could affect the current, which would, in turn, push fish closer to shore. That means sharks won't be too far behind, Naylor said. 
Bill Eveland was surfing Monday afternoon in Satellite Beach when he noticed pods of mullet swimming nearby. Even though his friends went back to shore, the surfer stayed out for one more set – and he was caught in the middle of a feeding frenzy and was bitten in the back. 
HURRICANE LEE LIVE TRACKER: PROJECTED PATH, SPAGHETTI COMPUTER MODELS, CONE OF CONCERN AND MORE
DRONE VIDEO CAPTURES SHARK ATTACKING BOAT OFF FLORIDA COAST
Eveland shared some advice for surfers and beachgoers who plan to hit the ocean this week and weekend. 
"When those mullet pods are coming down the beach, your best bet is to get out and wait for them to pass, and then you can get back out and catch some more waves," he said. 
Hurricane Lee could bring surf up to 7 to 8 feet at its peak along the Florida coast.