Drone video captures shark attacking boat off Florida coast
A shark off the Florida coast repeatedly attacked a fishing boat, tearing away part of the motor.
PALM BEACH, Fla. – A man fishing off the coast of Palm Beach was shocked when his boat started "shaking like an earthquake." He looked overboard, and a shark was attacking his boat motors. His friend caught it all on video.
"I didn't think a shark could actually shake the boat like that. The boat was shaking like a bag of popcorn. Literally, I was shaking like an earthquake. I was like, 'What? What's going on?'" boat owner Carl Torresson told his friend on Instagram. "I went back there, and I noticed the shark going at it. Are you kidding me? This is like a ride from Universal Studios." 
Before the attack
The friend and drone pilot was on the beach when he saw a couple of cobia fish. He called Torresson on the boat and directed him to the fish and his possible dinner, the pilot explained on Instagram.
SHARK BITES WOMAN NEAR FLORIDA PIER: "IT WAS THE PERFECT COCKTAIL FOR THE PERFECT STORM'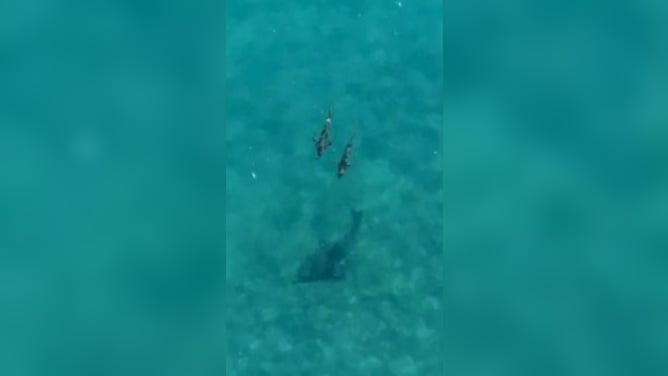 "I was following his boat with my drone, and then all of a sudden, the shark attacks him. And the shark attacked the boat five times, swam away, and then came back for more," wrote BlacktipH. "In total, the shark attacked Carl's boat eight times." 
Torreson said he originally thought the shark just grabbed the propeller. He was surprised at the amount of damage, though, when he returned to the dock and inspected it.
"It was just astronomical. The whole middle of the engine is completely ripped out," Torreson said. "The trim tab is broken."
SWIMMERS SHARE FLORIDA BEACHES WITH SHARKS MORE OFTEN THAN THEY REALIZE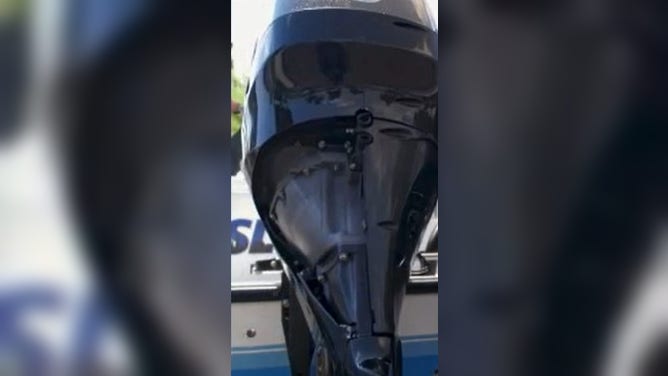 In the video, Torreson showed the teeth marks scarring the motor cover.
The friend identified the attacker as a bull shark.