Artemis 1: NASA says Friday launch 'definitely in play' after scrubbing first attempt
"You don't want to light the candle until it's ready to go," NASA Administrator Bill Nelson said of Monday's launch scrub. Engineers continue to work to resolve an issue with an RS-25 engine that halted the first Artemis 1 launch attempt.
KENNEDY SPACE CENTER, Fla. – NASA's first attempt to launch the Artemis 1 moon rocket from Kennedy Space Center in Florida on Monday hit a few snags during the countdown that caused the launch director to scrub the lift-off until the issues can be addressed and fixed.
Thousands of people have contributed to the Space Launch System and Orion spacecraft test flight, which has been more than a decade in the making.
The SLS and the uncrewed Orion spacecraft were scheduled to blast off from KSC Launchpad 39B on Monday during a two-hour window that began at 8:33 a.m. Eastern.
The weather was an issue earlier in the countdown, which delayed the fueling for about an hour due to lightning in the area. But later, technical issues would ultimately lead to the delay.

HOW TO WATCH THE ARTEMIS 1 LAUNCH
"We don't launch until it's right," NASA Administrator Bill Nelson said after Monday's launch attempt was scrubbed. "In fact, they've got a problem with gasses going on the engine bleed on one engine. You can't go. There are certain guidelines. And I think that it's just illustrative that this is a very complicated machine, a very complicated system. And all those things have to work. And you don't want to light the candle until it's ready to go."
Fueling began on NASA's Artemis 1 rocked at 1:14 a.m. Monday, which started the delicate process of loading 700,000 pounds of cryogenic fuel into the 322-foot-tall rocket. And after that brief weather delay, Artemis Launch Director Charlie Blackwell-Thompson gave crews the go-ahead to continue loading propellants into the Space Launch System rocket.
There was a hold in the countdown for a possible liquid hydrogen leak, which was quickly resolved.
But the issues didn't end there.
With just under two hours left in the original launch countdown, NASA said one of the RS-25 engines was not coming to the correct temperature, and engineers tried to find a solution to no avail.
"Our launch team was pushed today," said Jim Free, associate administrator for Exploration Systems Development Mission Directorate at NASA Headquarters. "They were working a lot of issues and working on a compressed timeline."
The countdown entered a hold around 7:30 a.m. as NASA teams continued to try and resolve the issue with the number three engine not cooling to the proper temperature before lift-off, but the hold never lifted and Blackwell-Thompson made the call to scrub the launch attempt at 8:35 a.m.
At a Monday afternoon press conference, Nelson again stressed waiting to launch when it's safe to do so.
"You make it as safe as possible, and of course, that's the whole reason for this spaceflight," he said. "To stress it and to test it to make sure it's as safe as possible."
NASA now has two other potential Artemis launch date opportunities coming up over the next several days.
The first availability for launch is at 12:48 p.m. ET on Sept. 2, and the next is at 5:12 p.m. ET on Sept. 5.
Whether the SLS launches on either of those dates still depends on resolving the issues, but NASA is hopeful that Friday is the day Artemis lifts off from Kennedy Space Center.
"Friday is definitely in play," Artemis 1 Mission Manager Mike Sarafin said. "We need time to look at the data."
If Artemis can't get off the ground on Friday or Monday, the entire SLS may need to be rolled back to the Vehicle Assembly Building, but it's unknown if that will happen at this point.
"That's getting ahead of our data reviews," Sarafin said. "We need the team to get rested and come back tomorrow."
The Artemis 1 launch forecast on Friday, Sept. 2.
(FOX Weather)
---
If NASA does take the Friday window opening at 12:48 p.m. ET, the weather is less than ideal. 
Space Force Launch weather officers are forecasting 40% favorable conditions for the 2-hour window. 
Cumulus clouds and lightning are the primary concerns.
Launch officers said that while deep layered moisture begins to drop in September for Florida, it will still be high enough to trigger early afternoon storms.
"The time of the launch window will do us no favors, as the noon to 3 p.m. timeframe will have the highest chance of storms generating along the Space Coast assuming the flow remains onshore," the 45th Weather Squadron forecast said.
Fanfare for the 42-day moon mission 
When it does launch, Orion's maiden spaceflight includes a wide orbit of the moon about 40,000 miles past the lunar surface before sweeping back around. If the test flight goes as planned, the mission will last 42 days. 
NASA and the European Space Agency have worked with private companies -- including Aerojet Rocketdyne, Airbus, Boeing, Lockheed Martin and Northrop Grumman -- to build the 322-foot rocket, Orion spacecraft and the European service module.
Airbus' Orion European Service Module program Director Ralf Zimmerman said the launch is a highly emotional moment.
"During the development of a program, you have problems to solve. You have interfaces to solve. And finally, you make it and then is the moment when it comes to the countdown," Zimmerman said. "Let's cross (our) fingers; everything works well. The tension is rising, and we are fully excited here."
Aerojet Rocketdyne engineers who built the SLS's RL-10 and RS-25 engines are most looking forward to experiencing the rumble of the liftoff in person, seeing their hard work in propulsion push the SLS off the planet and then onto the moon. 
The four RS-25 engines, previously launched on space shuttle missions, produce more than 2 million pounds of thrust, contributing to the 8.8 million pounds of thrust needed to get SLS off Earth. 
ARTEMIS-1 LAUNCH: KEY MILESTONES TO TRACK BEFORE LIFTOFF
"I remember shuttle, standing in the launch control near the VAB and the vibration coming off there and those big doors, they were rattling," Aerojet's RS-25 lead field engineer Bill Muddle said. "You could just hear those doors rattle and just feel it coming toward you … this is going to be way bigger."
The building excitement can also be felt surrounding Kennedy Space Center.
Space Coast tourism officials expected about 100,000 people to travel to Florida's Space Coast to witness the powerful liftoff. More than 200,000 could come out if NASA attempts the launch during Labor Day weekend on Sept. 2 or Sept. 5.
WHAT IS NASA'S ARTEMIS 1 MISSION GOING TO DO?
Vice President Kamala Harris and Second Gentleman Doug Emhoff were at Kennedy Space Center for the first Artemis 1 launch attempt.  It's unclear if they will return for the next attempt. Harris is the chair of the National Space Council. 
The space agency is going all out for the Artemis 1 launch coverage. 
Chris Evans and Keke Palmer, of Disney Pixar's "Lightyear" and actor Jack Black, were also set to be part of the countdown livestream. Black's mother, the late engineer Judith Love Cohen, worked on the Apollo program, including the system that would help save the Apollo 13 astronauts. 
'Pushing the hardware' to ensure astronaut safety
NASA leaders stress that Artemis-1 is the first full test of SLS and the Orion from launch to landing, and risk is associated with it. The launch will mark the first time since 1967 that NASA will conduct a test flight of a moon rocket. 
The Orion capsule was designed for a 21-day mission. However, NASA plans to extend that to a 42-day spaceflight.
Former NASA astronaut and test pilot Doug Hurley, now senior director of business development at Northrop Grumman, offered his perspective on this uncrewed test flight leading up to an astronaut launch. 
"We're really pushing the hardware on this particular flight to give us that confidence, to put a crew on it, on Artemis 1," Hurley said. "I really like the direction where we're going from. You know, as a former test pilot. And this is a very measured approach. But we're being really aggressive with what we're asking the hardware to do on this particular flight."
The uncrewed test flight before an astronaut flight is similar to what NASA has done with SpaceX and Boeing's astronaut spacecraft and the Commercial Crew Program.
"What's been leading up to Artemis 1 is Commander Campos that's in the vehicle. So, he is the mannequin that is installed currently wearing our launch and entry suit to kind of, you know, show the public what it'll be like when the crew is about to fly in Artemis 2, and also provide some sort of a test bed to understand the dynamic response that the crew would see during launch and landing," Kirstyn Johnson, NASA's Deputy Team Lead, said. 
SpaceX and Boeing first conducted orbital flight tests to the International Space Station. Hurley and NASA astronaut Bob Behnken launched on the first SpaceX Dragon spacecraft human spaceflight in 2020 to the ISS, marking the return of astronaut launches from U.S. soil.  
HOW SLS, NASA'S NEW MEGA MOON ROCKET, COMPARES TO APOLLO-ERA SATURN V
When astronauts launch on Orion, they will have 30% more room in their capsule than the Apollo astronauts, according to Lockheed Martin Orion production director Kelly DeFazio.
"We've built on the past and just made it thousands of times better. We're standing on the shoulders of giants, but we're ready to go," DeFazio said.
Moment of truth: Can the heat shield protect astronauts upon re-entry?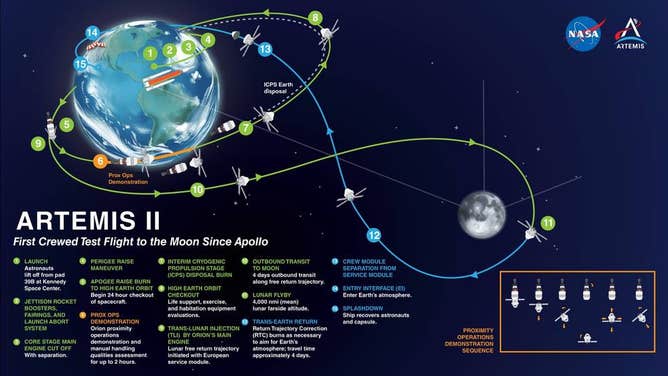 One of the most critical tests for Orion will be the return to Earth. 
When the spacecraft begins re-entry, NASA Orion engineer Stu McClung said Orion's 16-foot diameter heat shield would experience temperatures close to 4,000 degrees Fahrenheit.
The Artemis 1 test flight will culminate with the Orion spacecraft splashing down in the Pacific Ocean on Oct. 10, but first, it must survive re-entry.
"When you hit the earth's atmosphere, you started at 25,000 mph, and from entry down to about 40,000 feet, you slow down basically by exchanging speed for heat, and the heat shield takes all that heat away," McClung explains.
At about the same altitude as a jet aircraft, the first parachutes begin to deploy, followed by the main parachute at 6,800 feet. Eleven total parachutes deploy, slowing Orion from 350 mph to about 20 mph for landing. 
"When I see chutes. I start breathing again," McClung said.
McClung said by the time Orion splashes down, it should be a "gentle thump" in the ocean.
Follow FOX Weather coverage of the historic Artemis 1 launch on the app and FOXWeather.com with live expert interviews, detailed stories and journalists at Kennedy Space Center documenting the return to the moon.