Powerful engines built in South Florida propel NASA's Artemis missions to the moon
Aerojet Rocketdyne propulsion systems have been powering spaceflight since the beginning of NASA, and now with the Artemis program's Space Launch System rocket.
JUPITER, Fla. – An affluent Gold Coast community known for extensive suburban and beachfront homes is also where engines are made that will send the next rocket around the moon. 
Ahead of NASA's Artemis 1 rocket launch, FOX Weather reporter Brandy Campbell visited the Aerojet Rocketdyne factory that is making a significant impact and contributing to a mission that will make history for America.
NASA's Space Launch System moon rocket and Orion spacecraft are scheduled to blast off on Aug. 29 on the vehicle's first uncrewed mission around the moon. NASA's entire rocket was created in collaboration with over 3,800 suppliers across the U.S. and Europe.
HOW TO WATCH THE ARTEMIS 1 LAUNCH
About 150 miles south of NASA's Kennedy Space Center, where the SLS stands ready to launch, is the factory where some of the rocket's engines are made, including the RL-10, which stands more than 6 feet tall. 

"We're really about propulsion," said Aerojet Rocketdyne Vice President and General Manager Jim Maus. "Our primary business is pushing things."
Powering Artemis from booster to Orion spacecraft
The Space Launch System and Orion spacecraft on the Artemis 1 test flight will rely on Aerojet propulsion systems throughout the Artemis 1 mission. Throughout the rocket and spacecraft, Aerojet provides 39 propulsion systems. 
It all starts at the bottom of the SLS with the RS-25 engines.
"Our laundry list starts at the very moment that of ignition with the four RS-25 engines providing over half a million pounds of thrust each to lift Artemis off the ground. Followed by that is the RL-10 engine pushing the interim cryogenic propulsion stage of the second stage is powered by a single RL-10," Maus said. "And then throughout the stack we have various thrusters and propellant tanks that provide maneuvering capability."
About 75% of the SLS's thrust comes from two solid rocket boosters (SRBs) on either side of the core stage. When the SLS launches, it will use the SRBs and four RS-25 rocket engines to produce 8.8 million pounds of thrust to get off Earth. 
The same engines powered the space shuttle and have been adapted for the SLS. All four RS-25s on Artemis 1 were shuttle engines, including one that flew on 12 missions.
RS-25 lead field engineer Bill Muddle saw the engines from assembly for the shuttle to liftoff. He thinks of the 14-feet-tall, 8-feet diameter engines as his children. 
"I saw it born, all these little piece parts and put it together and then to go see it fly, and come home again, and it just kept going over again," Muddle said. "Now, they're going off to college, and I won't get to see them again, but I'm excited. We're going to the moon."
WHAT IS NASA'S ARTEMIS 1 MISSION GOING TO DO?
RL-10: South Florida's homegrown rocket engine
While the RS-25 is built in California, the RL-10 is the star of the rocket engine factory near West Palm Beach, Florida.
"The RL-10 will propel the top stack of the Artemis vehicle over 20,000 mph to leave Earth's gravity and make its way to the moon," Maus said.

Maus said they've built and sold the RL-10 for almost 60 years. Taking three years to create each one, all contributing to missions since the dawn of the space age.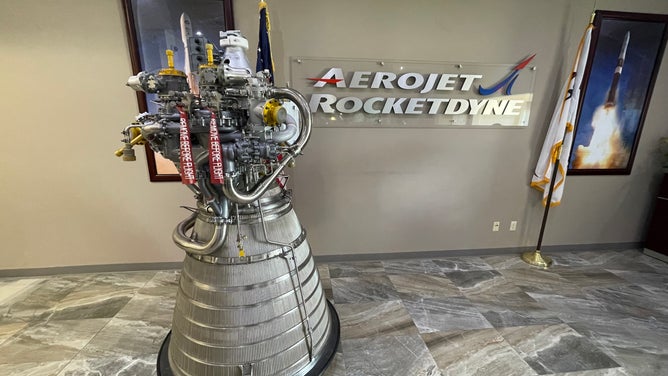 "Aerojet Rocketdyne products have been on every manned NASA mission since the beginning of NASA," Maus said. "Gemini, Mercury, and Saturn V for the Apollo missions, space shuttle, all powered by Aerojet Rocketdyne and propulsion."
HOW SLS, NASA'S NEW MEGA MOON ROCKET, COMPARES TO APOLLO-ERA SATURN V
Next, they'll deliver their largest order of 116 RL-10 engines for United Launch Alliance for an Amazon contract. ULA was recently awarded 39 launch contacts from Amazon to launch the Kuiper space-based internet constellation. 
"As a result of that, the RL-10 program received the largest single order we've ever received for RL-10s, and we are currently increasing our capacity significantly to be able to address the demand that comes from this very large Amazon order," Maus said.
On average, the company turns around between 15 and 20 RL-10s a year, and the Amazon contract will push that closer to 40 engines a year.
'Huge sense of national pride'
Every engine helps to complete the puzzle of building a rocket, something Maus said is more like a team sport.
"On launch day, I feel like I'm part of a team, and that team is just, you know, our piece doing its role, the RL-10 engine or the RS-25 engine doing its role on launch day," Maus said. "And that launch day is enabled by companies that are spread out around the entire country, everybody contributing to this. And it's a huge sense of national pride for us that we can all be part of this important mission."
The work won't stop with Artemis 1.
The RS-25 engines for Artemis 2, the first launch with astronauts planned for next year, are already ready for shipment. The propulsion systems for the Artemis 3 mission are also prepared to go. Under the Artemis 3 mission, NASA plans to land astronauts on the moon for the first time in 50 years by 2025.