Wildfire burning in Yosemite National Park threatening massive sequoia trees
More than 3 million people visited the park in 2021
YOSEMITE NATIONAL PARK, Calif. -- A wildfire burning out of control in Yosemite National Park is threatening an area home to hundreds of rare, giant sequoia trees and has forced parts of the park to close.
Officials say they believe the blaze started on Thursday and is burning in Mariposa Grove, an area protected by legislation signed by President Abraham Lincoln in 1864.
Park rangers say more than 500 mature giant sequoias are located in the area, and they are using resources on both the ground and in the air to try to contain the fire.

Officials believe some trees may be more than 3,000 years old and tower more than 200 feet in the sky.
A spokesperson told FOX Weather many of the larger trees have escaped any type of damage; however, smaller sequoias have likely been impacted.
HOW TO WATCH FOX WEATHER ON TV
At last report, the wildfire has burned more than 2,044 acres. So far, there have been no reported injuries among visitors or firefighters.
More than 350 personnel are working to try to contain the blaze that is burning through dry timber and brush.
Late Friday, the community of Wawona and its campground were placed under an evacuation notice due to the fire's northern progression.
An incident spokesperson estimated 1,600 people have been evacuated from the area.
It is still unknown what caused the blaze, but the incident response team believes it started near the Washburn Trail.
7 FACTS ABOUT US NATIONAL PARKS
Officials stress most regions of the park remain open, but areas around Yosemite's southern entrances and nearest to the fire are closed.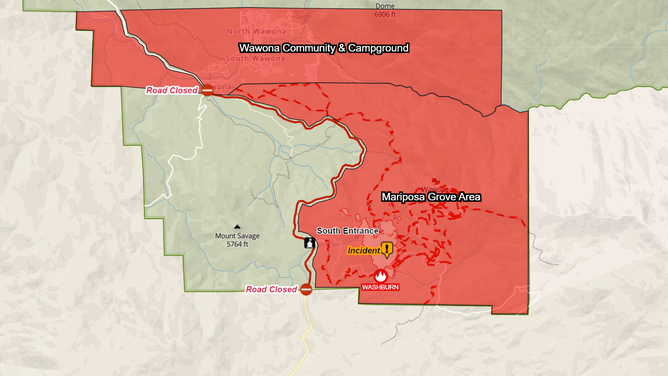 The area has been experiencing drought conditions that range from severe to exceptional.
California's Sierra Mountain region is not the only area experiencing drought conditions, the Golden State and much of the West are in the same predicate with more than 80 percent of the region experiencing some type of drought.
Firefighters are working more than 2 dozen large fires across the country that have burned more than 800,000 acres.
Drought monitor as of Thursday, July 7.
Drought monitor
---