Winter weather alerts in effect from New Mexico to Texas; 3 inches of snow possible
Parts of Kansas, Colorado saw up to 2 feet of snow on Tuesday
A storm system that brought snow to Kansas and Colorado will slide to the south and east on Wednesday, bringing the winter weather to parts of New Mexico, Texas and Oklahoma.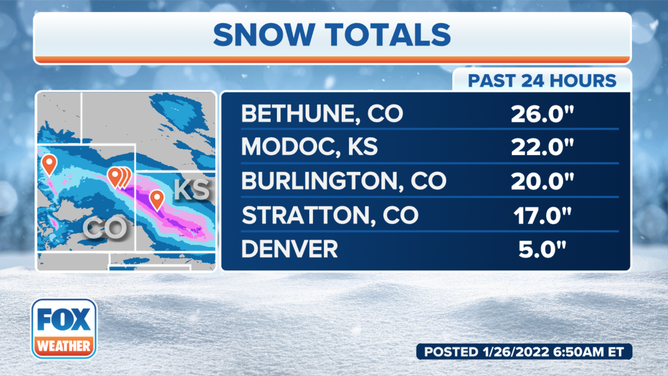 An intense snowband in western Kansas and eastern Colorado produced over two feet of snow Tuesday while 40 miles away, less than a half-foot was recorded.
Bethune, Colorado, reported 26 inches in 10 hours. Just to the south in Burlington, 20 inches of snow fell. Denver picked up 5 inches of snow.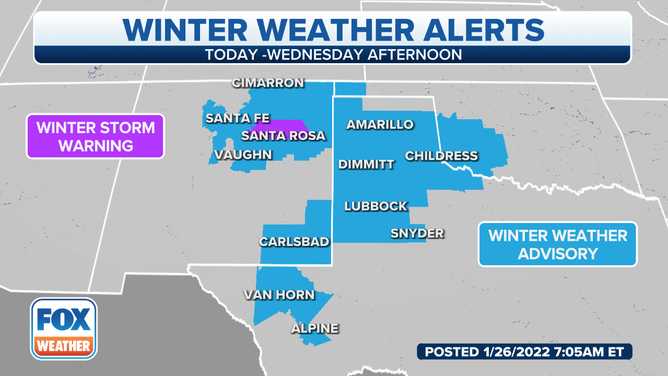 The system will continue to head east on Wednesday. As a result, winter weather alerts are in effect for parts of northeastern New Mexico, West Texas and the Panhandle and southwestern Oklahoma.
In New Mexico, Winter Weather Advisories are in effect for cities like Santa Fe, Raton, Clayton and Roy. A Winter Storm Warning is in effect for Las Vegas, New Mexico, until 11 a.m. local time. Carlsbad, in the southeastern part of the state, is also under a Winter Weather Advisory.
In Texas, Winter Weather Advisories are in effect from Amarillo south through Dimmitt, Lubbock and Snyder. Parts of West Texas, like Van Horn and Alpine, are also included in a Winter Weather Advisory.
Temperatures in the region are going to be on the chilly side. Clovis, New Mexico, will stay in the mid-30s on Wednesday. Amarillo, Texas, will hover around the freezing mark with snow. In areas where winter weather alerts are in effect, temperatures will be in the upper 20s.
Lawton and Oklahoma City will be in the upper-30s, and snow will move into those areas later in the day on Wednesday.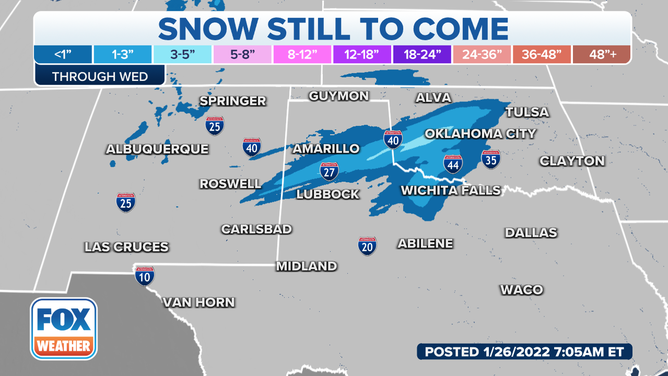 This is by no means going to be a blockbuster snow event. Most areas under winter weather alerts will see less than an inch of snow. However, in areas where heavier snowbands set up, 1 to 3 inches is possible. 
Southwestern and central Oklahoma, including Oklahoma City, are likely to see higher snow totals.
Track the snow using the 3D radar on the FOX Weather app. You can download that by clicking here.