Intense snow band drops over 2 feet of snow in narrow swath of Colorado, Kansas
Across the state line in Goodland, Kansas, just east of the snowband, only 4.5 inches have been reported
An intense snowband in western Kansas and eastern Colorado produced over two feet of snow Tuesday while 40 miles away less than a half-foot was recorded.
Bethune, Colorado, reported 26 inches in 10 hours. Just to the south in Burlington, 20 inches of snow fell.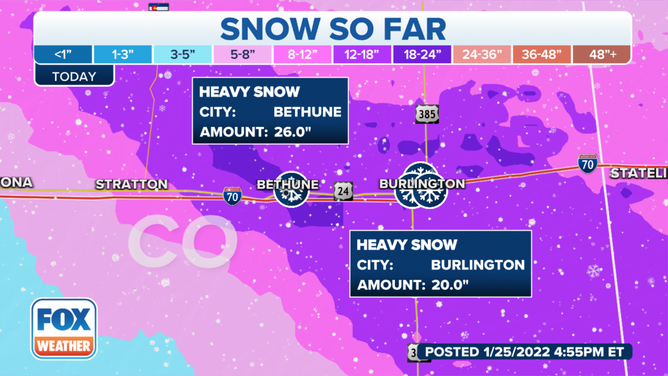 East of the snowband in Goodland, Kansas, only 4.5 inches have been reported.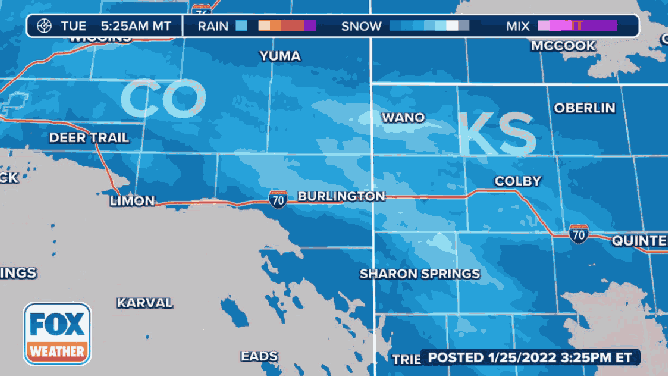 The National Weather Service in Goodland said while some snowfall may linger, the Winter Storm Alerts for Tri-State areas along and north of U.S. Highway 36 have been canceled. The warnings and advisories for the rest of the area remain in effect through 6 p.m. Central.
Drivers should plan on slick and snow-packed roadways as the work and school commute home will be impacted.
The snow will arrive in New Mexico Tuesday night and spread east across Texas and Oklahoma through Wednesday.
Albuquerque, New Mexico, and Amarillo, Texas, are expected to pick up 1 to 3 inches of snow which would be their biggest snow so far this winter.
Amarillo has had a very dry winter with only two days of measurable precipitation since Nov. 1. So far, they have received 1.6 inches of snow, and while only 1 inch below average, it is 8 inches less than what they saw by this time last year.
In Oklahoma City, an inch or less is expected on Wednesday.