Up to 5 inches of snow possible Tuesday in Denver, High Plains
Snow will also blanket parts of New Mexico and the Texas Panhandle into Wednesday
DENVER – Accumulating snow will slow down the Tuesday morning commute in the Denver metro area as a weather system sweeps through the Rockies and High Plains.
The National Weather Service has issued Winter Weather Advisories for parts of the Front Range of Colorado and Wyoming, including the cities of Denver and Cheyenne, Wyoming. Winter Weather Advisories also extend eastward into the adjacent High Plains of eastern Colorado, southwestern Nebraska and western Kansas.
A Winter Storm Warning has been posted in northwestern Kansas, where a narrow corridor of higher snowfall amounts may occur.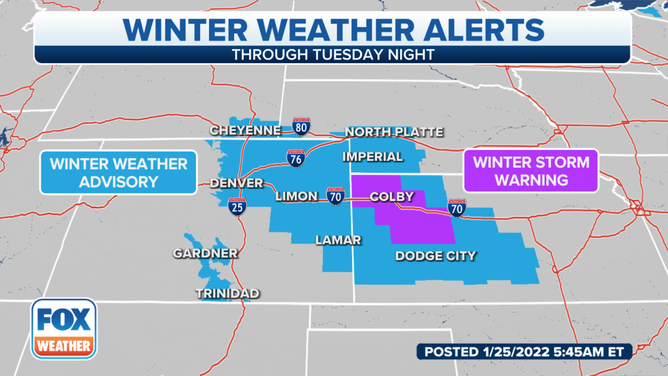 Snow began to overspread the Front Range corridor and the adjacent High Plains early Tuesday morning.
"Snowfall will make for an impactful morning commute period today, with slick roads and periods of reduced visibility possible," the NWS office in Boulder, Colorado, wrote in its forecast discussion Tuesday morning. "Impacts persist through the morning hours into the afternoon, with potential for a period of localized moderate to heavy snowfall."
YOU WERE JUST INVOLVED IN A WEATHER-RELATED CRASH – NOW WHAT?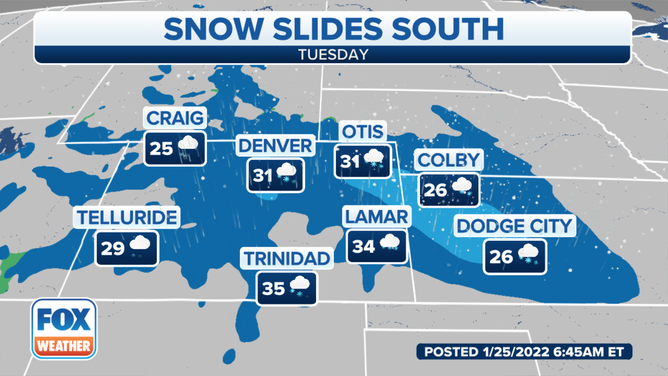 The Denver metro area is forecast to pick up 2 to 5 inches of snow through the day on Tuesday. Snow should come to an end there by mid- to late afternoon.
However, snow will continue into Tuesday evening farther south and east over the High Plains. A corridor of 5- to 8-inch snow totals is likely in parts of northwestern Kansas.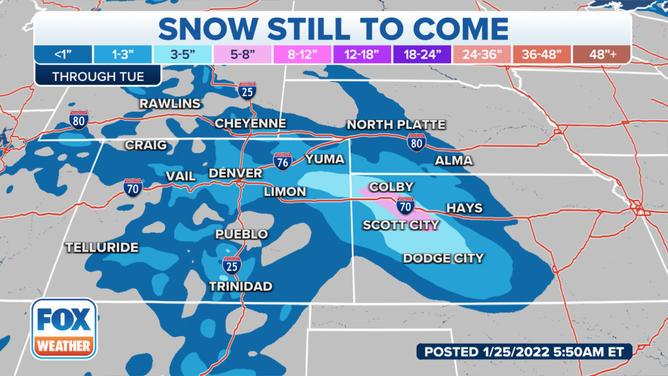 Overnight Tuesday into Wednesday, the snow will slide southward into the southern High Plains of New Mexico and portions of the Texas Panhandle.
WHY SNOWFALL RATE IS IMPORTANT TO UNDERSTANDING WINTER WEATHER
The National Weather Service has issued Winter Storm Warnings and Winter Weather Advisories for parts of the High Plains of New Mexico.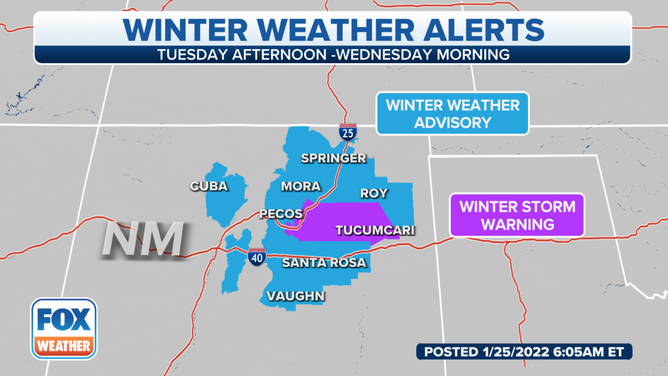 Between 1 and 4 inches of snow is expected through Wednesday from parts of northern and northeastern New Mexico into the Texas Panhandle and southwestern Oklahoma.
Locally higher totals up to 4 to 8 inches are possible in the Sangre de Cristo and Wet Mountains and in the highlands northeast of Albuquerque, New Mexico.
Travel could be very difficult as roads become snow-covered and slippery, including along portions of Interstate 25 in northeastern New Mexico.