Jon Rahm wins 2023 Masters following inclement weather, downed trees from high winds during tournament
The forecast for one of the PGA's most storied golf tournaments included inclement weather, which caused the game to be suspended a few times. At least three trees fell on Friday when storms were nearby.
AUGUSTA, Ga. – Jon Rahm won the 2023 Masters Tournament on a beautiful Sunday evening, after one of the wettest and coldest tournaments on record.
Many of the world's best golfers and their fans came to Augusta, Georgia, for the storied golf tournament, which kicked off with a rainy start.
Inclement weather suspended play on Friday, and play was also suspended Saturday due to heavy rain. The third round resumed at 8:30 a.m. EDT Sunday. 

Late Friday afternoon, winds blew over three large pine trees amid a group of spectators near the No. 17 tee. The Augusta National Golf Club confirmed there were no initial reports of injuries, adding that the second round was suspended for the rest of the day.
According to nearby weather observations, winds gusted to higher than 30 mph when the trees fell.
The current wettest Masters Tournament was in 1936, when 3.23 inches fell throughout the tournament. 
FOX Forecast Center models indicated that as much as 2 to 2.5 inches could fall by the 2023 event's conclusion, ranking among the top 3 or 4 wettest tournaments in history. Earlier projections had as much as 4 inches possible over the tournament.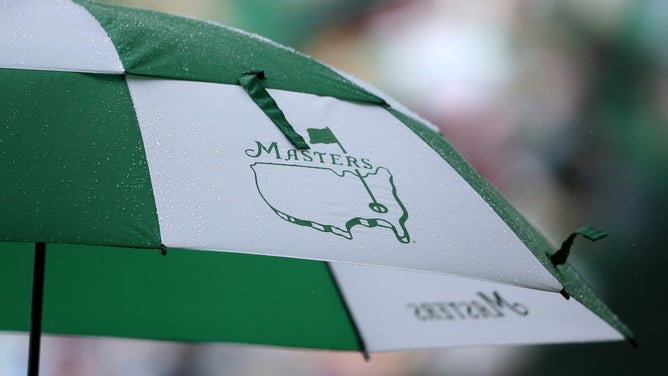 Inclement has caused delays of the game before. For example, the 1983 Masters Tournament was delayed by a day, extending play into Monday.
HOW WEATHER CAN MAKE OR BREAK YOUR GOLF GAME
2023 Masters Tournament day-by-day forecast
The forecast for Augusta, Georgia, where the 2023 Masters Tournament is held.
(FOX Weather)
---
Temperatures and weather conditions improved on Sunday. The high was expected rise to about 63 degrees, but remain cloudy with some sun. There was a chance of some rain, but those chances were expected to drop to about 24%.
WATCH: GOLFERS FLEE AS HUGE WAVE HITS CALIFORNIA GOLF COURSE DURING STORM
If the 2023 Masters Tournament had been postponed for a day, it would have concluded on Monday. Conditions on Monday include a high temperature around 67 degrees with partly cloudy conditions. Rain chances on Monday also improve, dropping to near zero.
Rain in Masters history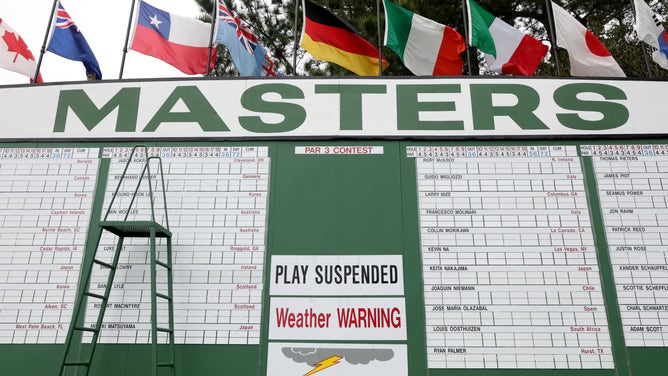 The Masters Tournament is no stranger to wet weather. 
For example, tee times during Round 1 in 2022 were delayed by half an hour, due to rain that had fallen overnight and drizzle from that morning, according to the Masters Tournament.
The Augusta Chronicle reported that in 1973, 2.5 inches of rain fell on the course and caused Round 3 to be postponed. This led to a two-tee start the next day, Sunday, and a Monday finish.
The wettest Masters Tournament, however, was the aforementioned 1936 edition, when 3.23 inches fell over the course of the tournament.