At least 53 dead from raging Hawaiian brush fires enhanced by Hurricane Dora, high pressure winds
Hurricane Dora passed south of Hawaii by more than 500 miles, but due to the location of large-scale weather feature north of the islands, gusty winds of greater than 70 mph were reported across the state.
Live coverage of the deadly Hawaiian wildfires has moved here. 
MAUI, Hawaii – As of Thursday evening, at least 53 people are dead, and search efforts are still underway on the Hawaiian islands as the influence of Hurricane Dora to the south of the islands and a strong ridge of high pressure to the north fuel dangerous wildfires.
Fire crews battled brush fires on Maui and the Big Island on Tuesday as wind gusts of more than 70 mph helped spread the flames. One of the larger fires burning on the northern part of the Big Island charred more than 1,800 acres. 
"Winds will slowly decrease Thursday across the Islands as strong high pressure to the north will continue to weaken and move westward," said FOX Forecast Center Senior Meteorologist Jordan Overton. 
"A very typical August trade wind pattern heading is expected to develop heading into the weekend, where winds could gust anywhere from 10-20 mph daily," Overton said. "The NWS has dropped the Wind and Fire Alerts for the Islands."
"This is an unprecedented disaster as an indirect result of Hurricane Dora passing just south of our islands," said Hawaii Lt. Gov. Sylvia Luke. "It is truly devastating, and my heart goes out to the residents of Maui and all those impacted." 
As the wildfires continue, visitors with current and planned lodging at West Maui hotels may need other accommodations, Luke said Wednesday as she issued an emergency proclamation to extend the state of emergency to all counties, discourage non-essential air travel to Maui, and order all affected state agencies to assist with the evacuation.  
"This proclamation is to discourage travel to the affected areas, so we can prioritize our scarce resources for Maui residents who desperately need assistance," Luke said.
AERIAL VIDEO SHOWS COMPLETE DEVASTATION ACROSS PARTS OF MAUI AFTER CATASTROPHIC BRUSH FIRES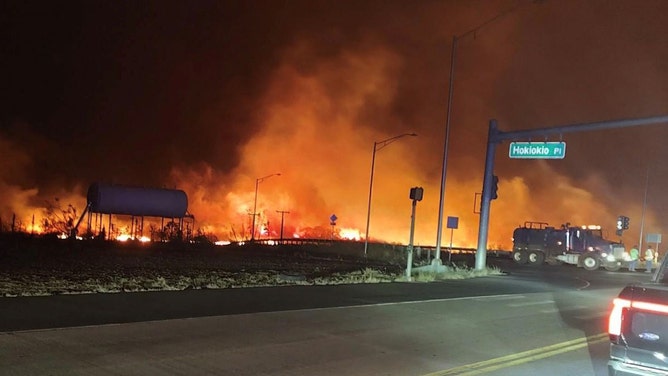 The Hawaii Department of Transportation said 1,800 people sheltered in place overnight at the Kahului Airport from canceled flights and flight arrivals, with many west-side highways closed. HDOT worked with airlines and the Transportation Security Administration to shelter passengers as wildfires continued to burn in Lahaina and the upcountry.
"This not a safe place to be on certain parts of Maui. We have shelters that are overrun. We have resources that are being taxed," Maui officials said.
Much of Lahaina was destroyed, with locals telling of "apocalyptic" scenes as dozens of homes and businesses were scorched.
The dramatic scene greeted Jayson Duque as he was evacuating his home in Lahaina as more than 1,000 acres were burned in the town. His footage showed a huge plume of smoke as flames engulfed multiple houses. At least 80 people were evacuated there, and more evacuations were likely, the mayor said.
'THIS IS NOT A SAFE PLACE TO BE': RAGING BRUSH FIRES IMPACTING AIR TRAVEL TO SOME HAWAIIAN ISLANDS
The National Guard arrived in Maui County by orders of the Hawaii Department of Defense following Maui Mayor Richard Bissen's issuance of an emergency proclamation. 
Members of the U.S. Coast Guard responded to impacted areas where residents entered the ocean due to smoke and fire conditions. Some crews were deployed to Front Street Beach and Lahaina Small Boat Harbor, where they rescued people from the waters. City officials said those individuals were transported to safe areas. 
While the cause of many of the brush fires remains under investigation, the combination of downed power lines and dry brush was being examined as a possible cause of some of the fires. At last check, nearly 15,000 customers were without power Wednesday throughout the state.
BEFORE-AND-AFTER SATELLITE IMAGES OF MAUI AFTER DEADLY WIND-DRIVEN BRUSH FIRES
The American Red Cross opened an evacuation center at Maui High School. They are also staffing emergency shelters in Kihei, Lahaina and Pukalani.
Officials said schools on Maui will remain closed due to unsafe campus conditions and damage caused by the heavy winds.
Hononoapiʻilani Highway remains open for outbound traffic only. Motorists should expect heavy traffic. All Maui Bus Commuter Services have been temporarily suspended.
Windy conditions are expected to relax as the gradient between the ridge of high pressure, and Dora lessens over the next few days, the FOX Forecast Center said.