Hawaii grapples with worst disaster in state's history as death toll rises to 55 from fires
It's unclear what sparked these fires, but leaders say that conditions have been arid and powerful winds created by a combination of Hurricane Dora to the south and high pressure to the north helped quickly spread the flames.
Live coverage of the deadly Hawaiian wildfires has moved here. 
MAUI, Hawaii – Frustrations are starting to mount in Hawaii as the state tries to find any survivors of the worst disaster in its history as at least 55 people have died in the fires.
On Thursday, Governor Josh Green announced the death toll from a series of brush fires that impacted the state would rise, but officials declined to speculate on how much they expected the number would grow.
"The full extent will be in the billions of dollars, without a doubt. We're first focused on lives lost," said Green.

"Tragedy that hits one of us, is felt by all of us," County of Maui Mayor Richard Bissen Jr. said. "These past few days, the resolve of our families, businesses and visitors have been tested like never before in our lifetime."
During the disaster, access to the 911 system was spotty and cell service and phone lines were down in many areas.
Flyovers of Lahaina by the U.S. Civil Air Patrol and Maui Fire Department showed that more than 271 structures have been impacted since the fire broke out Tuesday evening. Widespread damage to the west Maui town, the harbor and surrounding areas is being documented.
BEFORE-AND-AFTER SATELLITE IMAGES OF MAUI AFTER DEADLY WIND-DRIVEN BRUSH FIRES
At least 55 people are dead and search efforts are still underway on the Hawaiian islands as the influence of Hurricane Dora to the south of the islands and a strong ridge of high pressure to the north fuel dangerous wildfires.
(FOX Weather)
---
The glow of flames was still visible Thursday, as close to 100 Maui firefighters have been on duty around the clock, including 11 from state airport firefighting and rescue personnel. The Maui Fire Department has requested 20 additional firefighters from Honolulu and an incident management team. 
With a reduction of winds, containment of the fires have increased by firefighters warm there are several hotspots that remain.
'TOOK EVERYTHING WITH IT': MAUI RESIDENT RECOUNTS ESCAPE FROM RAGING WILDFIRES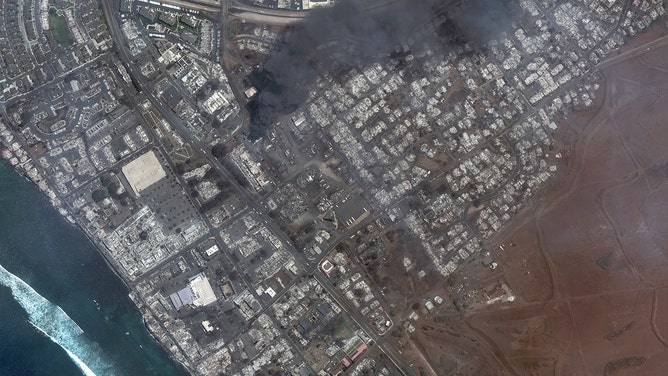 It's unclear what sparked these fires, but leaders said that conditions have been arid and that winds from passing Hurricane Dora hundreds of miles to the south and a strong ridge of high pressure to the north enhanced the multiple wildfires and caused them to spread quickly.
"A very typical August trade wind pattern is expected to develop heading into the weekend, where winds could gust anywhere from 10-20 mph daily," Overton said. "The NWS has dropped the wind and fire alerts for the islands."
Gusts of up to 85 mph have grounded firefighting aircraft and have aided in the decimation of some communities on Maui. Block after block in historic Lahaina was burned to the ground. In some cases, people had to jump into the ocean to escape the flames.
AERIAL VIDEO SHOWS COMPLETE DEVASTATION ACROSS PARTS OF MAUI AFTER CATASTROPHIC BRUSH FIRES
"I was the last one off the dock, and when the firestorm came through the banyan tree and took everything with it, and I just ran out to the beach," said Dustin Johnson, a crew member from Lahaina Harbor. "I just helped everybody I could along the way."
Maui Memorial Medical Center said they have been treating burns, smoke inhalation and other fire-related injuries. Among the five admitted for their injuries, two suffered from critical injuries. Hospital officials said they are prepared to activate a surge plan should the demand for medical services spike.
On Wednesday afternoon, Hawaii Lt. Gov. Sylvia Luke, who is acting as governor, joined the U.S. Coast Guard for an aerial damage assessment of the areas affected by the wildfires. 
"Seeing the devastation of Kihei and Lahaina firsthand was incredibly sobering and heartbreaking," she said. "My heart hurts for the lives lost and the loved ones they leave behind."
'THIS IS NOT A SAFE PLACE TO BE': RAGING BRUSH FIRES IMPACTING AIR TRAVEL TO SOME HAWAIIAN ISLANDS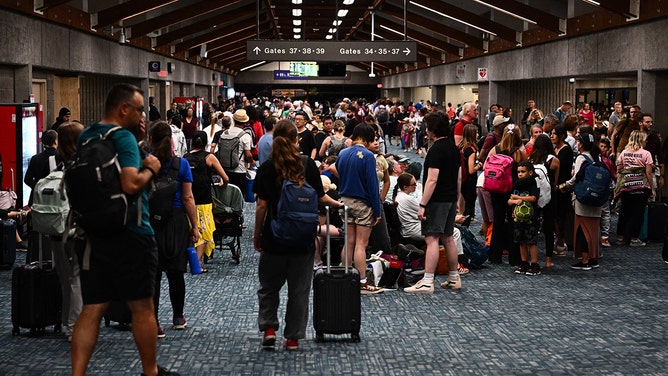 Luke said the state is working tirelessly to ensure the health and safety of every person affected. 
"While our beloved Lahaina is forever changed, the love and aloha of the community is steadfast," she added.
President Joe Biden has ordered all available federal assets on the islands to help with the response. Among the help Thursday was the U.S. Army, which sent two Blackhawk helicopters and one Chinook helicopter to assist with firefighting operations. The U.S. Coast Guard also sent 37 MH-60R Seahawk helicopters to aid with search and rescue.
Four shelters have been established on Maui after more than 11,000 people have been evacuated off the island. An estimated 1,500 more people are expected to leave the island Thursday.
"Woke up this morning and got on our phones to take pictures of our house, just down to the slab," said Jamie Brown, who had to evacuate from Lahaina. "Nothing but smoke, cinders. Came with the clothes we got on and a dog and two kids."
Tourists are being told to stay away from the island as the Department of Transportation works with commercial airlines to evacuate tourists. Some airlines are also helping to ferry people to the main island.
"Even though we are hurting, we are still able to move forward, especially when we do it together," Bissen said. "In the days ahead, we will be stronger as a kaiāulu, or community, as we rebuild with resilience and aloha."