Denver gets first measurable snow as winter storm rolls across the West
Snow is piling up in the mountains of the West as a significant storm rolls through the region. Some areas in Colorado could see 2 feet of snow.
DENVER – A winter-esque storm that has already dropped heavy snow across the Cascades, Sierra Nevada, Wasatch and portions of the northern Rockies to the tune of 6 to 12 inches set its sights on the central Rockies and the Four Corners Thursday. 
Denver waited for its first official snow, and the area certainly saw flakes fly throughout Thursday evening. 
For the central and southern Rockies of Colorado, Wyoming, New Mexico and Arizona, snow levels began relatively high Wednesday night, starting the precipitation as rain. Still, colder air dropped into the area Thursday as a cold front passed, lowering snow levels to below 7,000 feet.
West Winter Alerts
(FOX Weather)
---
Snow was ongoing across much of Wyoming and Utah Thursday morning, and more scattered snow showers continued across the southern Sierra Nevada and the Great Basin of Nevada.
WHY SNOWFALL RATE IS IMPORTANT TO UNDERSTANDING WINTER WEATHER
Utah Snow Forecast
(FOX Weather)
---
The snow will be the heaviest Thursday afternoon and evening across all the Four Corners states – Utah, Colorado, Arizona and New Mexico – as well as Wyoming as cold air continues to drive into the region, with Colorado likely receiving the most snowfall.
The presence of an upper-level low directly overhead will destabilize the atmosphere, creating volatile conditions that will allow the snow to turn into dangerous snow squalls in Colorado and Utah, with near-zero visibility and thundersnow.
THUNDERSNOW: WHAT CAUSES LIGHTNING AND THUNDER DURING A SNOWSTORM?
By Thursday night and into Friday morning, the snow will spread east out of the high country and down along the Front Range urban corridor of Colorado and southeastern Wyoming.  
Rockies Snow Forecast
(FOX Weather)
---
Denver, Colorado Springs and Cheyenne, Wyoming, are all expected to see their first measurable snow of the season – a few weeks behind their average first snow of Oct. 18 but well ahead of last year's long wait until Dec. 10.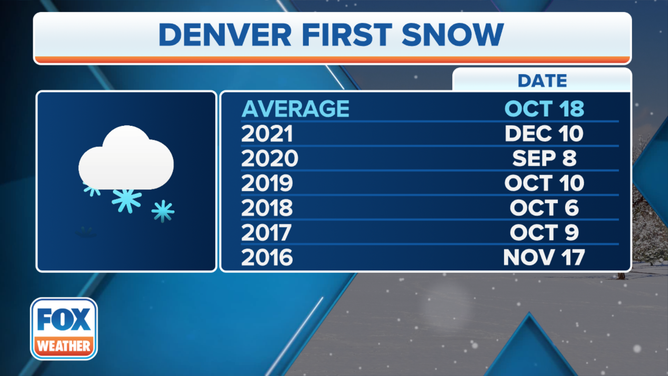 THESE ARE THE 7 SNOWIEST CITIES IN THE US
Snow will continue through Friday, and by the time it winds down, 6 to 12 inches will be possible above 6,000 feet and 1 to 2 feet above 8,000 feet. The San Juan Mountains of Colorado look to be the big winner in this event, with over 2 feet expected. Winter Storm Warnings are in effect there.
Colorado Snow Forecast
(FOX Weather)
---
"Whenever you have a Winter Storm Warning in effect, that's where you're looking at big-time impacts when it comes to travel," says FOX Weather meteorologist Britta Merwin. "It might not be easy to be on the roads, and quite honestly, there's probably going to be parts of this storm where you have to stay off the roads and just let it pass through."
The storm brought the first snow of the season to northern Arizona too. The ground was covered in white in Flagstaff by midday Thursday, with up to 6 inches of snow possible by Friday morning. A Winter Weather Advisory was in effect there.
In areas where winter dares to tread, such as Southern California, including the San Diego area, and southern Arizona will look at a potentially wet morning on Thursday. The rain may be heavy at times, especially around San Diego, where a few thunderstorms may develop in the morning hours.  
Long-range forecasts suggest this is just the beginning of what could be a very snowy start to November across the West, with a period of well-below-average temperatures looming for next week.
NOVEMBER PREDICTED TO SEE WARMER, DRIER CONDITIONS ACROSS MUCH OF COUNTRY
Snow left behind a mess in Sierra Nevada, Montana
The storm has already left a mark farther to the west. In California's Sierra Nevada, 12 inches of snow fell at Soda Springs, while Donner Peak and Lake Alpine each received 9 inches of snow.
Heavy snows fell across Interstate 80 and Donner Pass, which led to multiple spinouts and crashes, according to the California Highway Patrol. On Tuesday, the freeway was closed, as was Highway 50 near Lake Tahoe.
"It played out just as we were expecting for a first winter storm. A lot of motorists simply weren't prepared for it – driving too fast for the conditions," said Steve Nelson with CalTrans District 3. "And it was a pretty significant storm – we got a little more than we expected."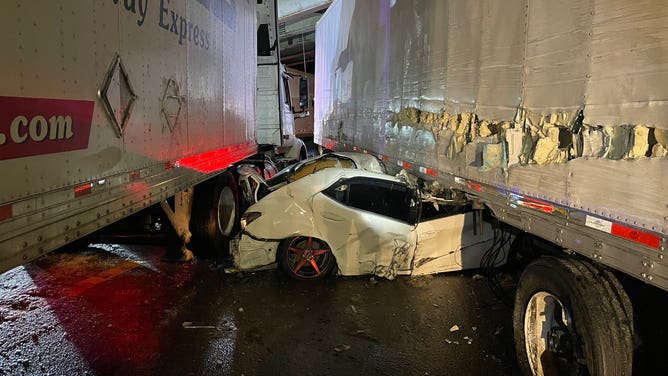 Chains were required for several hours, and Nelson warned that with delays or if you get stuck, you must be prepared for being stuck for several hours.
"It was a mess and a lot of waiting in cars – a worst-case scenario played out that we had hoped wouldn't, but it did," Nelson said.
Despite multiple crashes, Nelson said he didn't receive any reports of significant injuries.
Western Montana also received a healthy dose of snow, with 8 inches reported in Eureka on Tuesday.