So flashy! New weather satellite shows off lightning detection instruments
The Geostationary Lightning Mapper on board GOES-18 can detect all lightning -- be it cloud-to-cloud, in-cloud, or cloud-to-ground – over North and South America and adjacent oceans.
WASHINGTON, D.C. – NOAA's newest weather satellite is showing off another of its features with the unveiling of its first imagery from its Geostationary Lightning Mapper sensor.
The GLM sensor on board GOES-18 can detect all lightning – be it cloud-to-cloud, in-cloud, or cloud-to-ground – over North and South America and adjacent oceans. The mapper can measure the extent of lightning flashes and the distance they travel, NOAA says.
"The GOES-18 GLM will provide rapidly updating lightning information over a vast data-sparse region," Dr. Scott Rudlosky, NOAA scientist and Geostationary Lightning Mapper expert, told FOX Weather. "Observing storm systems as they develop upstream from the Lower 48 helps forecasters and the public better prepare for impacts."
'IT SAVES LIVES': GEOSTATIONARY LIGHTNING MAPPER CRUCIAL FEATURE FOR GOES SERIES
The satellite launched on March 1 and is still in its calibration and testing phase, but it didn't take long before it was put to good use. A damaging thunderstorm-driven derecho moved through the Northern Plains on May 12, hitting South Dakota and parts of Minnesota particularly hard.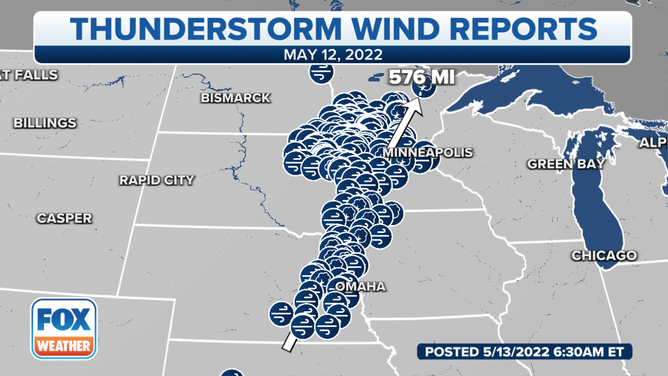 DERECHO BLASTS DOZENS OF NORTHERN PLAINS COMMUNITIES WITH HURRICANE-FORCE WIND GUSTS
NOAA's Storm Prediction Center said it received at least 62 reports of winds gusting to 75 mph or higher from Nebraska through Minnesota. The highest reported wind gust clocked in at 107 mph just north of the Nebraska-South Dakota border in Tripp, South Dakota.  One person was killed when a grain bin collapsed in Blomkest, Minnesota.
BEFORE NOAA SATELLITES CAN IMPROVE WEATHER FORECASTS, HERE'S WHERE THEY ARE BUILT
In addition to detecting lightning, GLM specialists hope to use the satellites to track other high-impact weather events, such as hailstorms, microburst winds, flash floods, snowstorms and wildfires.
SMILE! FIRST IMAGES ARRIVE FROM NEW GOES-18 WEATHER SATELLITE
And with the high-resolution data, NOAA hopes to spur advancements in the initialization of numerical weather prediction models through better identification of deep convection, improve the routing of commercial, military, and private aircraft over oceanic regions where observations of thunderstorm intensity are scarce, and improve the ability to monitor intensification or decay of storms during radar outages or where radar coverage is poor or scarce, such as in mountainous areas and oceanic regions.
Even tropical cyclone coverage will get a boost as the GLM will be able to detect increases in lightning activity around disturbances – a sign of a strengthening storm.
"The GOES-18 GLM is the first that we were able to modify to incorporate lessons learned from the first of its kind GOES-16 GLM," Dr. Rudlosky said. "These subtle hardware changes accompany already implemented software changes to improve GLM performance."
7 OF OUR FAVORITE LIGHTNING VIDEOS FROM SPRING 2022
GOES-18 will remain in calibration and testing mode through the end of the year, then replace GOES-17 as the official western weather satellite (GOES-WEST) in early 2023.