'It saves lives': Geostationary Lightning Mapper crucial feature for GOES series
GLM helps forecast developing severe storms and a wide range of high-impact environmental phenomena, including hailstorms, microburst winds, tornadoes, hurricanes, flash floods, snowstorms and fires.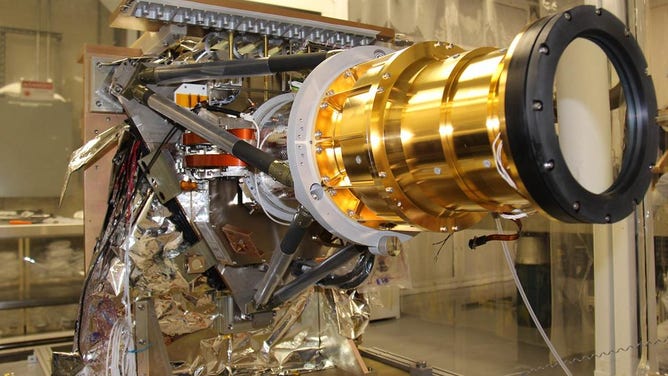 GOES-T is part of the Geostationary Operational Environmental Satellites (GOES) program, a partnership between NASA and NOAA, and it is days away from launching.

Once in operation, the satellite is expected to help improve weather predictions and other climate analysis. The spacecraft has a suite of science instruments that each have a unique purpose in forecasting. One of the instruments on the satellite is the Geostationary Lightning Mapper or GLM.
GLM is a lightning mapper, and it detects momentary changes, indicating the presence of lightning with its near-infrared optical transient detector.
"The infrared and visual samples of GLM tell you what's going on in the storms, and you use that in your analysis tools to figure out how to predict the weather," Arleen Knaub, Deputy Program Manager for GOES, says. "So, it's really advanced the whole weather science in the last four years."
SATELLITE TECHNOLOGY AIDED IN ESTABLISHING TWO NEW WORLD RECORDS FOR MEGAFLASHES OF LIGHTNING 
It also measures total lighting activity continuously, including in-cloud, cloud-to-cloud and cloud-to-ground lightning.
Early warning of severe weather
Monitoring lightning activity helps to forecast the development of severe storms and is also vital for formation detection of tornadoes and strengthening hurricanes.
"They get this science data down [from the satellite], and they're able to see trends like for the global lightning mapper. They were able to determine the formation of tornadoes, they're now able to predict more accurately the formations of tornadoes, so they'll see a great uptick in lightning strikes in a particular area and then a sharp decrease. And then they know that a tornado is going to form within the next 15 minutes, which gives us advance warning to people on the ground," Knaub says. "We actually save lives. So, it's incredibly impactful."
GOES WEATHER SATELLITE READY FOR LIFTOFF NEXT WEEK FROM FLORIDA
High-impact environmental phenomena, including hailstorms, microburst winds, flash floods, snowstorms and fires, are also among the list of what GLM specialists hope to use the satellite for.
GLM Measurements
NOAA provided these GLM measurements that prove vital to helping the operational weather, aviation, disaster preparedness and fire communities in several areas:
Improvement in tornado and severe thunderstorm lead times and false alarm reduction
Early warning of lightning ground strike hazards
Advancements in the initialization of numerical weather prediction models through better identification of deep convection
Improved routing of commercial, military, and private aircraft over oceanic regions where observations of thunderstorm intensity are scarce
Improved ability to monitor intensification or decay of storms during radar outages or where radar coverage is poor or scarce, such as in mountainous areas and oceanic regions
Better detection and short-range forecasts of heavy rainfall and flash flooding
Ability to monitor the intensity change of tropical cyclones, which is often accompanied by increased lightning activity
Continuity and refinements of lightning climatology within the GOES field of view
About the launch 
The spacecraft will join its sister satellite GOES-16 more than 22,000 miles above Earth and become GOES-18 once in orbit. The new satellite, which has several vital upgrades, will replace the GOES-17 spacecraft currently in orbit.
BEFORE NOAA SATELLITES CAN IMPROVE WEATHER FORECASTS, HERE'S WHERE THEY ARE BUILT
Combined, the satellites can continuously observe the western hemisphere, improving weather prediction and mapping Earth's weather, oceans and climate every 30 seconds. 
A United Launch Alliance Atlas V rocket is poised for liftoff on March 1 from Space Launch Complex 41 at Cape Canaveral Space Force Station. The two-hour launch window opens at 4:38 p.m.