Watch: Snow melts away in Idaho, dashing some hopes of an extended ski season
Bogus Basin Mountain is just northeast of the city of Boise
BOISE, Idaho – A ten-second time-lapse video from Bogus Basin Mountain in Idaho sums up the dreadful ski season some resorts in the West have had to endure as a lack of snowfall has forced some to shutter operations for the season.
The Bogus Basin Mountain area is a popular ski and recreation resort outside Boise, Idaho.
Meteorologists say the camera view on the mountain should have 2 to 3 feet of snow covering the ground, but because of dry weather and recent warmth, the snowpack has been more like two to three inches.
HOW TO WATCH FOX WEATHER ON TV
"It was a La Niña storm track weather pattern that was basically bringing the goods to northern Idaho pretty consistently all season," Steve Stuebner, an avid skier and opensnow.com forecaster, said. "It was the second year in a row of that storm pattern. And so you had your winners and losers."
The lack of snowfall through much of the state has forced several ski resorts to shut early for the season, and SkiCentral reports less than half of the resorts are open for skiing and snowboarding.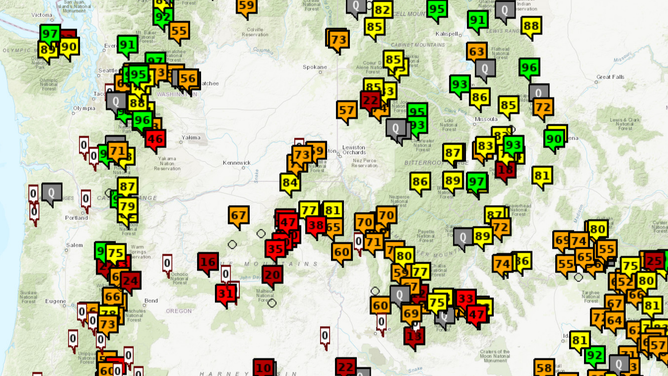 "If it hadn't been for that record-breaking snow in December and early January, we wouldn't have had much of a season, but that really set up the mountains nicely. The snowpack in southern Idaho has been flat-lining since January, and that is really unusual," Stuebner said.
The National Weather Service in Boise says April 1 is typically around the peak when the state's higher elevations have the most snow on the ground.
THE PANICKED AND ACCIDENTAL BEGINNINGS OF SNOWMAKING
Meteorologists believe the area will be in store for some heavy snow next week, but it will not be enough to compensate for the deficit or the shortened season.
"They wouldn't be able to reopen because they just don't have enough base," Stuebner said, referring to the resorts that have closed for the season.
Despite the bad news for some, other ski locations, especially in the northern part of the state, have lucked out, seeing more than their fair share of snow.
Resort areas still operating with plenty of snowpack include Schweitzer Mountain and Lookout Pass.
Stuebner said for those areas that did have a decent season, they'll likely resort to summer recreational activities to help make up for the lack of foot traffic.