History of snowmaking: The panicked and accidental beginnings
Did you ever wonder, "Who thought of that?" The history of snowmaking for skiing.
The Toronto Ski Club was about to debut their new ski jump with a competition, but there was no snow in the forecast. Panic set in and organizers worked out a fix. They made a deal with the University of Toronto to make the ice and truck 75 tons of it in for the ski jump.
It was 1934, the ice planer worked gratis and the shipping cost was only about $1 a ton according to a book by Fred Hall, part of the New England Ski Museum's "Chronology of Snowmaking" exhibit. The solution was not only inexpensive, it was groundbreaking.
History is filled with accounts of panicked ideas and accidental findings furthering the invention of manmade snow. 
Organizers used muscles instead of grey matter for the 1932 Winter Olympics in Lake Placid. Thankfully Alpine Skiing was not an event then.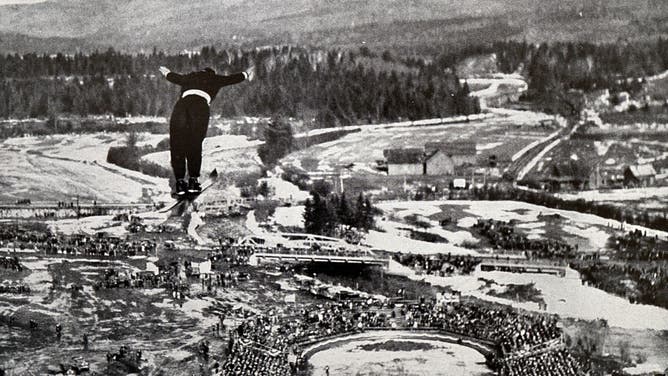 Shoveling solution
"They had to do a lot of shoveling for the jumps and for the cross-country tracks," said Jeff Leitch, Director of the New England Ski Museum and Curator of the "History of Snowmaking for Skiing" exhibit. "They had to shovel snow out of the woods and spread it on the tracks." 
Chipped ice solution
"The Boston Garden, the Madison Square Garden in the 1935-38 period that had these big extravaganzas were not just the jumps, but ski decks where people demonstrated skiing," said Leitch about the exhibitions that used chipped ice. "They built a big superstructure up from the roof of the [Boston] Garden filled with chip ice and actually imported European skiers… the crowds came."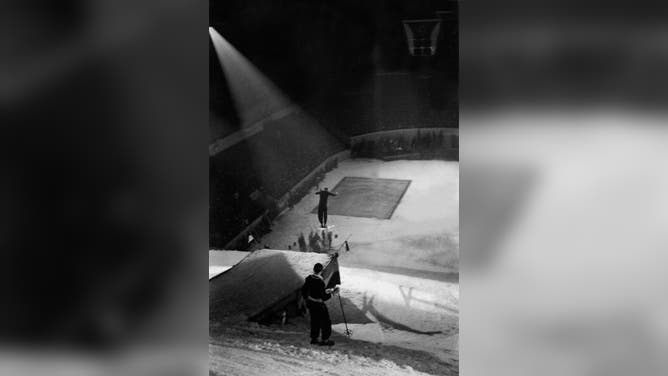 Refrigerating fruit in freight cars solution
"In 1937, Henry Moore [of the Boston Herald] talked about using this machinery that was used for packing refrigerated fruit at the Boston Garden," said Leitch. "This wasn't anything they invented for the ski shows. It was something they used for selling refrigerated freight cars with ice."
The Link-Belt Company repurposed a machine originally built to grind and blow ice into refrigerator cars to preserve fruit.
Deicing testing technology solution
Canadian ski resorts experimented with nozzles designed to generate rain, freezing rain, fog and sleet in order to test deicing methods for aircraft in the mid to late 1940s.
Walter Schoenknect owned the Mohawk Mountain Ski Resort in Connecticut and had a good first year in 1948. "He was opening at a pretty good year and made some money. And then the next year there was a snow drought all over New England. No ski areas were open."
Schoenknect bought all the ice blocks from nearby towns and a chipper. He covered a quarter quarter-mile for weeks until an employee dropped a pair of metal ice tongs into the chipper.
HOW SKI RESORTS MAKE THEIR OWN SNOW WHEN MOTHER NATURE DOESN'T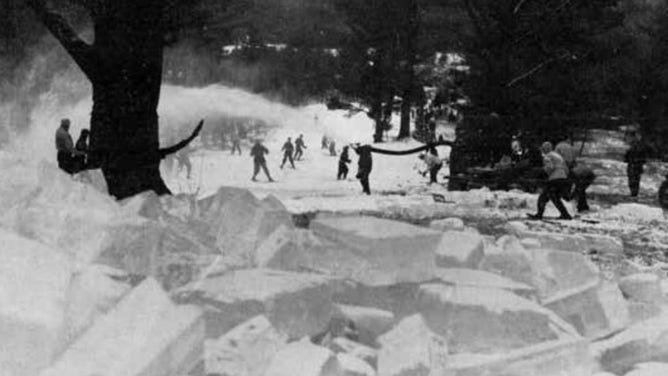 "He probably broke even on the effort," laughed Leitch at the expense. "But you know, he had lots of skiers for a couple of weeks and got a lot of publicity on it." 
Schoenknect joined three other engineers and pre-war friends, who were not so successful at ski making as the TEY Manufacturing Company, to try to test out a cheaper and more efficient way to make snow.
"He said, 'I know how to make snow,'" Leitch quoted one of the engineers. "He figured out that if he combined a garden hose with some compressed air from a paint sprayer, water and the right kind of heat spray gun nozzle then stuck it outside in subfreezing temperatures. He'd have a pile of snow."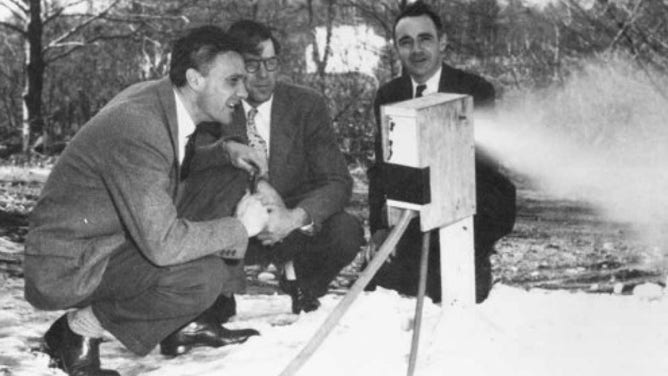 They applied for a patent in 1950 and received it in 1954. 
Grossinger's Catskill Resort Hotel in New York bought the first major commercial snowmaking system in 1952. This was a big boon to Grossinger's in Liberty, New York on the southern edge of ski terrain weather-wise.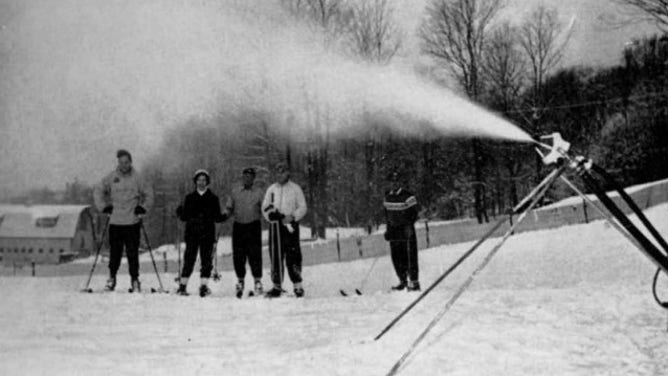 Frost protection technology for orange groves solution
But, the trio needed help to scale the invention to cover more area like a steep trail. TEY went to an agricultural irrigation supply company, Larchmont Farms Company, in 1950 for pipe and fittings.
Larchmont tried their own "fog nozzle" at snowmaking in 1957 and severed the relationship with TEY. They used the nozzle that covered orange groves in ice to protect them from frost. The Larchmont system could also be moved to different areas.
"TEY came up with this snowmaking idea, but they never really made any money with that," said Leitch, but don't feel sorry for TEY. "Their big thing they sort of left snowmaking behind for was to develop aerial boom trucks that you see now everywhere on every utility truck."
Larchmont is still in business today and eventually bought the TEY patent in 1959.
The company that acquired TEY installed systems as far as Mount Holly in Michigan and Moonridge Country Club at Big Bear Lake, California. Schoenknect helped open Mount Harrison in Gatlinburg, Tennessee in 1962 with the technology.

Snowmaking gets notice
Here are the key dates in development:
Snowmaking became more than a novelty in 1958. The well-known "Eastern Ski Directory" by "Eastern Ski Annual" added snowmaking to its categories noting that 18 of the 104 ski resorts in New York and New England used man-made snow.
Killington Ski Resorts marketing guaranteed snow to skiers at their Showshed Resort in Vermont in 1958.
In the 1960s skiers and equipment improved and chewed up the slope more. Manmade snow provided a more durable, compact base due to its higher water to air ratio than snow.
HOW TO WATCH FOX WEATHER ON TV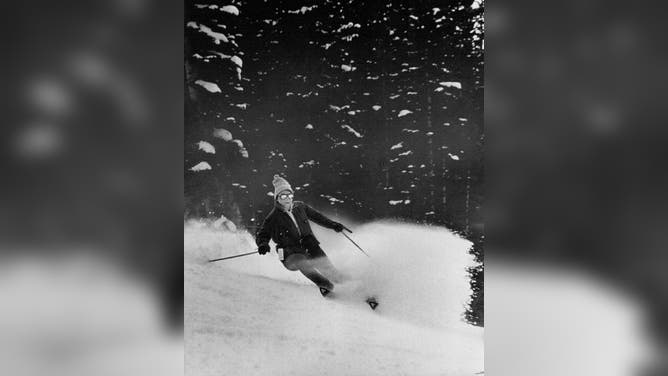 Ratnik Industries buried pipes and introduced the first freeze-proof system in 1964. The Bristol Mountain equipment drained when not in use.
"Tower guns were the next big thing," added Leitch about the 1968 breakthrough to create more natural-feeling snow. "A 20-30 foot long extension of the snowmaking gun put it further up in the air so that atomized water falling down through cold air would have more time to crystallize into more of a natural shape."
In 1966 snowmaking went large scale. Fred Pabst, from Milwaukee brewing fame, installed snowmaking from the to the bottom of his entire Vermont ski resort, Bromley.
"And I quote, 'nobody thought you could cover a whole mountain with snowmaking. And now they want to come and see how it's done,'" said Leitch quoting Pabst. "And so Bromley was a real leader in that."
Necessity not luxury
Seasons of drought plagued several years in the early 70s and 80s.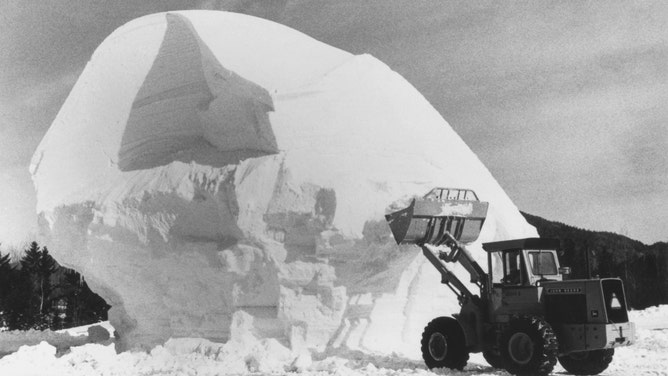 "That made the finances very difficult," said Leitch. "It was in the 1980s that the big mountains really started to get serious about snowmaking as an insurance policy for no snow, and also to extend the season."
The museum quotes a book by Karen Lorentz, Killington: A Story of Mountains and Men, "It took the poor snow season of 1980, when only two Vermont areas finished in the black to convince many operators of the necessity of snowmaking as a means to providing a constant product."
"Killington was a real leader in 1981, where they made the determination that we're just going to count on the fact that we need snowmaking and not rely on natural snow anymore," said Leitch. "That seemed like an early turning point."
Smaller resorts couldn't afford snowmaking machines, "A lot of the mom-and-pop areas went out of business," said Leitch about the hundreds of ski resorts that closed in New England.
More recently, companies have been trying to make a better snow gun that is more energy and water-efficient.
The Beijing Winter Olympic used almost 100% human-made snow according to an article by Colorado State University professor Steven Fassnacht.