Warm temperatures in western, central US break records Wednesday
Colder air moves into the northern tier by Thursday
Temperatures as high as 30 degrees above average across a large portion of the country Wednesday broke at least 1 record that had stood for more than a century.
In fact, 70% of the country was treated to warm, springlike temperatures.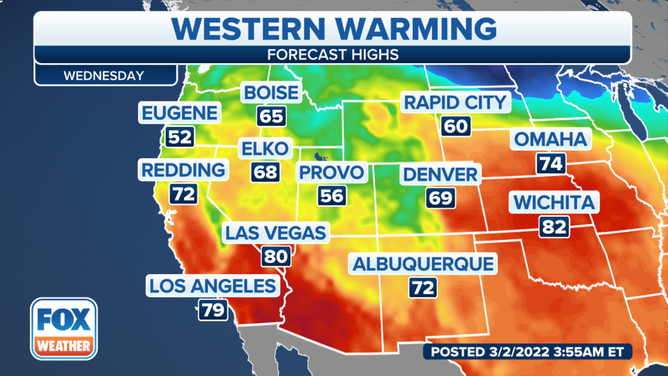 Boise, Idaho, was forecast to get to 65 degrees Wednesday, but cooler temperatures were expected closer to the Pacific coast. Eugene, Oregon, was forecast to get to 52 degrees Wednesday.
Warm temperatures also extended from the Plains to the Gulf Coast, with temperatures ranging from 60 degrees in Rapid City, South Dakota, to a forecast high of 82 degrees in Wichita, Kansas.
Colder air will begin to move into parts of the northern tier by Thursday, with Rapid City only expected to get to a high of 44 degrees. However, the warm weather will continue from Southern California into the Southwest and Plains.
More areas of the western U.S. will begin to cool down by Friday, while it will be another warm day across the Plains and Mississippi Valley.
Lubbock, Texas, and Wichita will be in the upper 70s, while to the north in Omaha, Nebraska, it will only get to about 71 degrees.

The next three days will be very warm across the Plains and Southeast, too.
Omaha, Nebraska, will drop from 74 degrees to 51 degrees on Thursday as colder air moves in from the north. But to the south, the temperature change won't be as dramatic.
Oklahoma City will stay in the upper 70s to near 80 degrees over the next three days.
Records in danger
The record high for the day in Kansas City, Missouri, which was set in 1901, was shattered Wednesday afternoon as the mercury climbed above 80 degrees.
121-YEAR-OLD RECORD SHATTERED IN KANSAS CITY AS MARCH TEMPS REACH 84 DEGREES
Several more record-high temperatures will likely be broken Wednesday.
Topeka, Kansas, appeared to have broken its record high for March 2 set in 1901 by Wednesday afternoon. Columbia and St. Louis in Missouri also appeared to have broken their record highs for the day.