One more day of 'spring' warmth for the Northeast
The warmth broke records from New Jersey to Massachusetts.
It was another warm day across the Northeast on Thursday, and those warm temperatures broke a few records.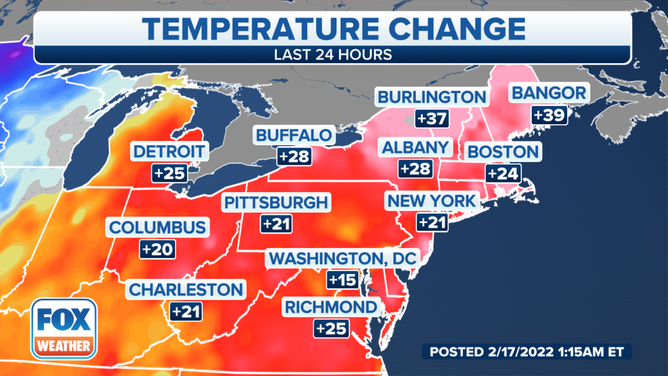 In fact, it's nearly 40 degrees warmer than it was on Wednesday in places like Bangor, Maine, and Burlington, Vermont.
Temperatures are also much warmer than Wednesday from Detroit to Columbus, Ohio, and Charleston, West Virginia, into the mid-Atlantic and the Northeast.
While the Northeast and New England will enjoy the warm weather, temperatures aren't usually this high for this time of year.
Several cities broke records Thursday:
Central Park in New York City hit a record 68, the normal is 43
Newark, New Jersey hit 69 breaking the old record of 66 from 1976
Boston tied the record high with 61, the warmest it's been on this day since 1981
Worcester, Massachusetts hit 59 breaking their previous record set in 1981 by three degrees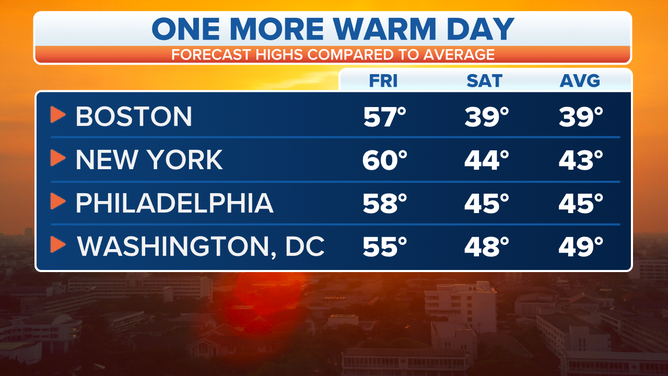 But what goes up must come down. The Northeast has one more day of springlike warmth before winter returns Saturday.

As the powerful storm system triggering severe weather, heavy snow, ice and flooding rain advances from the central U.S. into the eastern half of the country, cold weather will return to the region.
Temperatures will be in the 50s in New England to start the day on Friday, but as the day continues, it will get colder.
By Saturday, Bangor, Maine, will be back below freezing. Boston, which will get to around 55 degrees Friday, will plummet to 39 degrees on Saturday.