Tornado Watch continues for Alabama, Mississippi
NOAA's Storm Prediction Center noted the potential exists for at least a couple of strong tornadoes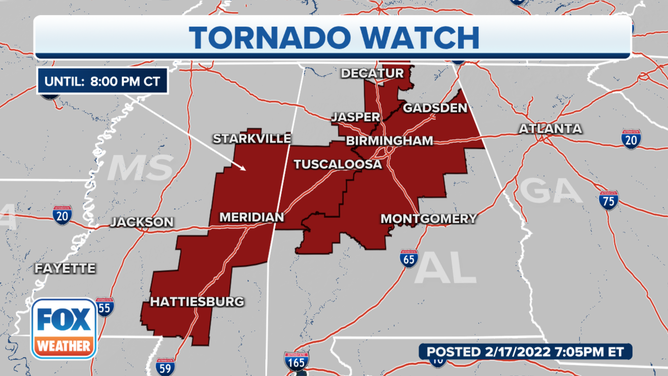 FOX Weather is live with the Weather Wire covering live updates on the massive winter storm impacting more than 119 million Americans across the country. Click the FOX Weather Wire for live updates.
Severe storms packing tornadoes and damaging winds will threaten parts of the South through Thursday evening.
A widespread area of rain and thunderstorms is ongoing across the South in association with the same low-pressure system spreading snow, ice, heavy rain and high winds from portions of the Plains into the Midwest and Northeast.
NOAA's Storm Prediction Center has issued Tornado Watches for portions of Alabama and Mississippi. The watch for Mississippi is in effect until 8 p.m. and the watch for Alabama until 9 p.m.
Be sure to download the FOX Weather app for the latest forecast and weather alerts for your exact location, plus our channel's 24/7 livestream.
STRONG WINTER STORM SPREADING HEAVY SNOW, ICE, FLOODING RAIN AND HIGH WINDS FROM PLAINS TO MIDWEST, NORTHEAST
Thursday's severe storm threat
The severe weather threat on Thursday will stretch across portions of the mid-South, Tennessee Valley and lower Ohio Valley.
Thunderstorms are already ongoing in Arkansas, northern Louisiana and West and Middle Tennessee and are expected to spread eastward through Thursday evening into Mississippi, Alabama, the rest of Tennessee, Kentucky and northwestern Georgia.
The greatest threat for severe storms will be focused over central and northern Mississippi, West and Middle Tennessee and northwestern Alabama during the afternoon and evening. Damaging wind gusts and tornadoes are the main threats from these severe thunderstorms. Locally heavy rainfall is likely as well.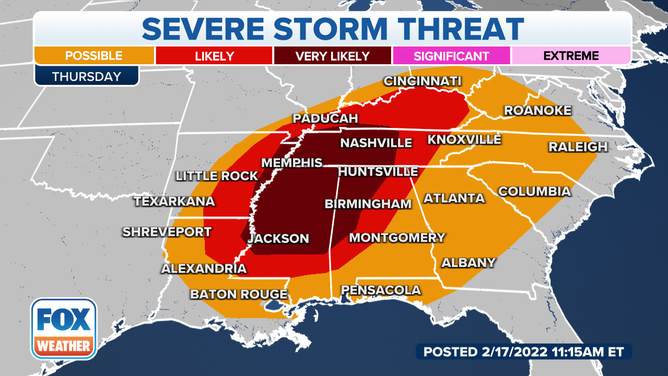 The SPC noted the potential exists for at least a couple of strong tornadoes, particularly from central and northern Mississippi into adjacent portions of West Tennessee and western Alabama.
Cities included in this greatest tornado threat area are Meridian, Starkville and Tupelo in Mississippi and Jackson and Bartlett in Tennessee.
HERE'S WHERE TORNADOES ARE MOST LIKELY TO OCCUR IN EACH MONTH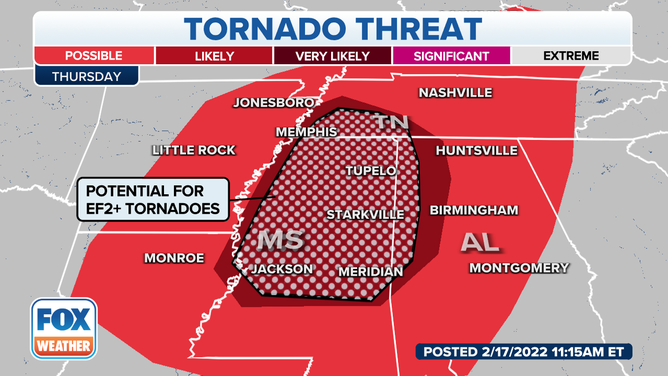 By Thursday night, the severe weather threat might shift eastward into parts of Georgia, the Carolinas, East Tennessee, western Virginia and West Virginia, but there remains uncertainty in how much instability will be available in the atmosphere over those areas. Gusty winds and locally heavy rain are expected there regardless of the severe threat.
The storm system responsible for the severe thunderstorms will move off the East Coast early Friday morning.