Late-season chill: Some parts of the northern US to see 30-degree temperature drop in 24 hours
Temperatures of 20 to 30 degrees below average are expected
It's a tale of two extremes in the United States this week as the South won't see any relief from triple-digit temperatures, and the Northwest and Northern Plains get ready for a big temperature tumble.
In fact, by the end of the week, temperatures could fall to between 20 and 30 degrees below average, with some areas getting even colder.
HOW TO WATCH FOX WEATHER ON TV
Many cities across the Northwest and Northern Plains will really feel the chill by the end of the week.
On Thursday, cities like Denver, Cheyenne, Wyoming, North Platte, Nebraska, and Sioux City, Iowa, will be sitting in temperatures ranging from the lower 80s to the mid-90s, but what a difference a day makes.
In 24 hours, temperatures will take the plunge.
NO RELIEF IN SIGHT FOR THE SOUTH AS SCORCHING TEMPERATURES CONTINUE THROUGH THE WEEK
Denver is expected to drop from 87 degrees on Thursday to only 45 degrees on Friday. That city's average high temperature for this time of year is 72 degrees.
North Platte, Nebraska, will also see a considerable drop in temperatures. It will go from a hot 94 degrees on Thursday to only 63 degrees on Friday – a 31-degree difference.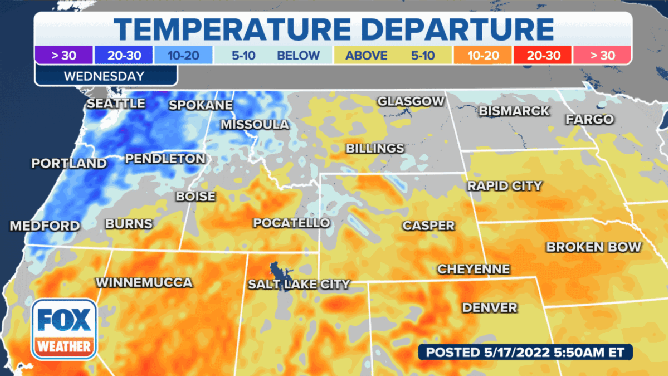 As we take a look at the wider map, we see temperatures in the Pacific Northwest will be below average on Wednesday, with the cooler temperatures reaching as far south as the Oregon coast and parts of Northern California.
And as we head into Thursday, those below-average temperatures will reach farther to the east into parts of the northern Rockies and Northern Plains.
Idaho, Montana, Colorado and North Dakota will be first up to feel the chill, with the cooler air dipping into the Central Plains and even the Midwest to end the week and as we head into the weekend.
The warmer temperatures will still be in place in the northern U.S. as we get into Wednesday.
Temperatures will be in the 70s in places like Helena, Montana, Idaho Falls, Idaho, and across the North into the Midwest.
Even some 80-degree temperatures will be seen in places like Lincoln, Nebraska.
CLICK HERE TO GET THE FOX WEATHER UPDATE PODCAST
On Thursday, Helena, Montana, and Idaho Falls, Idaho, and points to the east will begin to cool down, with temperatures dropping into the 50s.
Then, Friday will see the coldest air, with places like Cheyenne, Wyoming, and Rapid City, South Dakota, dropping into the 40s for high temperatures.
Saturday won't be as cold as Thursday, but areas from the northern Rockies, Northern Plains and Midwest will have high temperatures only into the mid- to upper 50s.