Tropical Storm Henri brings increasing risks of strong winds, heavy rain, storm surge to New England
Tropical storm watches will likely be required for parts of the Northeast early Friday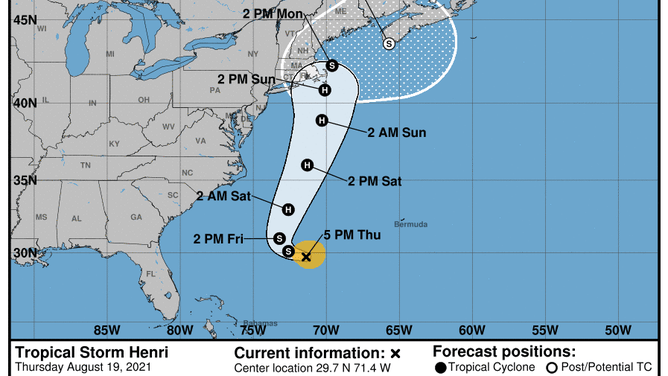 Tropical Storm Henri is a growing concern for the northeastern United States, particularly New England, as the region remains in the storm's cone of uncertainty.
As of 5 p.m. Eastern time Thursday, Henri was swirling in the western Atlantic Ocean less than 500 miles south-southeast of Cape Hatteras, North Carolina. According to the National Hurricane Center, the storm had winds of 65 mph, placing it within 10 mph of Category 1 hurricane strength. The tropical storm was moving westward at 10 mph. 
Henri is expected to turn toward the northwest Friday, then accelerate toward the north and north-northeast Saturday and Sunday in the direction of southern New England.
"On the forecast track, the center of Henri will remain well offshore of the East Coast of the United States over the next couple of days, but it is forecast to be near southern New England on Sunday and Monday," the NHC said in its 5 p.m. Eastern advisory.
Here are the 4 PM CDT, August 19th Key Messages for Tropical Storm #Grace. The storm is expected to re-intensify into a hurricane in the Gulf of Mexico before making a 2nd landfall along parts of eastern mainland Mexico by early Saturday morning. 

Latest: https://t.co/yogJDcfFzg pic.twitter.com/ztLiQhDLO2

— National Hurricane Center (@NHC_Atlantic) August 19, 2021
Much of the Northeast from eastern Long Island to Maine is in the cone of uncertainty.
TROPICAL STORM HENRI'S TRACK RESEMBLES THAT OF ANOTHER HENRI IN 1985
Henri is predicted to intensify into a hurricane by Friday night, with additional strengthening then expected to occur over the weekend.
However, at its closest pass to Cape Cod, Martha's Vineyard and Nantucket Monday morning, Henri is currently forecast to be a tropical storm with 65-mph winds.
"The risks of storm surge, wind and rain impacts in portions of southern New England and eastern Long Island are increasing," the NHC said in its 5 p.m. Eastern forecast discussion. "Watches will likely be required for portions of this area early Friday."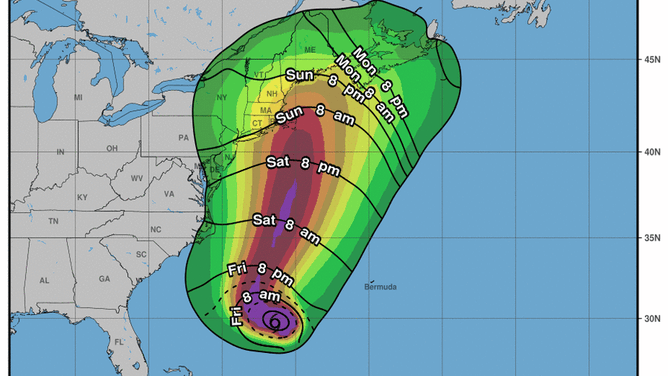 Henri is predicted to produce 2 to 5 inches of rain over southeastern New England Sunday into Monday, with isolated maximum totals near 8 inches. This heavy rainfall might result in areas of flash, urban and small stream flooding.
Additionally, the NHC expects swells to increase across much of the U.S. East Coast and Atlantic Canada late this week and this weekend. These swells could cause life-threatening surf and rip current conditions.
Stay with FOX Weather for the latest developments on Tropical Storm Henri.