Tropical Storm Henri's track resembles that of another Henri in 1985
Henri's 36-year-old predecessor is trying to make a comeback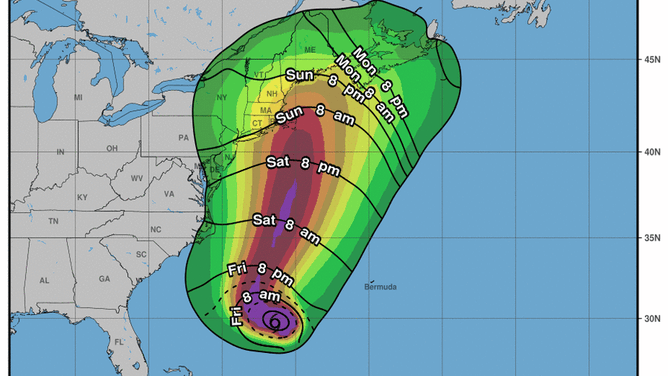 Tropical Storm Henri is expected to move northward, parallel to the East Coast of the United States, over the next several days, with a large portion of the Northeast in the storm's cone of uncertainty. This is eerily similar to the track of a previous Henri that roamed the Atlantic 36 years ago.
The names of tropical cyclones run on a six-year rotation, so the names on this year's list were last used in 2015. The only exception is if a particular storm is so destructive and/or deadly that the World Meteorological Organization votes to retire that name from future use, such was the case with Harvey, Katrina, Michael and Sandy, just to name a few.
The name Henri has yet to be retired, so we also saw a Tropical Storm Henri in 2015, 2009, 2003 and 1985, as well as a Hurricane Henri in 1979. The 1991 and 1997 hurricane seasons did not reach the "H" storm.
HERE ARE THE NAMES YOU'LL SEE DURING THE 2021 ATLANTIC HURRICANE SEASON
But the Tropical Storm Henri from 1985 followed a path that appears awfully similar to the projected track of the current Henri.
The 36-year-old version of Henri developed into a tropical depression on Sept. 21 more than 400 miles off the east coast of Florida. The depression moved generally northward, parallel to the U.S. East Coast, and strengthened into a tropical storm early on Sept. 23.
At 5 p.m. Sept. 24, Henri struck the eastern tip of Long Island with maximum sustained winds of 40 mph. It then weakened to a tropical depression before making a second landfall near the Connecticut and Rhode Island border about three hours later. Henri dissipated overnight as it was absorbed by frontal zone over New England, according to the National Hurricane Center.
Rainfall amounts were unimpressive for a tropical cyclone, as there was no remaining deep convection near the center of Henri as it moved through New England.
Only two locations – one in Massachusetts and another in North Carolina – recorded rainfall totals in excess of 3 inches, according to NOAA's Weather Prediction Center. As a result, there was no significant damage reported from 1985's Tropical Storm Henri, a NOAA report noted. 
TROPICAL STORM HENRI BRINGS INCREASING RISKS OF STRONG WINDS, HEAVY RAIN, STORM SURGE TO NEW ENGLAND
The current version of Tropical Storm Henri is predicted to follow a path slightly farther to the east than its 1985 predecessor, likely approaching southeastern Massachusetts Sunday into Monday, rather than eastern Long Island and the Connecticut/Rhode Island border.
However, both of those spots are included in the NHC's cone of uncertainty, so a slight jog to the west is still possible, which would put it very close to where Henri struck 36 years ago.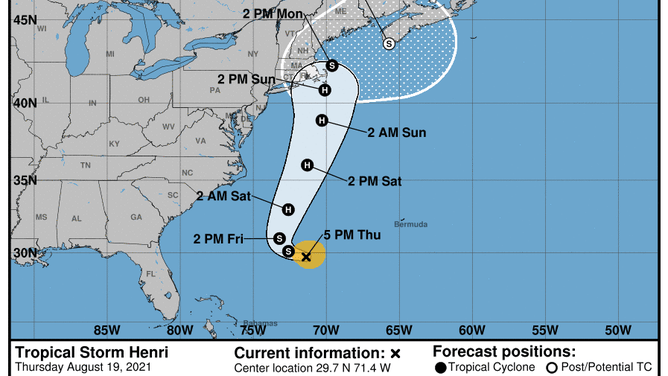 Stay with FOX Weather for the latest developments on Tropical Storm Henri.