Triple threat of Idalia, blue moon, Franklin leading to coastal flooding, rip current threat along East Coast
North Carolina DOT crews prepared dunes and sand barriers along the Outer Banks, and New York Governor Kathy Hochul directed some state parks to suspend swimming due to the dangerous conditions.
The combination of several weather systems, including Hurricane Franklin and Tropical Storm Idalia, are leading to higher-than-normal seas and threats for dangerous rip currents that could last for several days up and down the Eastern Seaboard.
Due to the conditions, nearly every beach from Florida to Maine is under some type of alert, warning about coastal flooding, erosion, rip currents or high surf.
The additional motion in the ocean couldn't come at a worse time, as a supermoon has already led to higher-than-normal tides due to its gravitational pull.
Coastal regions from New York to Florida reported seeing aggravated seas from former-Category 4 Franklin even before Tropical Storm Idalia made it into the Atlantic Ocean, after its trek through the Southeast.
Tracking the tropics
(FOX Weather)
---
RARE SKY SHOW: 2023'S ONLY BLUE MOON ALSO A SUPERMOON
The National Weather Service office in Morehead City, North Carolina, said ocean levels made it all the way up to the dunes in some spots, even before influences from Idalia.
With the addition of Idalia, water levels are expected to rise 2–4 feet through Thursday for coastal parts of Tar Heel State with the storm surge.
"The combination of all [Franklin, Idalia, supermoon and pressure gradient] will play a role in water level rises over the next few days, at least along the coast of Eastern North Carolina," the NWS stated.
The NWS said western sections of Pamlico Sound could see higher water levels than the Outer Banks this time due to the coastline's topography.
The North Carolina Department of Transportation said it has been preparing for the impacts of the supermoon, Franklin and Idalia and was reinforcing potential weak spots of dunes along State Highway 12 through the islands.
The agency reported that as of Wednesday, only minor ocean overwash was seen on some of the Outer Banks, but roadways remained passable.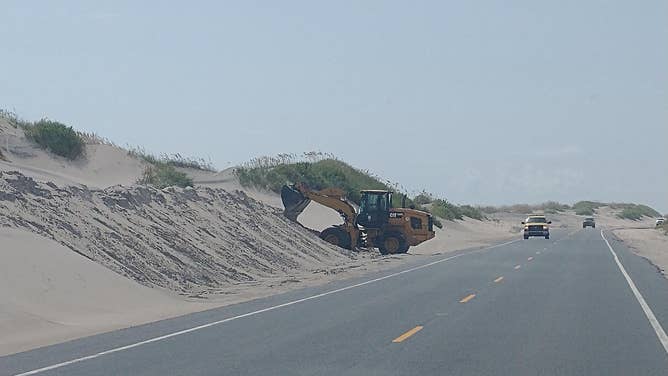 Flooding reaches the Northeast
North Carolina was not the only state impacted by high surf, flooding was reported in both New Jersey and New York.
Swimming was banned at some Long Island beaches due to the dangerous surf and rip currents.
"With tropical storms and hurricanes affecting our beaches on Long Island, we are taking proactive steps to protect New Yorkers, and I urge everyone to remain vigilant," Governor Kathy Hochul said in a statement.
The governor's office said lifeguards would remain on duty to warn visitors at Robert Moses, Hither Hills and Jones Beach State Parks to stay out of the water.
Rip current threat
(FOX Weather)
---
IDALIA'S WRATH CONTINUES ACROSS SOUTHEAST WITH FLOODING IN CHARLESTON FOLLOWING HISTORIC FLORIDA LANDFALL
Even before Idalia was part of the synoptic scenario, the United States Geological Survey estimated 19% of East Coast beaches would face dune erosion due to high water levels created by Hurricane Franklin.
"Despite staying at sea, Hurricane Franklin will likely erode dunes along 19% of sandy beaches from FL to ME on the U.S. Atlantic Coast. USGS forecasts help communities stay informed about hazards, even when a storm is not nearby," the agency stated.
None of the rises in sea levels are expected to top either the 10–17-foot storm surge associated with Idalia's landfall along the Gulf of Mexico or flooding that overtook parts of South Carolina's Lowcountry on Wednesday evening.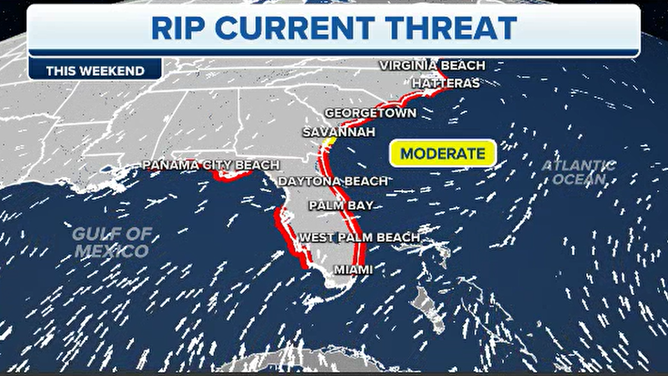 Tide levels rose to 9.23 feet in Charleston Harbor, which was the observation site's fifth-highest peak in history.
The level was short of storm surges created during hurricanes Mathew, Irma and Hugo but led to flooded streets and dune erosion along beaches.
Due to Idalia's anticipated slow movement over the western Atlantic, seas and surf could remain elevated for several days, which could impact mid-Atlantic and Northeast beaches through at least Labor Day.