Severe thunderstorms with large hail, damaging winds and tornadoes possible in the Deep South
The South is again in the cross-hairs of dangerous weather as severe storms appear likely on Sunday. Forecasters say large hail is the primary threat from the storms.
The FOX Forecast Center is tracking the movement of a cold front across the South that is triggering showers and thunderstorms over a region that does not need any more rain.
NOAA's Storm Prediction Center believes that after storms leave Oklahoma and Arkansas, the threat of strong to severe weather will progress off to the south and east and impact parts of Mississippi, Alabama and Florida on Sunday. 
Large hail appears to be the highest threat from any severe thunderstorms that develop, but the FOX Forecast Center warned it would not take too much more rainfall to trigger additional flash flooding in parts of the South that have been getting rain for much of the week.
More than a dozen water gauges along major rivers, creeks and streams in Arkansas are either near flood stage or above, and many communities are well above average for rainfall in 2023.
WHY TORNADO ALLEY IS SHIFTING EAST
The river level forecasts for the next few days across the mid-South.
(FOX Weather)
---
According to observations from the National Weather Service, Fayetteville, Arkansas, is running more than 4.7 inches above average, while Little Rock is running nearly 11 inches above average for precipitation.
7 FACTS YOU SHOULD KNOW ABOUT FLASH FLOODS
A Tornado Watch is in effect until 8 p.m. EDT.
(FOX Weather)
---
The National Weather Service issued a Tornado Watch along Florida's Panhandle, including Port St. Joe and Tallahassee, as well as for southern Georgia including the cities of Colquitt, Tifton, Valdosta, Baxley, Savannah and Brunswick until 8 p.m. EDT.
A small section of southeastern Alabama is also included in the Tornado Watch.
The severe weather outlook for March 12, 2023.
(FOX Weather)
---
Communities in Sunday's threat zone include Jackson and Hattiesburg in Mississippi, Montgomery, Dothan and Mobile in Alabama, and Pensacola, Tallahassee and Jacksonville in Florida.
"Damaging winds and hail are the primary hazards and the greatest threats out of these powerful storms, but if we get enough rotation within these supercells, we could likely see a few tornadoes," FOX Weather meteorologist Jane Minar said.
Severe weather threats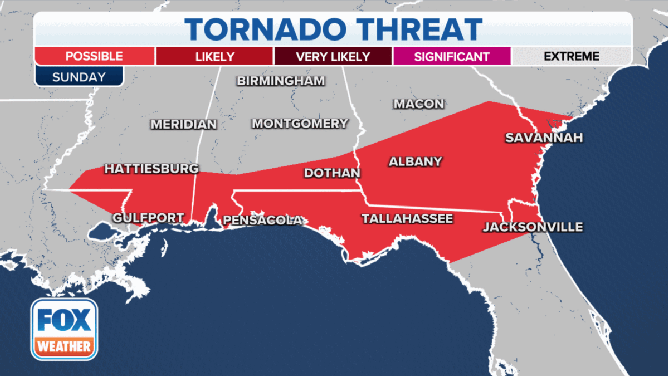 When severe thunderstorms do fire up on Sunday, there is the chance that some could produce tornadoes, large hail, damaging winds and flash flooding.
The tornado threat is low, but they're still possible from southern Mississippi and along the Gulf Coast in Alabama, Florida and southern Georgia.
There's a higher risk for damaging winds and large hail in Jackson and Hattiesburg in Mississippi, Montgomery, Mobile and Dothan in Alabama, Pensacola and Tallahassee in Florida, and in southern Georgia from Macon to Albany and Savannah.