Why atmospheric rivers could become more frequent as world transitions out of La Nina
Climatologists believe there is a high chance that neutral conditions will be in control during the spring as the Pacific Ocean transitions out of La Niña and tries to head towards an El Niño. Signs, like the continual atmospheric rivers in California, point to an exit out of La Niña.
As critical areas of the Pacific Ocean warm and the world marches out of a La Niña towards neutral status, North America might be in store for changes in weather patterns not seen in several years.
A rare triple-dip La Niña has been in place since 2020 and was one of the main driving forces behind megadroughts, severe weather outbreaks and hurricanes.
Signs are pointing to a quickly approaching shift that the National Oceanic and Atmospheric Administration believes will arrive during the spring. In fact, the Climate Prediction Center said there is an 82 percent chance that the El Niño-Southern Oscillation index will reach neutral status during either March, April or May, with a 50 percent chance that El Niño could become dominant by late summer or early fall.
END OF TRIPLE-DIP LA NINA IN SIGHT: WHAT IT COULD MEAN FOR SPRING SEVERE WEATHER SEASON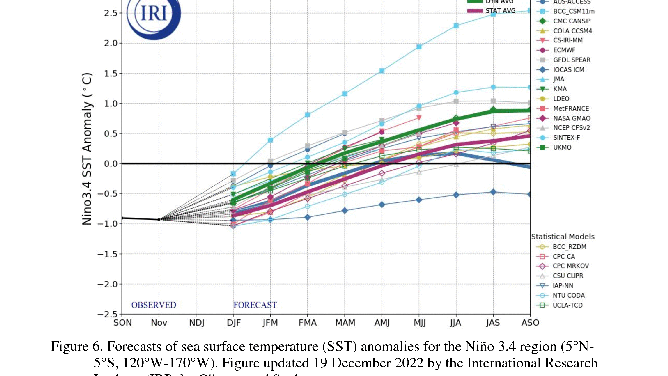 "We are still more than 6 months away, and the probabilities for neutral+La Niña are still pretty close to even with El Niño. Also, since ENSO is a seasonal pattern, we need to be able to expect that El Niño's characteristic warmer-than-average tropical Pacific would be present for more than one or two months in a row. We don't have strong physical signs right now, either, like a large amount of warmer-than-average water looming under the surface, and the Walker circulation is still amped up. Stay tuned, for sure—but for the moment, we are not issuing an El Niño Watch," Emily Becker, an atmospheric scientist at NOAA, posted in a recent blog update.
CALIFORNIA SCENES SHOW DEVASTATION FROM FLOODING, SINKHOLES AMID BARRAGE OF ATMOSPHERIC RIVERS
Meteorologists will be closely watching ocean temperatures in the central and eastern Pacific to determine when the La Niña ends and the next phase begins.
Once water temperature anomalies reach between -0.5 °C and 0.5 °C for an extended time period, the world will wave goodbye to La Niña and officially be in a neutral stage.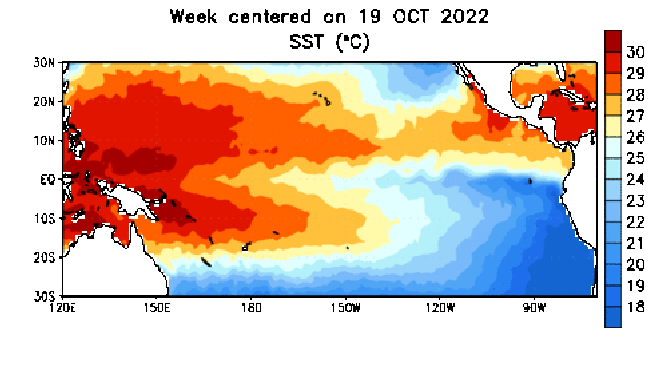 The stage is vital in determining available moisture and locations of jet streams, which critically influence weather patterns across North America.
Signs point to an exit out of La Niña is underway
During a neutral or even El Niño stage, experts say the West Coast typically fairs better with rainfall, with areas in the heartland typically picking up less.
With a coastline of around 800 miles, California is typically hard to miss with atmospheric river events and bomb cyclones. Both can produce substantial amounts of valley rain and mountain snow in a short time period -- similar to what millions of residents have experienced to start the new year.
NOAA says it is important to monitor the northern and central parts of the Golden State because it is here where the region's major reservoirs reside.
An increase in rain and snow can not only be beneficial for vegetation but also help restore water supplies that are important for both commercial and residential uses.

WHAT ARE EL NINO AND LA NINA CLIMATE PATTERNS?
As of mid-January, only around 30 percent of significant reservoirs had water levels above their average, despite historic rainfall.
What climatologists and meteorologists agree is that it will take much more rain to end the megadrought and restore critical waterways.
According to the U.S. Drought Monitor, the entire state is still experiencing drought conditions, but the severity has been reduced in several communities.
Areas suffering from severe or extreme drought are now faced with more moderate levels, which could be wiped away if rains keep coming.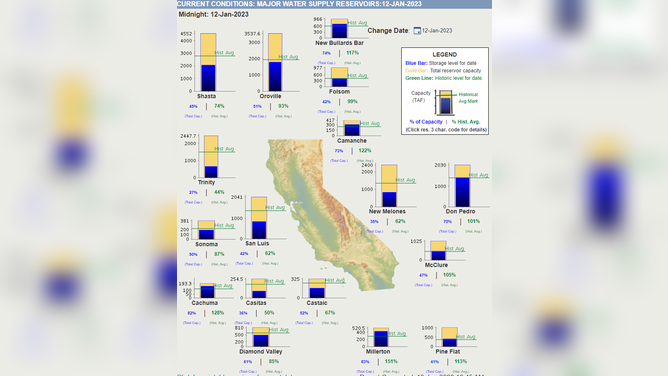 Meteorologists caution that past global weather patterns do not guarantee a future outcome, and each El Niño, La El Niña and neutral event is unique.
7 FACTS TO KNOW ABOUT HURRICANES
As the calendar ticks deeper into 2023, forecasters will be paying close attention to the ENSO status to make predictions about the upcoming hurricane season.
Experts were caught off guard by the amount of inactivity in 2022 and are hoping to rebound with higher accuracy for 2023's season predictions. 
The hurricane season is slated to begin on June 1, with major outlooks expected to be released starting in April.