Tracker: Where Canadian wildfire smoke is pushing into Great Lakes, Upper Midwest
Winds from a large ridge of high pressure are transporting the smoke from Quebec into the Great Lakes and Upper Midwest.
Wildfire smoke from hundreds of fires burning across Canada continues to send smoke into the U.S. this week, creating air quality concerns for the Upper Midwest and Great Lakes.
Canada is in the midst of one of its worst wildfire seasons on record, in turn producing some of the worst air quality on record for major cities in the U.S., including the Twin Cities and New York City.
NOAA satellites continue to track the smoke as weather systems move more particles across the U.S-Canadian border into the weekend.
Where is the wildfire smoke headed next?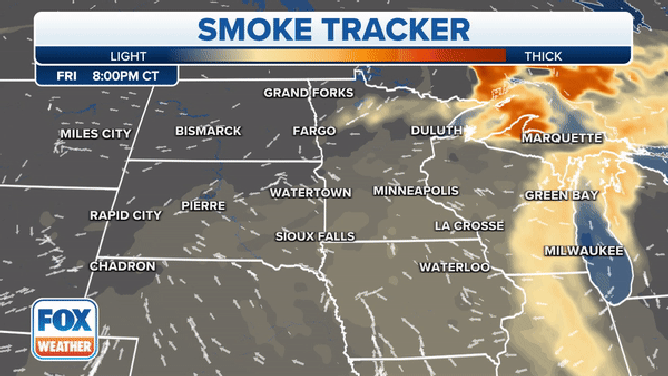 The FOX Forecast Center is tracking a prominent ridge of high pressure developing over the Upper Midwest this week. 
WHAT IS THE AIR QUALITY INDEX?
The U.S. Air Quality Fire and Smoke map shows smoke continuing to move into the Great Lakes on Friday.
Smoke forecast for Upper Midwest.
(FOX Weather)
---
Smoke forecast models show wildfire smoke from Manitoba being transported into Minnesota on Friday.
The Upper Midwest and Great Lakes continue to be under a veil of wildfire smoke, with light to moderate smoke levels across Duluth in Minnesota and Green Bay and Milwaukee in Wisconsin.
Are there Air Quality Alerts from wildfire smoke?
Air Quality Index alerts.
(FOX Weather)
---
As of Thursday, there are "moderate" or Code Yellow air quality alerts for the Upper Midwest and the Great Lakes. The air quality alerts are for ozone pollution exacerbated by wildfire smoke.
The Wisconsin Department of Natural Resources issued an Air Quality Advisory, in effect until Friday night for the entire state.
Weather conditions combined with Canadian wildfire smoke are leading to enhanced surface ozone production through Friday. Peak ozone concentrations happen daily from 10 a.m. to 10 p.m. The Air Quality Index is expected to reach "Unhealthy for Sensitive Groups" across Wisconsin, with the potential to reach "Unhealthy" levels in some areas.
Minneapolis, Chicago and Detroit are also under advisories for ozone pollution.
How bad are the wildfires in Canada?
More than 420 active wildfires are burning across Canada. The worst wildfire conditions persist in Ontario and Quebec, causing smoke to flow into the northern U.S. 
WHAT'S BELIEVED TO HAVE SPARKED THE CANADIAN WILDFIRES
So far this year, more than 2,400 wildfires have started in Canada, burning over 6.5 million hectares (16 million acres). Lightning likely sparked many of the hundreds of fires burning.