Tornado risk returns to Southern Plains
One storm exits and another forms in the Southern Plains with a new round of potentially deadly weather.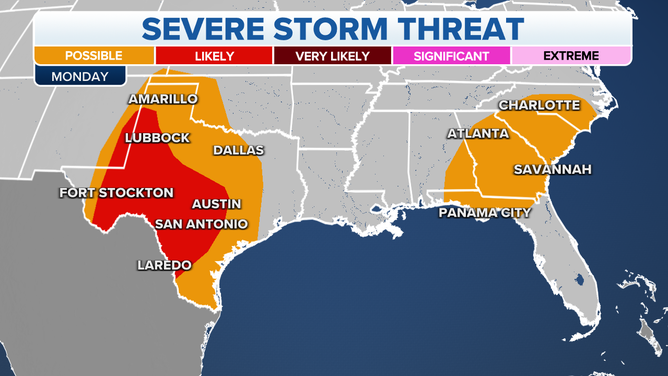 A cold front finally brought relief to the sweltering Northeast. But, the clash between warm air ahead and cold air behind the front made for a battle zone of severe thunderstorms Sunday from Maine into Virginia.
CLICK HERE TO GET THE FOX WEATHER UPDATE PODCAST

Watch the lightning strike too close to a homeowner as the storm cleared the Midwest and pushed east. This resident barely had time to take cover in Crystal Lake Illinois.
On Friday, the storm touched off tornadoes in Michigan that killed two and injured 44 people.
2 DEAD. 44 INJURED AFTER AN EF-3 TORNADO TEARS THROUGH MICHIGAN TOWN
The powerful cold front will linger early Monday across New England and keep the area in a chance for Severe Thunderstorms.
Large hail is possible along the coast from Maine to Washington, D.C.
---
Lingering thunderstorms are possible across the Southeast coast, where the largest threat there is flooding.
7 THINGS YOU SHOULD KNOW ABOUT FLASH FLOODING
Some areas could see up to 5 inches of rain while a large swath from Virginia back into Alabama could see 2-3 inches.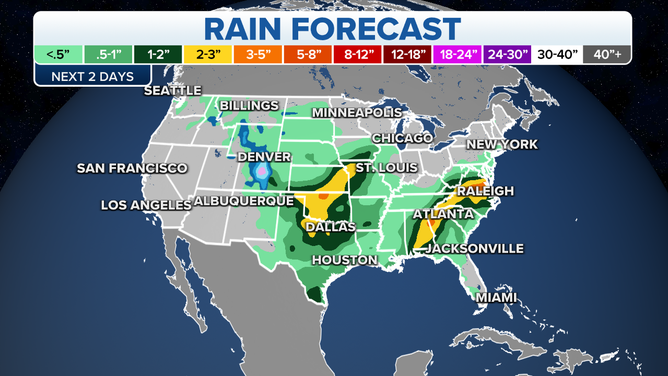 A new storm generates heavy rain Monday for the Southern Plains as well. That new storm targets Waco to Austin with likely severe thunderstorms and possible tornadoes on Tuesday.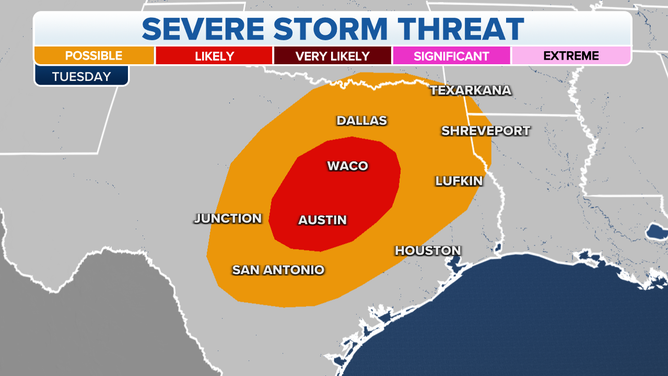 WATCH VERSUS WARNING: THE DIFFERENCE BETWEEN TWO WEATHER TERMS THAT COULD SAVE YOUR LIFE
Wednesday, the severe storm threat pushes through Houston, central Louisiana and southeastern Mississippi.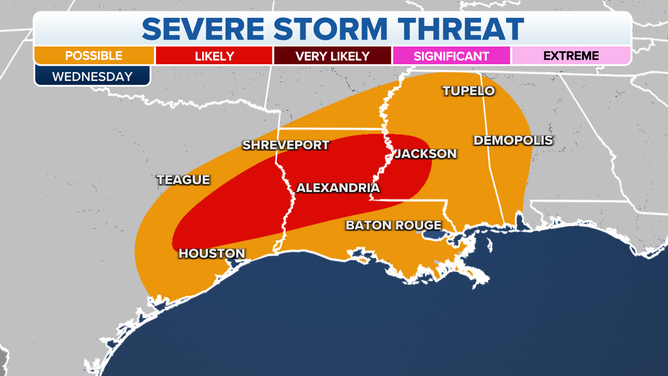 People living or driving in flood prone areas should be aware of flash flooding.
EXPLAINING FLOOD ALERTS ISSUED BY THE NWS
Watch watch FOX Weather on TV to stay ahead fo the storms or get the app, and check out FOXWeather.com.