1 dead, 15 hurt as tornadoes tear through Oklahoma City area, hurricane-force winds sweep across Plains
There were several reports of tornado damage to homes, trees and power lines in Norman, leaving at least a dozen injured Sunday night, while thunderstorms triggered hurricane-force wind gusts across the Plains, topped by a 114 mph gust in Memphis, Texas.
NORMAN, Okla. – A line of severe thunderstorms spanning hundreds of miles swept across the central and southern Plains Sunday evening, killing one, injuring more than a dozen others and bringing destruction at the hands of rare February tornadoes in Oklahoma.
Tornado sirens wailed across the Oklahoma City metro area as multiple twisters were spotted while the severe storms raced through the region late Sunday evening.
There were several reports of damage to homes, trees and power lines in nearby Norman, home to the University of Oklahoma and NOAA's Storm Prediction Center. Storm spotters had reported tornado sightings, and Doppler radar indicated debris lofted as high as 7,000 feet in the air, according to the FOX Forecast Center.
At least 12 people were injured and hospitalized during the storms in Norman, though no victims had critical injuries, and there are no reports of any deaths in town, according to city officials. The most serious injury was a broken leg suffered in a storm-related crash. Two elementary schools and several roads, including Highway 9, were closed Monday.
Three NWS storm survey teams are combing the damaged areas to confirm the damage was the result of tornadoes and establish a rating. Already survey teams have confirmed at least EF-2 level damage on the tornado that swept through Goldsby-Norman, according to a meteorologist at NWS Norman. The twister that hit Ayedelott, Oklahoma (north of Shawnee) is also at least an EF-2.
HOW ARE TORNADOES RATED? THE ENHANCED FUJITA SCALE EXPLAINED
'I can't believe this actually happened'
One Norman resident whose neighborhood took a direct hit from the tornado told FOX Weather's Brandy Campbell their windows shattered as they raced into their underground storm shelter.
"The windows exploded in the house, the garage door came off, we've got holes in the roof," said David Stanley. "We've got glass everywhere inside."

Stanley's family just moved to the neighborhood from California about a year ago, and it was their first time needing to use their storm shelter.
"I can't believe this actually happened… to come out and see this (destruction); the intensity, the violence of it all," he said. "It happened so quickly, there wasn't much time to do much of anything… Within 15 seconds, it went from crazy to… now what?"
TORNADOES HIT LARGE CITIES: THIS IS WHY
Another tornado that swept through the towns of Tuttle and Mustang on the southwestern outskirts of Oklahoma City caused at least EF-1-level damage, according to NWS storm surveyors.  
In Shawnee, a tornado just narrowly missed Shawnee Mall, city officials said. Instead, the twister left several homes destroyed to the east of the mall and a mile-long stretch of downed power lines. Crews reported more tornado damage near McLoud and Doppler radar indicated another possible tornado strike just west of Oklahoma City, near the town of Yukon.
Storm turns deadly in western Oklahoma
In western Oklahoma, a tornado became deadly when it tore through the town of Cheyenne. A 62-year-old grandfather was killed, and three others were hurt in the storms, according to Roger Mills County Emergency Manager Levi Blackketter.
Blackketter told FOX 25 five houses have been deemed a total loss. Other houses have roof damage and debris has been scattered around town. 
The tornadoes are the first in February in Oklahoma in over a decade. Oklahoma's last February tornado was an EF-0 twister that struck on Feb. 27, 2011. The FOX Forecast Center says that the 9 confirmed tornadoes sets the record for the most February tornadoes in Oklahoma. Records go back to the 1950s.
Farther north, a reported tornado in Liberal, Kansas, destroyed a home and toppled trees and power lines Sunday afternoon, according to the National Weather Service, citing law enforcement reports.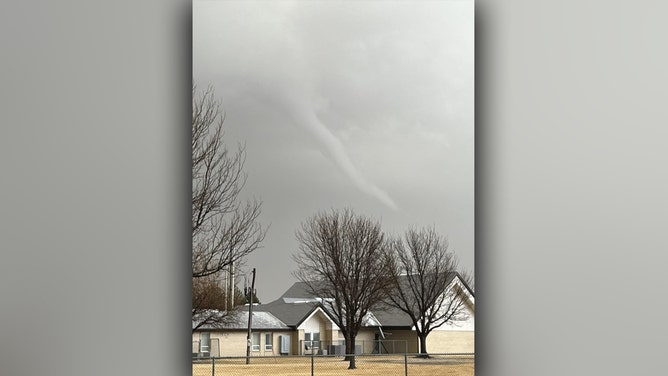 Tornadoes spotted in Illinois Monday morning
As the system continued to move northeast, several tornadoes touched down in Illinois Monday. 
The NWS confirmed two tornadoes in the Chicago area Monday, one in Joliet and another in Naperville. They told FOX 32 that their office received reports of damage to trees, windows, fences and roofs but no major structural damage.
Further south, Tornado Warnings were also issued in central Illinois. A tornado was spotted moving through Champaign, home to the University of Illinois. 
WHERE ARE TORNADOES MOST LIKELY TO OCCUR IN FEBRUARY?
The NWS confirmed 2 more EF-1 tornados in Indiana. One was on the ground for about 5 minutes in Hancock County. It knocked a historic barn off its foundation and destroyed an out building. A second tornado in Ingalls was only on the ground for 2 minutes. It tore the roof and a wall off a barn and drove 2x4 beams into the ground.
In total, the National Weather Service has confirmed 17 tornadoes as of Tuesday from across the Plains and Midwest with more damage locations still under investigation. The Storm Prediction Center logged over 200 damage reports. 
Hurricane-force wind gusts blast Texas, Oklahoma
But it wasn't just tornadoes slamming the central and southern Plains with damaging winds. The long line of thunderstorms created blistering straight-line wind gusts that exceeded hurricane-strength in some cases.
The strongest gust of the night was in Memphis, Texas, where a wind gauge clocked a 114-mph gust, according to the National Weather Service. The severe storm also brought golf-ball-sized hail that conspired with the intense gusts to shatter windows around town, storm spotters reported.
In addition to Texas, wind gusts of 80 mph or higher were reported in Oklahoma near the towns of Bridgeport (80 mph) and Fittstown (86 mph), as well as in Kansas in the town of Sublette (81 mph).
On Monday, Knoxville, Tennessee recorded an 87 mph wind gust.
Other gusts exceeded 70 mph in Texas near Amarillo and El Paso, and one person was injured in El Paso County's Fort Bliss when they were blown off their feet, according to a National Weather Service storm report. Also in Fort Bliss, weather spotters reported that an exit off Interstate 10 was closed due to leaning power poles. 
El Paso reported a 71-mph gust – the seventh-strongest gust recorded in the city, with records going back into the late 19th century, the NWS said.
"A remarkable, perhaps historic storm system, is currently approaching our forecast area," National Weather Service forecasters in Norman, Oklahoma, wrote in their 5:30 p.m. CST forecast discussion on Sunday.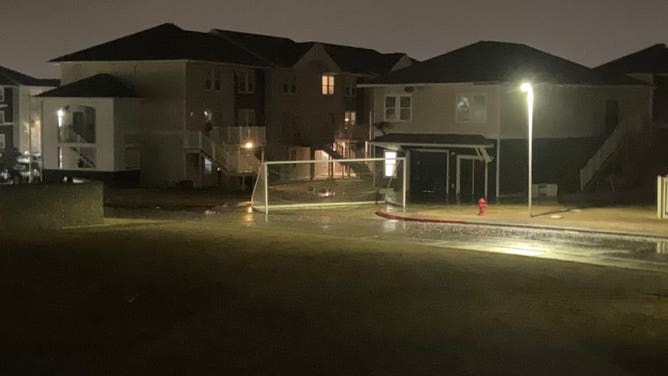 The damaging wind gusts took a toll on power lines across the region. PowerOutage.US reported that over 135,000 customers lost power across parts of Oklahoma, Texas and New Mexico at one point Sunday night. Monday's storms knocked out power across the Ohio and Mississippi Valleys. 
Some of Sunday evening's thunderstorms were clocked moving eastward at about 100 mph, according to the National Weather Service.
Overall, the National Weather Service received 117 reports of damaging winds of at least 58 mph, including 15 reported gusts of 75-plus mph, as of Monday. There were 15 large hail reports of at least 1 inch in diameter.
The threat of severe weather diminished Monday evening as the storm system pushed off the Eastern Seaboard.
Oklahoma sets tornado record for third straight month
With at least nine confirmed tornadoes in Oklahoma in February, it will mark the third-consecutive month for setting a record for number of tornadoes in that month, according to FOX Weather Meteorologist Jordan Overton. 
The Sooner State had eight tornadoes in December – with the majority of them occurring on Dec. 12, when multiple storms developed in the early morning hours in parts of Central Oklahoma. In January, a powerful New Year's storm would bring five tornadoes to the state in the midday hours of Jan. 2, mostly in Eastern Oklahoma. The previous January tornado record was four, set just two years ago.
For February, Sunday night's tornado outbreak breaks the previous monthly record of six set in 2009.