Toasted nation: Houston, Tampa, Salt Lake City among 28 cities with hottest July on record
And hundreds more towns saw July rank among their 10 warmest, touching all four corners of the nation
Searing heat picked on much of the nation this past month, with more than two dozen cities spread across the U.S. experiencing their warmest July on record.
And hundreds more towns saw July rank among their 10 warmest, touching all four corners of the nation, according to data from FOX Weather Senior Data Specialist Shane Brown.
The heat was on…
Brown says 28 cities set or tied their all-time warmest July records, including Tampa, Florida; Salt Lake City; Hilo, Hawaii; and Tupelo, Mississippi.
The heat has been particularly relentless in Texas, which also saw several towns set all-time July heat records, including Houston, San Antonio, Lubbock, Austin, Waco and Abilene. Some towns there have seen dozens of days in the triple digits, with Waco working on a streak of 100-degree-plus days that has stretched over a month.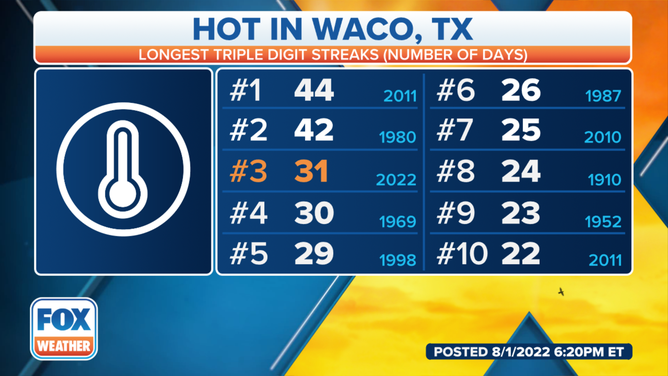 What's more, 283 other cities recorded a July that ranked among their 10 warmest, stretching from Forks, Washington (second) and Seattle (fourth) in the Northwest; to Philadelphia (second), New York City (fourth) and Boston (fourth) in the Northeast; to Nashville, Tennessee (second), Orlando, Florida (third) and Fort Myers, Florida (third) in the South; to Denver (second), Tucson, Arizona (seventh) and, as mentioned, Salt Lake City (first) in the West.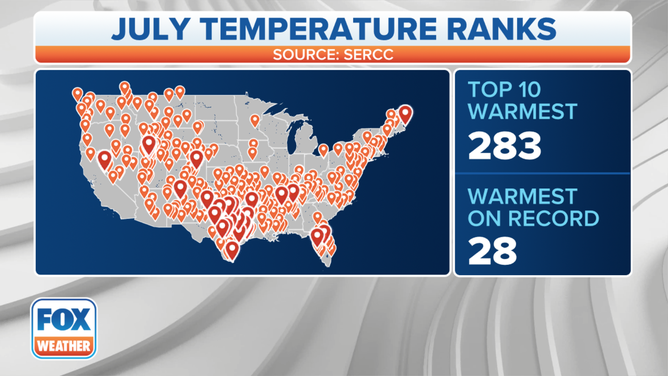 To give an idea of the geographic scope of the heat, here are some other notable top-10 warm locations:
Looking for a cold July? Sorry….
It's a very lonely map for areas that had a cool July. 
While hundreds of cities sizzled among one of their hottest Julys on record, Brown only found two locations that had a July to rank among their 10 coolest: St. Joseph, Missouri, which tied for 10th, and Wright, Minnesota, tied for seventh.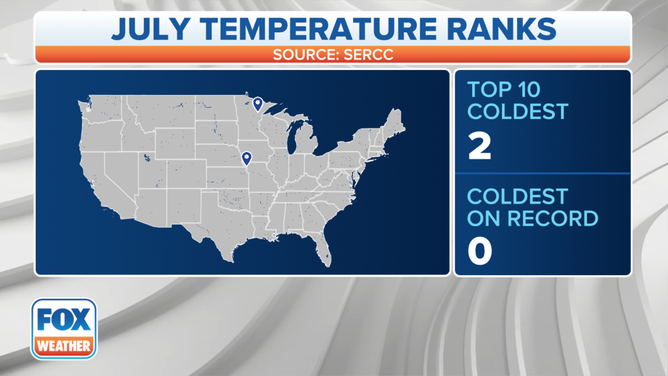 Soaking summer for a few spots
Brown found 86 cities that had among their 10 wettest Julys, but only two spots set an all-time record, and it was a byproduct of historic flooding: Jackson, Kentucky, and Huntington, West Virginia.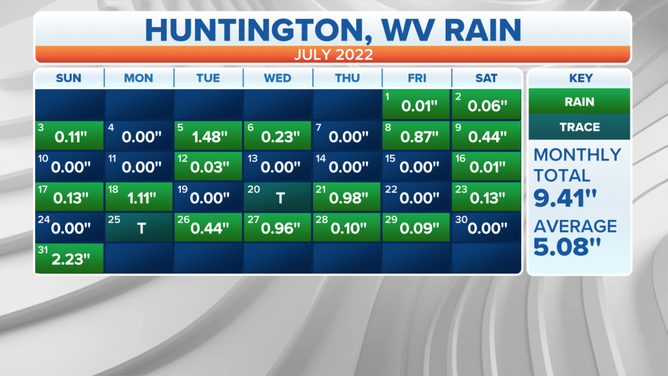 7 FACTS YOU SHOULD KNOW ABOUT FLASH FLOODS
Some of the notable cities that reached top-10-rainy status: Lynchburg, Virginia (third), Colorado Springs, Colorado (sixth), Eureka, California (seventh), Fort Wayne, Indiana (eighth) and Nashville, Tennessee (eighth).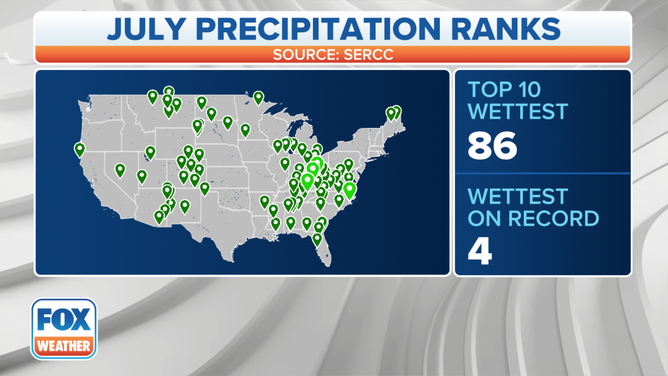 An entire month without rain…
On the other hand, there were nearly 100 places that suffered one of their driest Julys on record, including 22 cities that went the entire month without rain, of course tying the record for driest Julys.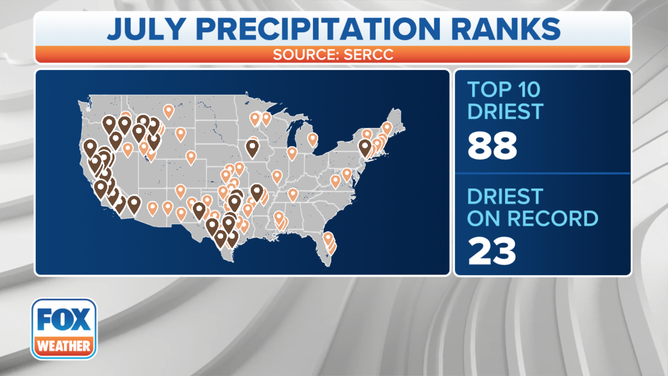 Those cities include Los Angeles, San Francisco and San Diego in California, Reno in Nevada, Austin and Dallas in Texas and Boise in Idaho. Newark, New Jersey, was the only one on the list to set the record while still receiving rainfall. The city netted 0.55 inches in July, but that was about 4.1 inches below average, Brown said.
7 WAYS TO CONSERVE WATER AT HOME DURING A DROUGHT
Another 65 cities had a July ranking in the top-10 driest, including Boston (fourth), New York City (sixth) and Richmond, Virginia (10th).
How is August shaping up?
August is trending toward another toasty month across much of the nation. 
NOAA's Climate Prediction Center forecasts above-average temperatures across much of the nation, save for the Desert Southwest thanks to an active monsoon season. Northern Minnesota may also catch a break.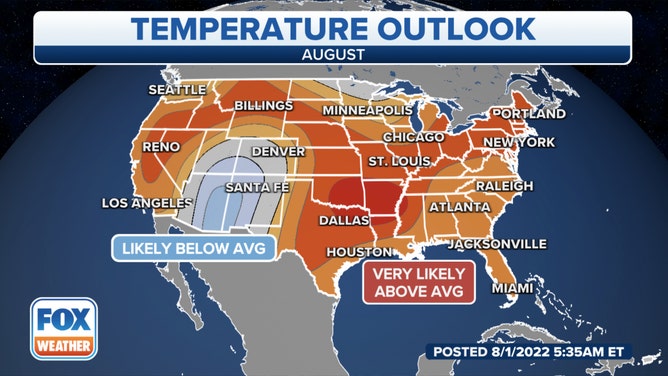 For rainfall, it's a mixed bag, with a dry August forecast from the Midwest into the Northeast and continued above-average rainfall in the Southwest from the monsoon and also in the mid-Atlantic.
WHAT DOES THE TERM '100-YEAR FLOOD' ACTUALLY MEAN?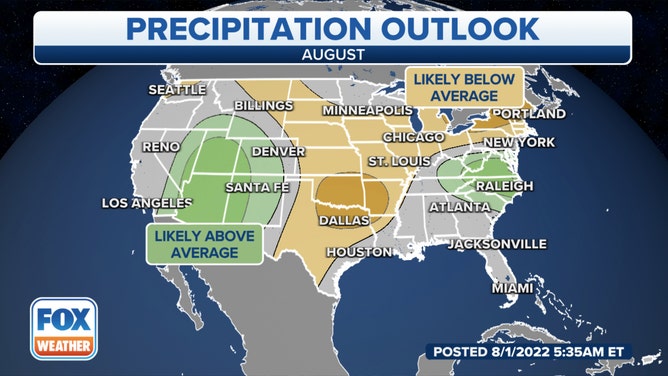 Be sure to download the FOX Weather app to track any storms in your area and receive potentially life-saving weather alerts issued by the National Weather Service. The free FOX Weather livestream is also available 24/7 on the website and app and on your favorite streaming platform. The FOX Weather Update podcast also provides weather information for the entire country.