Thunderstorms blossom across Oklahoma, Kansas as severe threat returns
Thunderstorms will develop Wednesday from the Mississippi Valley to the Midwest with rain and some embedded thunder
TOPEKA, Kan. – The Central and Southern Plains are bracing for multiple days of a possible severe weather threat as the two systems that are impacting the West will move into the area.
Thunderstorms will blossom Wednesday from the Mississippi Valley to the Midwest with rain and some embedded thunder. The risk for severe storms may develop along the Interstate 35 corridor in parts of eastern Oklahoma and far southern Kansas.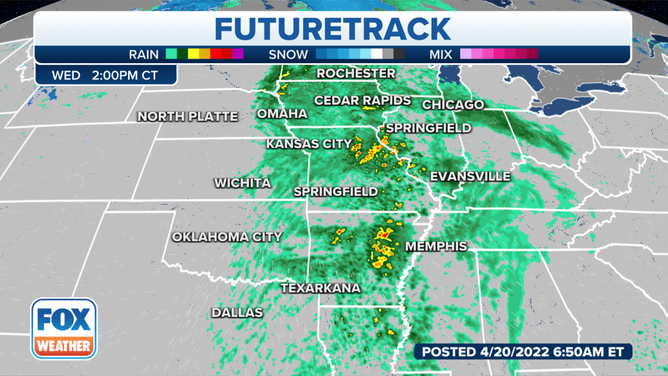 These storms will be capable of large hail and a few strong wind gusts. The tornado risk is on the low side.
The National Weather Service in Tulsa said severe thunderstorms will be possible during the late afternoon and evening hours Wednesday across a large portion of eastern Oklahoma.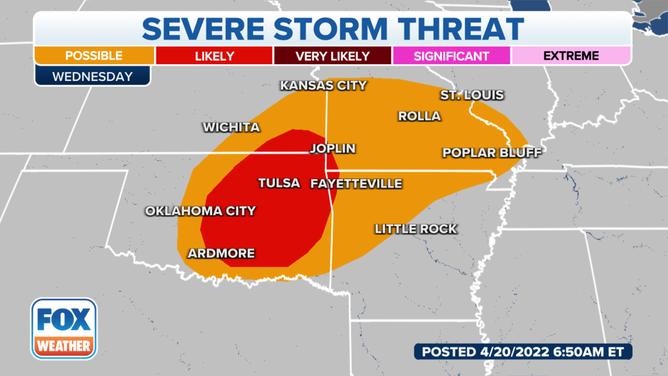 The area of greater potential looks to be across northeast Oklahoma. Large hail to the size of golf balls and damaging winds to 70 mph will be the main threats, but a low tornado threat will also exist.
In the Kansas City area, areas south of Interstate 70 and west of Interstate 49 may see a few isolated severe thunderstorms capable of producing golf-ball-sized hail, the NWS said.
After a brief lull, more rain and storms will develop late Thursday into Friday across the Plains.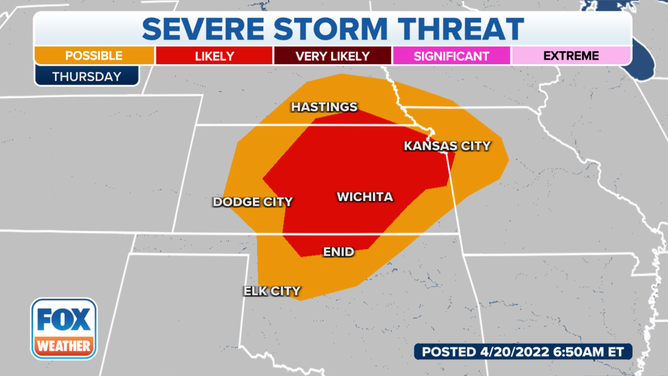 The NWS in Goodland, Kansas, said strong to severe thunderstorms are possible Friday, generally east of the Colorado border. This could be the first severe thunderstorm event of the year for the area, the NWS said. Currently, large hail and damaging winds appear to be the primary threats. It's also possible for walls of blowing dust to be observed due to the recent dry conditions. 
Rainfall amounts should be manageable – about 1 to 3 inches spread over multiple days – so the threat of flooding is on the low side.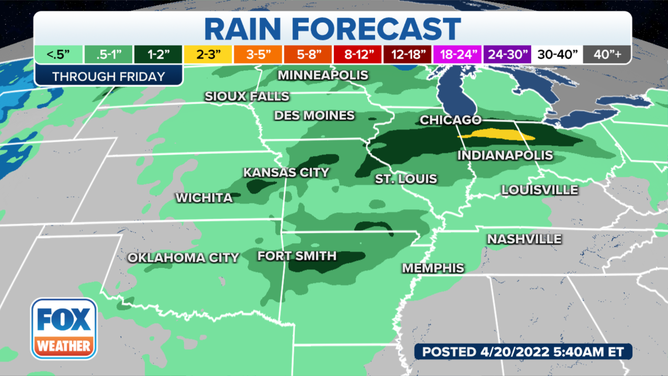 The NWS said the storms will move at 50 to 60 mph, leaving little room for any heavy rainfall, a beneficial factor for the drought conditions in western Kansas.
Another chance for strong storms arrives across the Plains on Saturday evening.
HOW TO WATCH FOX WEATHER ON TV
Be sure to download the FOX Weather app for the latest forecast and weather alerts for your exact location, plus our channel's 24/7 livestream – now featuring a new, all-star lineup with live programming weekdays from 6 a.m. to 10 p.m. Eastern time.