Thunderstorms packing damaging wind, large hail, possible tornadoes brewing in the Plains, upper Midwest
People living in those areas, especially those headed to the Minnesota State Fair, should keep an eye on the sky and download the free FOX Weather app to track any storms that develop
Sunday afternoon and night could see the development of strong to severe thunderstorms in parts of the Plains and upper Midwest.
People living in those areas, especially those headed to the Minnesota State Fair, should keep an eye on the sky and download the free FOX Weather app to track any storms that develop and to receive important weather alerts if any are issued.
HOW TO WATCH FOX WEATHER ON TV
Severe thunderstorm watch in effect in Wisconsin, Illinois, Iowa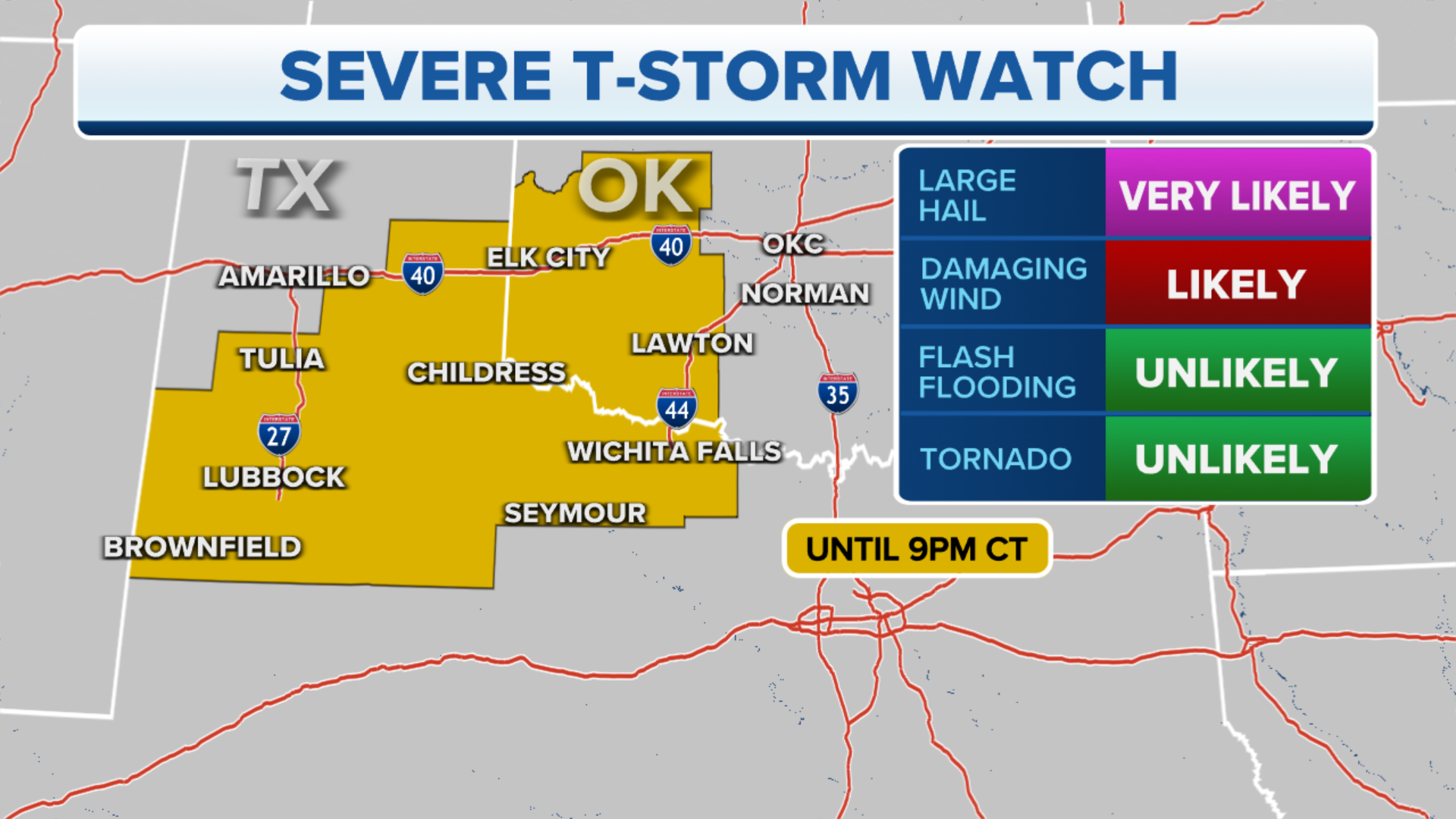 A Severe Thunderstorm Watch is in effect until 7 p.m. Central on Aug. 28.
(FOX Weather)
---
Because of the threat of strong to severe thunderstorms on Sunday afternoon and evening, forecasters have issued a Severe Thunderstorm Watch until 7 p.m. Central for parts of Wisconsin, Illinois and Iowa.
In Wisconsin, the cities included in the watch are Madison, Milwaukee and Kenosha. The cities of Rockford and Peru are included in Illinois.
The severe thunderstorm threat on Sunday, Aug. 28.
(FOX Weather)
---
The threat of strong to severe storms stretches across areas from southeastern Nebraska north through Minnesota and Wisconsin to the Canadian border.
However, the risk is greater across Minnesota and northwestern Wisconsin.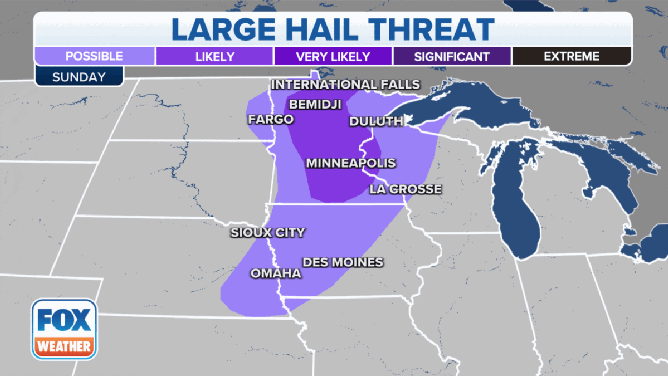 Those same areas under the threat of severe thunderstorms should also prepare for the possibility of hail larger than 2 inches.
The threat of large hail is highest across central Minnesota, including the cities of Bemidji, Park Rapids, Rush Lake, Brainard, Little Falls, Alexandria, St. Cloud and Annadale.
"That zone from Bemidji down through Minneapolis, you've got to be careful because as those hailstones form, they can be very dangerous doing damage to property," FOX Weather meteorologist Amy Freeze said. "But also, you don't want to be caught out there. So if you have plans outdoors, make sure you have a backup."
The damaging wind threat on Sunday, Aug. 28.
(FOX Weather)
---
And as with any strong to severe thunderstorms, the damaging wind is also a concern.
Areas with the greatest threat of seeing severe weather on Sunday will also be at risk of experiencing those damaging winds that will be capable of downing trees and power lines and causing damage to structures.
The tornado threat on Sunday, Aug. 28.
(FOX Weather)
---
There is also the chance of seeing a tornado or two, but that chance is much smaller than the threat of damaging wind and large hail.
Tornadoes are possible on Sunday from International Falls, south through Bemidji, Minneapolis, Albert Lea and into Algona and Storm Lake in Iowa.