Texas temperatures drop up to 50 degrees in 24 hours with Arctic blast
While Houston hit a record high Saturday of 85 degrees, Amarillo was only 10 degrees at 8 p.m.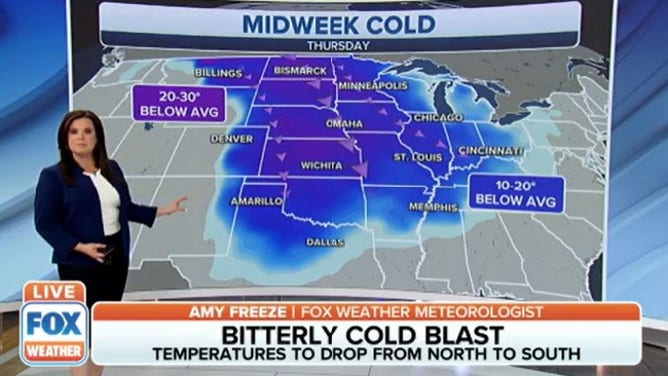 If everything is bigger in Texas, that is certainly true with temperature extremes.  A strong cold front blew through the Lone Star State Saturday toppling temperatures 30-50 degrees in just 24 hours.
At 8 p.m. on Saturday, Houston was 73 degrees while Amarillo was only 10 degrees – that is a 63-degree temperature differential in just one state. 
The Arctic font even brought snow to the panhandle.  Plainview reported two inches. 
Lubbock, in the panhandle, saw light pillars over the late Saturday night.  The phenomenon in which ice crystals reflect the city lights is usually observed in much colder climates stated NASA.
FRIGID AIR ROLLS SOUTH THIS WEEKEND
Southeast Texas went quickly from record highs since the Christmas weekend into a Freeze Watch the first couple days of the New Year. Houston not only set a record high for the day Saturday – the city hit 85 which broke the old record of 81 – but also broke the record January temperature.   Records date back to 1890.
Galveston and College Station also recorded record highs leading up to the big chill. 
2022 TO KICK OFF WITH RECORD WARMTH ACROSS THE SOUTH
But by Sunday, it must have felt like a 6-month time warp. The National Weather Service in Houston said The Woodlands dropped 47 degrees in 18 hours, while Sugar Land dropped 45 degrees, and Galveston dropped 38 degrees.
The NWS office took a time-lapse of their Houston digital thermometer.  Watch it take a nosedive.
Houston, Dallas, Austin, Brownsville and Amarillo just recorded their warmest December on record in 2021 according to FOX Weather meteorologists. Houston Hobby's average temperature for the last month of 2021 was 12.5 degrees above the average high temperatures for the month. 
Houston's temperatures have since recovered and the forecast is above freezing all week.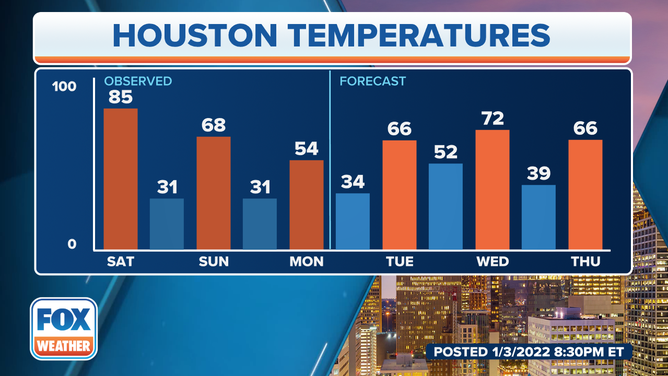 Amarillo though is still on a rollercoaster temperature-wise.  They are headed for mid-60s Tuesday only to drop back into the teens Wednesday and Thursday nights.