All-time record heat in Texas to briefly break as thunderstorms loom in forecast
Oppressive heat and humidity have plagued Texas since late last week. Finally, weather models are backing off from triple-digit heat for some by the end of the week.
Texas and parts of the southern Plains have been sweltering for a week, with new record-high temperatures set nearly every day. But parts of the Lone Star State will get a brief break in the heat starting Thursday before more potentially record-setting heat returns for the weekend.
An area of high pressure has been anchoring the heat over the south-central U.S. since last week. That dome of heat has forced temperatures across most of Texas and parts of Oklahoma above 100 degrees, with the feels-like temperature soaring to around 120 degrees.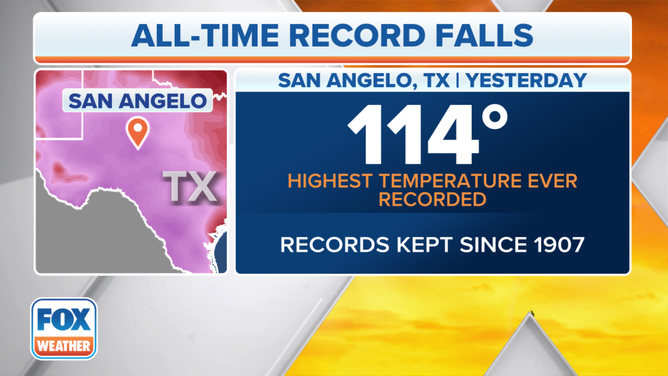 According to the National Weather Service, the city of San Angelo broke its all-time heat record when temperatures hit 114 degrees on Tuesday.
HEAT KILLS MORE AMERICANS THAN FLOODING, TORNADOES, HURRICANES OR LIGHTNING
Excessive Heat Warnings remain
Heat Alerts in effect in Texas through Wednesday night.
(FOX Weather)
---
Excessive Heat Warnings are in effect for over 29 million from Dallas and San Angelo south through Austin, Houston, San Antonio and Brownsville. Heat Advisories are in effect for western and eastern areas of Texas through Saturday.
Break from the heat
Storms and showers work their way into the forecast Thursday cooling parts of Texas down a few degrees. West Texas will still swelter though.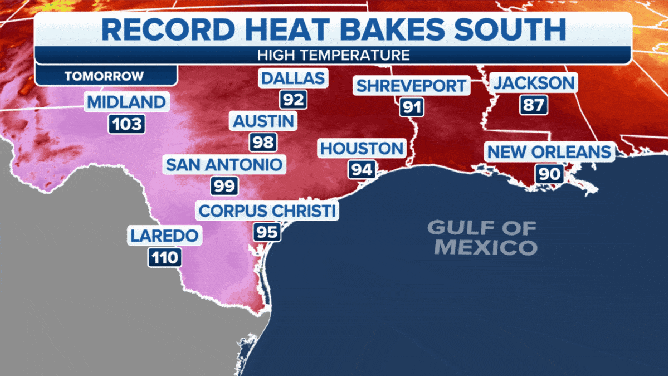 The Texas humidity will still make most cities feel like they are above the century mark despite what the thermometer says. Heat index it the temperature that your skin "feels," feels like temperature.
HOW TO TELL THE DIFFERENCE BETWEEN HEAT EXHAUSTION AND HEAT STROKE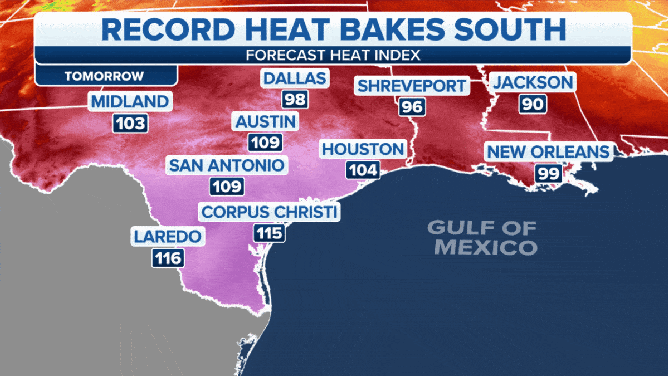 The long-range forecast or next week is showing no signs of letting up for the heat, with high confidence of above-average temperatures continuing in Texas and southern Plains, even into the Gulf Coast states.
IT'S NOT THE HEAT; IT'S THE HUMIDITY: MOISTURE INCREASES HEAT RISK IN URBAN CLIMATES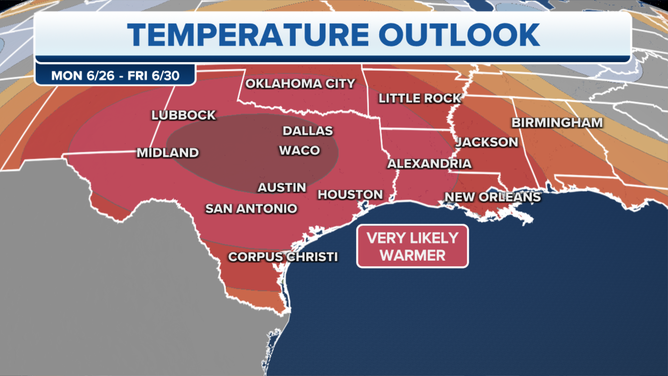 Extreme heat strains Texas power grid
The Electric Reliability Council of Texas (ERCOT) asked Texans on Tuesday to limit electricity use from 4-8 p.m. CDT.
The extreme heat has been putting a strain on the power grid as millions of people crank up the air conditioner to keep temperatures cool inside.
"It's definitely putting strains on the power grid, definitely pushing us to where these voluntary conservation notices are needed," said Rice University associate professor of civil and environmental engineering Dr. Daniel Cohen. "But it hasn't gotten to the point of the emergency alerts or any of the conditions that really would put us at risk of blackouts. We've had enough of a buffer that the grid has gotten by just fine."
It's been more than a week since triple-digit temperatures have been baking the region, so questions are being raised about whether Texas' power grid can handle the demand as we enter summer.
"July and August are usually hotter than June is," Cohen continued. "Demand is only going to be going up as it gets hotter. What's been getting us through is that the one change that we've had compared to the past coupe of years is a huge number of extra solar farms built in the meantime, and that's what's given us the buffer that instead of those emergency alerts that might have been needed, these voluntary conservation notices have been enough."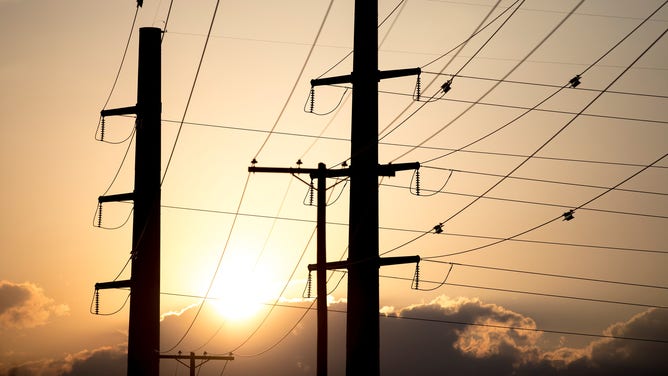 Those renewable energy options, such as solar and wind, have added to the electric supply across Texas.
"So, wind – Texas has been a leader for over a decade now, but that gives us great amounts of power at night and in certain shoulder seasons, but often the wind dies down in the middle of the day like we've been seeing these past couple of days," Cohen said. "But, of course, when it's hot and sunny, solar performs great. It took Texas until 2017 to get its first 1 gigawatt of solar installed, now we're up to over 16 gigawatts."
That, Cohen added, has been the difference between potentially rolling blackouts and just voluntary conservation notices that Texas has needed.