Sweltering Southwest: Temperatures to soar into the 90s
Parts of the Southwest will see an elevated risk of wildfires this week
We just entered spring a few weeks ago, but the heat is on in the Southwest where it will feel more like summer this week.
HOW TO WATCH FOX WEATHER ON TV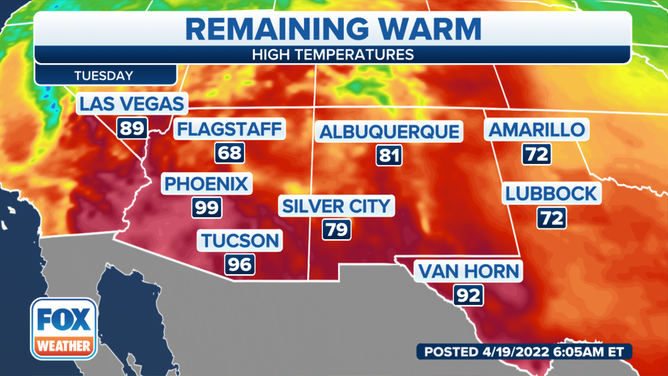 Highs topped out in the 90s in Las Vegas and Phoenix on Monday. 
Phoenix could hit 99 Tuesday, Albuquerque 81 and Las Vegas 89. Temperatures in central and south Arizona are forecast to stay above 90 until Friday.
West Texas will also be feeling the heat with a high of 92 in Van Horn.
The heat is expected to stick around through the week.
A handful of record highs will be possible across West Texas on Wednesday and Thursday as high temperatures soar into the 90s.
With those high temperatures comes the risk of wildfires, too.
Dry conditions and strong winds will help fires spread quickly and grow in size if any were to ignite through the middle of the week.
NOAA's Storm Prediction Center says there's an elevated risk of fires for parts of Wyoming through to New Mexico and Arizona on Tuesday.
Fire Weather Warnings have been issued for more than 4 million Americans across the Southwest and central High Plains.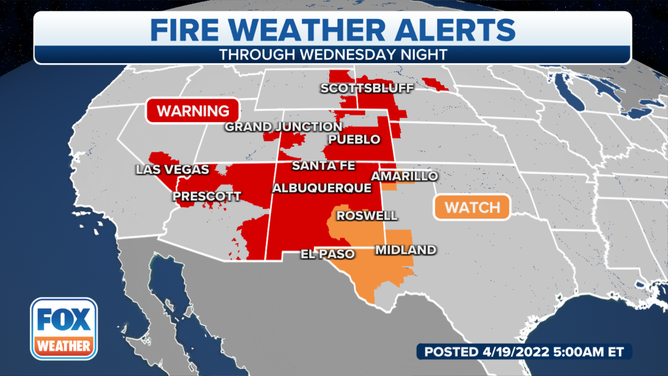 Parts of southern Colorado and far West Texas are also included in the elevated risk of fires.