Summer derecho slams Plains, Midwest with hurricane-force wind gusts
The wind damage swath extended over 500 miles, surpassing the 400-mile derecho criteria.
A line of showers and thunderstorms that moved through the Plains and Midwest on Tuesday caused damaging winds and hail over hundreds of miles, helping the storm cluster earn the distinction of being called a derecho.
The wind damage swath extended over 500 miles from South Dakota into Iowa, surpassing the 400-mile derecho criteria. 
A derecho is a cluster of thunderstorms that usually forms when a clash of air masses happens in the heartland during the spring and summer.
Dozens of cases of damaging wind and large hail were reported from the Plains into the Midwest.
(FOX Weather)
---
Storms started developing on Tuesday afternoon in northwestern South Dakota and by the time cluster reached the central and southeastern parts of the state, storms were producing winds gusts over 90 mph and had large hail.
The strongest reported wind gust was 99 mph in Howard, South Dakota, and the largest hail stone fell near Agata, Nebraska and was nearly the size of a grapefruit.
The strong winds damaged farms and snapped trees for miles and were responsible for knocking out power to tens of thousands of customers in the four-state region of South Dakota, Nebraska, Iowa and Minnesota.
The highest wind gusts from the event all were in South Dakota, with towns such as Wall Lake, Agar and Huron all reporting wind gusts at or greater than 85 mph.
Several wind gusts were greater than hurricane-force (75 mph).
(FOX Weather)
---
HOW TO WATCH FOX WEATHER ON TV
In addition to the winds, the storms caused the sky to turn an eerie shade of green for parts of the Plains.
Residents in both South Dakota and Minnesota captured stunning images of the sky ahead of the heaviest rain.
Meteorologists say the vivid color was created from light refracting off the abundant moisture in the derecho.
At one time, more than 16 million people were under Severe Thunderstorm Watches from South Dakota through the Chicago metro.
Derechos typically form during the late spring and summer months.
One of the most significant derecho events in U.S. history occurred in August 2020 across the Midwest.
The extreme weather event produced winds upward of 140 mph and more than $7.5 billion in damage.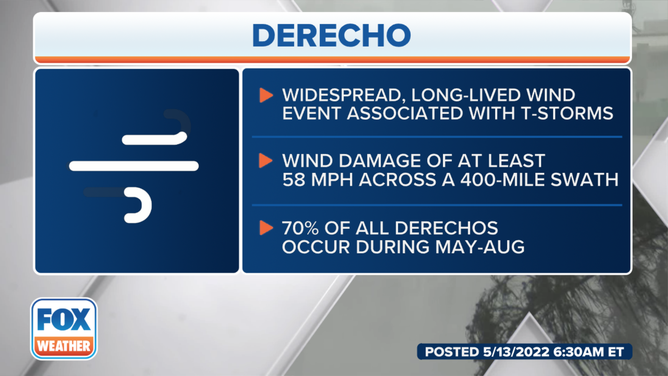 Fortunately, the atmospheric conditions did not come together quite as well on Tuesday and overnight into Wednesday to produce as widespread of damage as during the event two years ago.
Download the FOX Weather app to track storms on 3D Radar: Click Here