Severe thunderstorms possible from the Ohio Valley to Mississippi Valley
People living in cities such as Erie, Pennsylvania, southward through Columbus and Cincinnati, Nashville and Memphis, Tennessee, are at-risk of experiencing heavy rain from storms that develop during the day
Some strong to severe thunderstorms with heavy rain and damaging wind are possible across the Ohio Valley and into the Appalachians on Sunday, and the threat extends south into the Mississippi Valley.
This means people living in cities such as Erie, Pennsylvania, southward through Columbus and Cincinnati, Nashville and Memphis, Tennessee, are at risk of experiencing heavy rain from storms that develop during the day.
HOW TO WATCH FOX WEATHER ON TV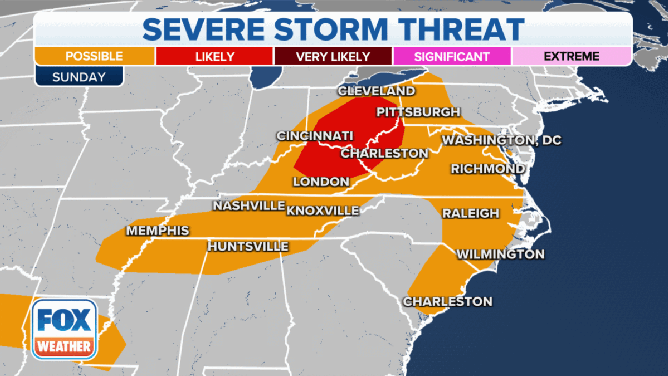 "Damaging wind is the most likely impact from the storms (Sunday)," FOX Weather meteorologist Amy Freeze said.
According to the FOX Forecast Center, rain and thunderstorm activity is expected to pick up in intensity as we head into late Sunday morning and into the afternoon hours.
"Unfortunately, north of Nashville, through Hazard, one of the areas so hard-hit with flooding earlier this summer, now, more drenching rainstorms will be coming through," Freeze said.
The rain forecast.
(FOX Weather)
---
The FOX Forecast Center isn't expecting high rain totals through Monday morning.
However, some parts of the Ohio Valley could pick up 1 to 2 inches of rain if stronger storms develop.