Strong to severe thunderstorms possible from the Mississippi Valley to mid-Atlantic
Heavy rain, flooding will be the primary concerns
Areas of strong to severe thunderstorms are expected to impact a large area from the Ozarks and Mississippi Valley into the Ohio Valley and parts of the mid-Atlantic on Sunday.
There's also a chance of severe thunderstorms across portions of the North Dakota and Minnesota border, as well as southwestern Montana.
HOW TO WATCH FOX WEATHER ON TV
The severe weather threat on Sunday, July 17.
(FOX Weather)
---
Some major cities are at risk of severe weather on Sunday, including St. Louis, Nashville, Cincinnati and Columbus, Ohio.
However, there's a higher risk of severe thunderstorms across southeastern Missouri, northern Arkansas, and parts of northeastern Kentucky, southern Ohio and western West Virginia.
THE 5-POINT SEVERE THUNDERSTORM RISK CATEGORY SCALE EXPLAINED
A few inches of rain could fall across the region through Monday.
(FOX Weather)
---
Many areas could see several inches of rain on Sunday and into Monday, and that will increase the risk of flash flooding.
The heaviest activity is expected in northern Missouri, where widespread 2-3 inches of rain could fall, but some areas could see locally higher amounts of up to 5 inches or more.
High rain totals are also expected from the St. Louis area across southern Illinois and into Indiana and Ohio.
EXPLAINING FLOOD ALERTS ISSUED BY NATIONAL WEATHER SERVICE
The flash flood risk on Sunday, July 17.
(FOX Weather)
---
Flash flooding is possible from the Mississippi Valley into the mid-Atlantic and Northeast on Sunday.
However, there is a greater risk across the Ohio Valley and parts of the Great Lakes.
Major cities at risk on Sunday include St. Louis, Paducah and Louisville, Kentucky, Cincinnati, Detroit and Pittsburgh.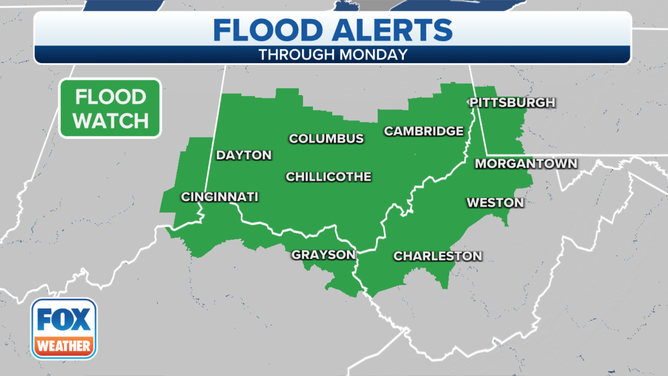 Because of the heavy rain that is expected to continue across the region, the National Weather Service has issued a Flood Watch through Monday for parts of eastern Indiana, most of southern Ohio, southwestern Pennsylvania, northwestern West Virginia and northern Kentucky.
The severe weather threat shifts to the Northeast and New England on Monday, July 18.
(FOX Weather)
---
The severe weather threat will shift to the Northeast and New England on Monday.
CLICK HERE TO GET THE FOX WEATHER UPDATE PODCAST
Millions of Americans from Washington through the I-95 corridor in Philadelphia, New York City and southern Connecticut.
Boston could also see some strong to severe thunderstorms set up.
Be sure to download the FOX Weather app to track any storms in your area and receive potentially life-saving weather alerts issued by the National Weather Service. The free FOX Weather livestream is also available 24/7 on the website and app and on your favorite streaming platform. The FOX Weather Update podcast also provides weather information for the entire country.