5 dead, 700k lose power as Great Lakes slammed with tornadoes, 75 mph winds
At least three tornadoes were confirmed across Michigan and Ohio so far Thursday including one that swept across Interstate 96 outside of Lansing, killing a driver and damaging 25 vehicles.
LANSING, Mich. – Five people were killed, and several were injured as severe storms swept across the Great Lakes area Thursday, including tornadoes that slammed into freeway traffic in Michigan.
In Michigan's Ingham County, one person was killed, and dozens of cars were damaged when a tornado struck along Interstate 96 Thursday evening. 
Ingham County Sheriff's deputies were called to the freeway near Williamston Road outside of Lansing for reports of tornado damage around 9:30 p.m., and arrived to a chaotic scene. More than 25 cars were severely damaged, and several people suffered serious injuries. One person was pronounced dead at the scene, deputies said. 
The interstate remained closed into Friday, as deputies warned there were several other downed trees and power lines in the county.
The National Weather Service confirmed at least two tornadoes tore through Central Michigan with EF-2 damage reported around the towns of Webberville and Williamston, with winds estimated to be around 125 mph.
A second tornado was reported in Kent County near Grand Rapids, and the NWS has given that tornado a preliminary rating of EF-1.
HOW ARE TORNADOES RATED? THE ENHANCED FUJITA SCALE EXPLAINED

At least six other tornadoes were reported by the NWS' Detroit office to have struck southeast Michigan.
Michigan was not the only state impacted by tornadoes, several reports of twister came out of neighboring Ohio.
NWS meteorologists confirmed at least one tornado impacted Cleveland. The EF-1 twister lasted three minutes right around midnight as it roared from East 71st Street to East 89th Street, causing extensive damage to Calvary Church and bending light poles at shopping center, according to the NWS storm survey.
3 killed in head-on crash in western Michigan
To the northwest, at least three people died, including a young woman and two young children, in a head-on crash in Spencer Township during torrential rains.
Deputies say the driver lost control and went into oncoming traffic, crashing head-on with another vehicle. The driver's passenger, a 21-year-old woman and a 3- and 1-year-old girl in the backseat died at the scene. Both drivers were taken to a local hospital for treatment of injuries.
Investigators are still looking into what caused the crash, but the FOX Forecast Center confirms heavy rains were falling in the area at the time of the crash.
A fifth death was reported in Lansing where a tree fell onto a man, killing him, according to Lansing Police.
As dawn neared Friday, over 700,000 were without power across Michigan, Ohio and Pennsylvania as the line of powerful thunderstorms swept through, according to PowerOutage.us.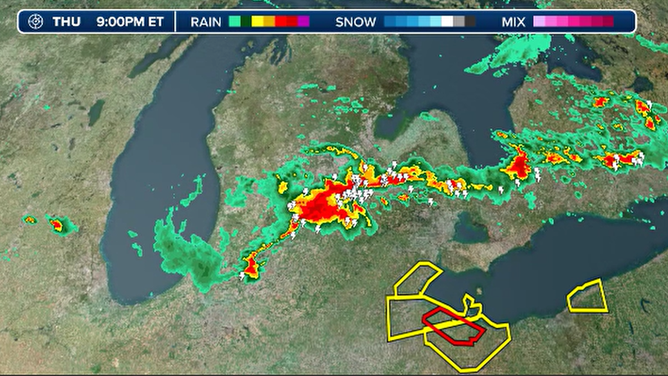 Cleveland reported a gust of 75 mph, while Detroit registered a gust of 70 mph, and the National Weather Service received dozens of damage reports indicating downed trees and power lines across the region.
FLOODING CUTS OFF ACCESS TO PARTS OF DETROIT AIRPORT, TRIGGERS WATER RESCUES ALONG INUNDATED OHIO ROADS
Large trees fell on cars in Ann Arbor, Michigan, while in Cleveland, the Dunham Tavern Museum suffered roof damage from a fallen tree, according to National Weather Service storm reports. Trees fell into homes in Eastlake, Ohio and as the storms spread into Pennsylvania late Thursday night, trees blew a trailer off its foundation in Fayette. 
Overall, there were more than 100 reports of damaging wind gusts across the lower Great Lakes and even into the mid-Atlantic States early Friday morning, according to the National Weather Service. 
Floods hit Detroit for second-straight morning
The rains have been relentless and record-breaking in Detroit. The Friday morning commute was a mess again as heavy rains flooded several interstates in the metro area. FOX 2 Detroit reported that flooded roads closed parts of Interstates 94, 75, and 275.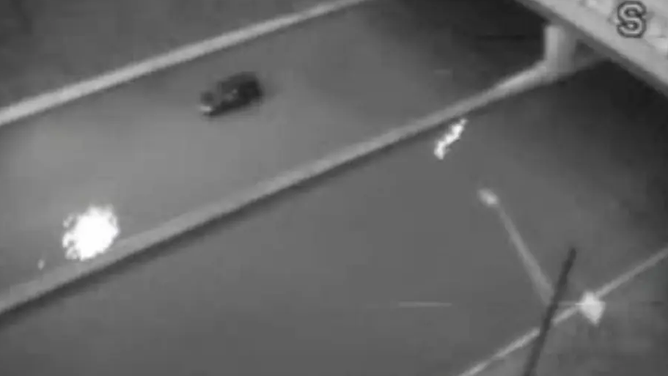 The floods come a day after severe storms dropped enough rain to cut off Detroit's airport with an impromptu moat, as roads surrounding the airport flooded Wednesday night
Detroit received 3.50 inches of rain Thursday between the two rounds of severe weather, ranking as the 5th-wettest day at Detroit Airport's history.
First round of storms brought flooded roads, travel woes
Severe storms in first round skirted over a large ridge of high pressure that has been anchoring the hottest temperatures of the year over the Midwest Wednesday. Thunderstorms were funneled across Michigan and the Ohio Valley. 
Stunned and stranded drivers in Lakewood, Ohio had to wait for rescue Wednesday night by rescue crews in rafts. Flooding in Parma, Ohio also left drivers stranded.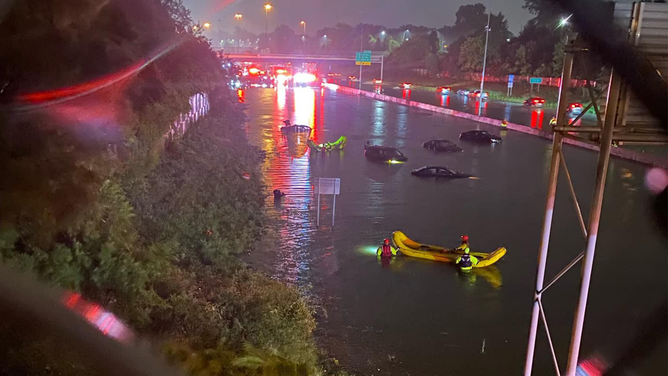 Stormy weather moves east to end the week
More storms come Friday as the threat pushes east with the storm and cold front. 
First of all, the band of storms weakened a bit overnight as they spread into the Northeast, but not before bringing a period of heavy rains and rumbles of thunder as they raced toward the I-95 corridor. 
Ground stops were triggered Friday morning at New York's JFK and LaGuardia airports and over across the bay at Newark's Liberty Airport as thunderstorms arrived in the Big Apple and traffic controllers awaited the storms to pass.
Farther south, Severe Thunderstorm Warnings were in effect for parts of West Virginia as the line of thunderstorms swept in from the north. 
Much of New York State and Pennsylvania will see pop-up thunderstorms the rest of Friday.