Storm system to bring much-needed rain to the Northeast, New England this week
The Northeast and New England will also see relief from the extreme heat that has scorched the area for weeks.
Dry conditions have led to some parts of the Northeast and New England seeing severe and extreme drought, but a low-pressure system is setting up to bring beneficial rain to the region this week.
Cooler temperatures will also move in, providing more relief after weeks of extreme heat.
HOW TO WATCH FOX WEATHER ON TV
The Northeast and New England rain setup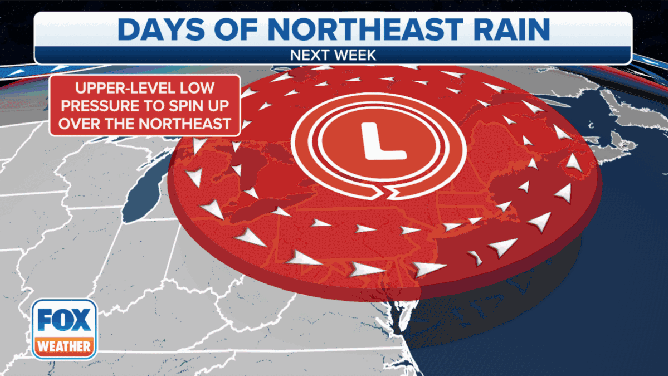 "This low pressure is going to remove the jet stream, and (the low-pressure system) will kick out into the North Atlantic," FOX Weather meteorologist Steve Bender said. "The counterclockwise rotation puts all of that moisture back into the New England area."
Bender says the bulk of the action will be seen from around the Boston area north into Maine.
Scattered showers can be expected on Monday and Tuesday before the bulk of the precipitation arrives by mid-week.
Northeast and New England expected rain totals
Rain totals that are expected over the next week in the Northeast and New England.
(FOX Weather)
---
While higher rain totals are expected in New England, the Interstate 95 corridor from Connecticut through New York City and Philadelphia will see scattered activity.
"When we're looking at the next seven days, the week ahead, Bangor, or Acadia National Park, those coastal areas of Maine, two to three inches of rain widespread," Bender said. "So, if you're doing summer vacation or last-minute plans out there with the family, it could get a little wet." 
High rain totals are also expected across the mid-Atlantic and the Delmarva Peninsula.
HOW HEAVY IS IT REALLY GOING TO RAIN? 
Rain to help ease drought conditions in the Northeast and New England
The latest drought monitor in the Northeast and New England.
(FOX Weather)
---
It's been extremely dry across the Northeast and New England, and many areas are seeing severe to extreme drought conditions.
Severe drought has been reported from Maine through southern New England, as well as parts of western Connecticut and the Hudson Valley of New York state.
However, extreme conditions have been reported in the Boston area, eastern Massachusetts and parts of northern and southern Rhode Island.
THE U.S. DROUGHT MONITOR EXPLAINED
Some parts of the region have a rainfall deficit of more than seven inches.
(FOX Weather)
---
"What we're looking at is repetitive rain showers moving in, and that's going to be good because look at the deficit that's underway," Bender said. "Newark, New Jersey, you've fallen more than seven inches behind since June 1, and you're not alone. You get to Williamsport, Pennsylvania, they're five inches behind, so we need the active weather."
Boston, too, desperately needs the rain. The city and surrounding areas are more than five inches behind what's considered to be average rainfall this year.