EF-1 tornado confirmed near Pensacola, Florida
Most of the damage was the result of straight-line winds, NWS says
FERRY PASS, Fla. – Survey teams with the National Weather Service have determined that an EF-1 tornado happened in the Pensacola and Ferry Pass areas when severe weather tore across the Florida Panhandle early Wednesday morning.
The twister touched down with winds of about 90 mph at 5:11 a.m. Central and was on the ground for just under a half-mile before lifting back into the air a minute later.
HOW TO WATCH FOX WEATHER ON TV
According to the NWS, teams were able to find scattered locations of wind damage across the area, as well as in the vicinity of North Davis Highway.
For most of the damage, though, the NWS said a clear track could not be identified and appears to be the result of straight-line winds between 60-80 mph.
WHAT IS A SQUALL LINE AND WHY IS THIS TYPE OF SEVERE WEATHER SO DANGEROUS
In fact, the NWS said, Pensacola International Airport reported a wind gust of 59 mph as the storms moved through.
Survey teams found that winds began to strengthen near North Davis Highway to the south of Interstate 10, which helped to generate a brief tornado in the East Olive Road and Whitmire Drive areas.

Photos showed numerous trees and power lines that had been brought down when the twister tore through the area.
The NWS said the tornado appeared to touch down on or near the Olive Baptist Church and moved to the northwest, reaching its peak intensity along Whitmire Drive.
7 FACTS YOU SHOULD KNOW ABOUT FLASH FLOODS
An RV camper was flipped over during the tornado, and a shed was found to have sustained minor damage to its roof.
The cyclone continued on its path before lifting back into the air near East Johnson Avenue.
THIS IS THE LIFECYCLE OF A TORNADO
No injuries or deaths were reported.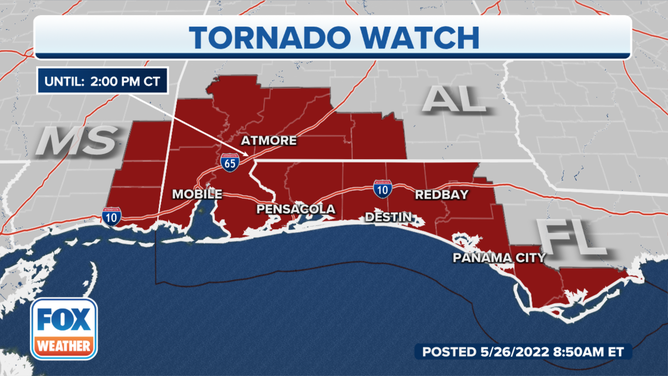 CLICK HERE TO GET THE FOX WEATHER UPDATE PODCAST
More severe weather is expected along the Gulf Coast from Louisiana to the Florida Panhandle on Thursday.
Because of that threat, the National Weather Service issued a Tornado Watch for parts of Mississippi, Alabama and Florida until 2 p.m. Central.
Be sure to download the FOX Weather app for the latest forecast and weather alerts for your exact location, plus the 24/7 livestream of America's Weather Team.