'Just stay home, stay off the roads': East Coast leaders don't want to see you out and about now
'The anticipated winter storm is forecasted to bring heavy snowfall and high wind gusts statewide, with blizzard conditions in some areas of New Jersey'
TRENTON, N.J. – Several states are declaring a state of emergency in preparation for a winter storm forecast to impact the northeast this weekend.
So far, New York, Maryland, New Jersey, Rhode Island and Maryland have all made the declaration, urging residents to prepare for the storm and stay off the roads as conditions were expected to deteriorate later Friday.
In New Jersey, the emergency order applied across all 21 counties in the state, allowing resources to be deployed during the duration of the storm. Commercial vehicle restrictions will also be in place on multiple interstate highways.
"The anticipated winter storm is forecasted to bring heavy snowfall and high wind gusts statewide, with blizzard conditions in some areas of New Jersey," said New Jersey Gov. Phil Murphy. "Road crews will be deployed throughout the state for salting and snow plowing purposes. Residents should take extreme caution, stay off the roads, remain vigilant, and follow all safety protocols."
New Jersey State Police Superintendent and State Director of Emergency Management Colonel Patrick Callahan said troopers are ready to assist residents and commuters throughout the state.
SAFE INSIDE: STORM PREPS NEED TO BE DONE BY THESE TIMES IN BOSTON, NEW YORK AND PHILADELPHIA
"We cannot do it without you, and we ask you stay off the roads if possible so plow crews can do their jobs," Callahan said. "Please use caution when traveling and prepare an emergency kit for use at home and for your vehicle. Don't forget to check on your neighbors and lend a hand if you are able." 
In Rhode Island, Gov. Dan McKee has issued a statewide travel ban on all state roadways from Saturday from 8 a.m. to 8 p.m., and a travel ban for all tractor-trailers and motorcycles, except those carrying emergency supplies, from 6 a.m to 11:59 p.m. Saturday.
New York's emergency will go into effect at 8 p.m., according to Gov. Kathy Hochul. 
"Just stay off the roads," Hochul said. "Get through your work day today, fill up the gas tanks on the way home, make sure you have all the necessary items in your vehicles... But the best way to handle this is to stay home."
In New York City, officials are concerned about the snow combining with strong wind. 
"Visibility is going to be a challenge (Saturday), particularly because of the light snow," said New York City Mayor Eric Adams. "And so we're asking people to use public transportation… as the heavy snow can result in widespread travel issues."
In Maryland, the emergency covers nine eastern counties. Gov. Larry Hogan says 125 members of the National Guard have been activated to help with the storm response.  
"We urge Marylanders to take this winter storm seriously, especially residents on the Eastern Shore, where we are anticipating blizzard-like conditions," Gov. Hogan said.
New Jersey Department of Transportation Commissioner Diane Gutierrez-Scaccetti said road conditions are expected to be treacherous with heavy snow and high winds that could cause whiteout conditions, particularly along the shore.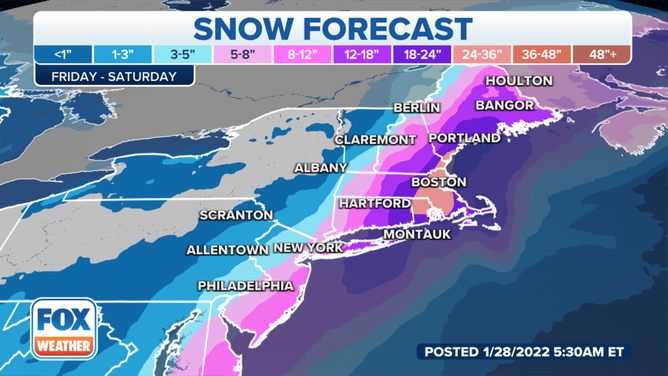 "Please stay off the roads to allow our crews to do their work safely. If you do have to be on the road – slow down and move over for highway crews, emergency responders, tow trucks, and disabled vehicles. It's the law," Gutierrez-Scaccetti said.
New Jersey Board of Public Utilities President Joseph Fiordaliso said there is the potential for a significant number of power outages due to forecasted substantial snow and high winds.
"Our only goal is to keep New Jerseyans safe, secure and warm during this time. We are constantly in touch with the utilities to monitor outages and their performance," Fiordaliso said.
7 THINGS YOU CAN DO TO PREPARE, RESPOND TO THIS WEEKEND'S NOR'EASTER
The Board of Public Utilities said they will be sure enough crews are deployed in the right places to minimize potential outages.
If you lose power, you are urged to call your utility to report it.
"Don't count on anyone else reporting it for you," Fiordaliso said.
Make sure to follow FOX Weather on social media for more videos, photos and coverage of the nor'easter. Don't forget to tag us in your weather photos or use #FOXWeather.