Storms drop grapefruit-sized hail over Texas during unsettled weather pattern across South
A supercell thunderstorm Wednesday evening not only triggered several Tornado Warnings around Waco but also dropped massive hail, including one stone measuring 4.5 inches in diameter – the largest hailstone reported in the U.S. so far this year.
Severe thunderstorms dropped massive hail and prompted dozens of severe weather warnings across parts of the South on Wednesday as the southern U.S. remained in an unsettled weather pattern that shows no signs of immediately clearing.
A supercell thunderstorm Wednesday evening not only triggered several Tornado Warnings around Waco but also dropped golf ball- to grapefruit-sized hail.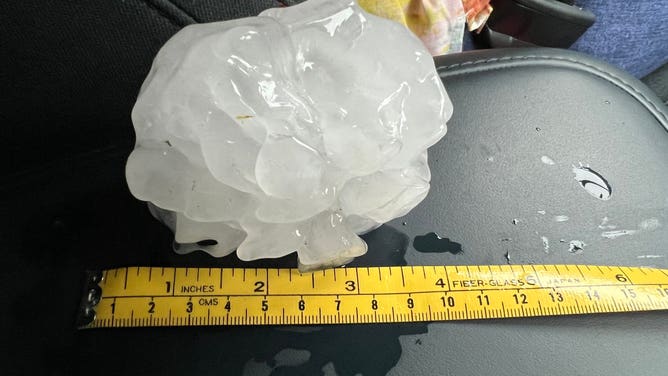 APRIL KICKS OFF AMERICA'S MOST ACTIVE TIME OF YEAR FOR TORNADOES
One spotter near Waco found a massive hailstone that measured about 4.5 inches across – about the size of a grapefruit. It's the largest hailstone measurement reported in the U.S. so far this year. 
A stone that large can fall at speeds of 70-100 mph, according to NOAA.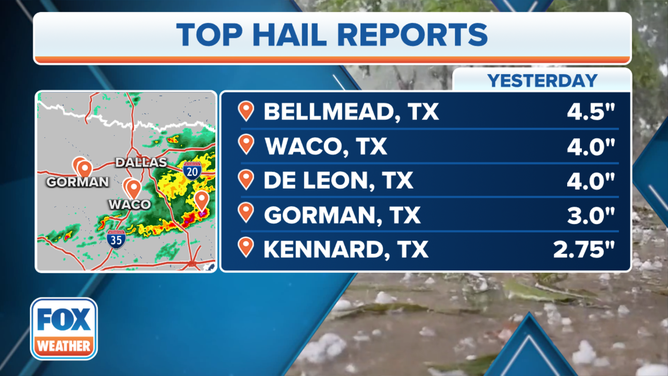 De Leon, Texas, spotters also reported hail at 4 inches in diameter, while a stone 3 inches across was observed in Gorman.
During the height of the storms, PowerOutage.US reported more than 16,000 electrical outages in the Lone Star State.
ADVICE FOR DEALING WITH STORM ANXIETY WHEN SEVERE WEATHER THREATENS
The thunderstorms also dropped heavy rainfall in Central Texas, where more than 3 inches of rain fell in just a few short hours. The local National Weather Service office issued Flash Flood Warnings for communities around Waco.
The Groesbeck Police Department reported that it responded to at least one water rescue after a car drove around a barricade and got stuck in high water. All the occupants were safely removed from the car's roof by first responders, and there were no reported injuries.

At the same time Texas was getting storms, an unusual amount of cold air aloft in combination with the Gulf and Atlantic sea breezes helped produce large amounts of hail in Central Florida.
As of Thursday morning, NOAA's Storm Prediction Center had received more than 100 reports of severe weather from Texas through Georgia and Florida.
WATCH: HAIL BATTERS FLORIDA AS SEVERE STORM THREAT PERSISTS WEDNESDAY
Second day in a row of severe weather in Texas
The multiday severe weather threat started on Tuesday evening with reported tornadoes in the Lone Star State.
The National Weather Service office in Lubbock, Texas, said it was sending out a survey team to investigate damage in Dickens County, some 60 miles east of Lubbock, after a Particularly Dangerous Situation (PDS) Tornado Warning was issued Tuesday night.
A 90-mph wind gust was reported in McAdoo, Texas, and a local emergency manager said a roof had been blown off a gas station in that community.
The Dickens County Sheriff's Office also reported multiple windows had been blown out in the town of Dickens from wind-driven hail. The NWS said it received reports of hail as large as teacup-sized (3 inches in diameter).
Severe weather threat shifts to Gulf Coast on Thursday
The risk of severe weather is expected to continue at least through Thursday, with the chance of damaging winds, large hail and tornadoes along the Gulf Coast from South Texas to southern Louisiana to parts of Florida.
Cities with the highest risk of severe storms include Corpus Christi in Texas, New Orleans and Baton Rouge in Louisiana and Jacksonville and Orlando in Florida.
Flash flooding will also be a concern across the South.