Southeast soaker: Tropical moisture teams up with stalled cold front to fuel flash flood threat
National Hurricane Center on Sunday had issued its first national outlook of 2022 for an area of disorganized storms that was located in the Gulf of Mexico
Flash flooding is likely from parts of the Gulf Coast into the Southeast and parts of the mid-Atlantic as a low-pressure system that moved inland on Sunday night has collided with a stalled cold front bringing heavy rain and thunderstorms to the region.
The National Hurricane Center on Sunday had issued its first national outlook of 2022 for an area of disorganized storms that was located in the Gulf of Mexico.
The cluster of showers and storms showed little signs of development and was given a 10% chance of becoming a tropical system.
Since moving inland, those chances have dropped to 0%.
HOW TO WATCH FOX WEATHER ON TV
However, the system produced showers and thunderstorms, along with gusty winds, across portions of the Gulf Coast, including southern Alabama and the Florida Panhandle, and Carolinas on Monday.
Many cities will have another shot of flooding rains on Tuesday.
Showers and thunderstorms are expected across the Southeast on Monday.
(FOX Weather)
---
HOW HEAVY IS IT REALLY GOING TO RAIN?
As the system advances farther to the north and east, several inches of rain are expected to fall.
In terms of totals, parts of northeastern Alabama, northwestern Georgia and southwestern Tennessee could pick up 3 to 5 inches of rain through Tuesday morning.
That's where the heaviest rain and thunderstorm activity is expected to occur.
7 FACTS YOU SHOULD KNOW ABOUT FLASH FLOODS
Several inches of rain could fall in the region through at least Tuesday morning.
(FOX Weather)
---
The heaviest rain is expected in the Tennessee and Ohio valleys and parts of the mid-Atlantic.
And as heavy rain, thunderstorms and gusty winds move across the region, flash flooding will become a concern.
Flash flooding is possible along the Gulf Coast from Louisiana to the Florida Panhandle, and to the north through the Southeast and into southern areas of the mid-Atlantic.
The areas where flash flooding is likely include cities like New Orleans, Mobile and Montgomery, Alabama, Atlanta and Macon, Georgia, Knoxville, Tennessee, and Charlotte, North Carolina.
THE 5-POINT SEVERE THUNDERSTORM RISK CATEGORY SCALE EXPLAINED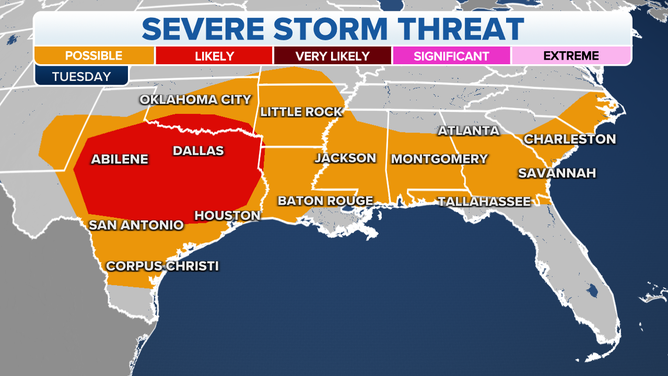 Millions of Americans are at risk of severe weather on Tuesday, with most of those at risk residing in Texas and parts of the southern High Plains.
CLICK HERE TO GET THE FOX WEATHER UPDATE PODCAST
However, severe weather is also possible along the Florida Panhandle, parts of eastern Alabama, most of Georgia, South Carolina and southern North Carolina as the low-pressure system continues to spin its way to the north and east.
Be sure to download the FOX Weather app for the latest forecast and weather alerts for your exact location, plus the 24/7 livestream of America's Weather Team.