Southeast braces for more severe weather, heavy rain on Wednesday
Heavy rain could help firefighting efforts across the Southeast
Severe thunderstorms are possible from the Florida Panhandle and southeastern Alabama into central and southern Georgia and into the Carolinas.
TORNADO WATCH ISSUED IN SOUTHEAST AS POSSIBLE TORNADOES CAUSE DAMAGE IN ALABAMA
Damaging wind gusts, large hail and a couple of tornadoes are possible in this region through late Wednesday afternoon.
HOW TO WATCH FOX WEATHER ON TV
A Tornado Watch and several Tornado Warnings were issued in southern Alabama, the Florida Panhandle and southern Georgia early Wednesday morning, and more severe storms and heavy rain are expected across the Southeast during the day.
However, NOAA's Storm Prediction Center says severe thunderstorms are "likely" in areas including Panama City and Tallahassee, Florida, Tifton and Savannah, Georgia, and Charleston, South Carolina.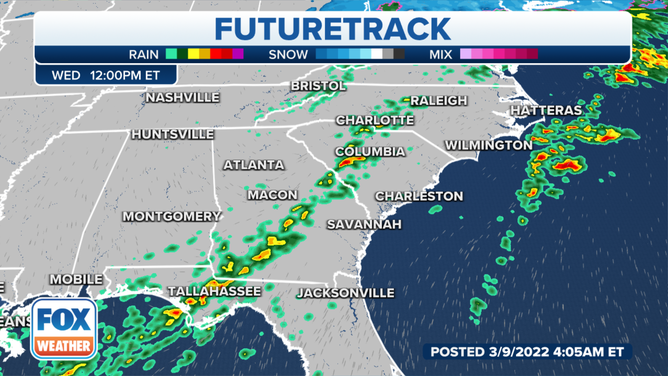 Heavier rain will be pushing across the Florida Panhandle and Georgia as the morning commute ends.
And as we head into Wednesday afternoon, showers will become more widespread from those areas, stretching into the Carolinas.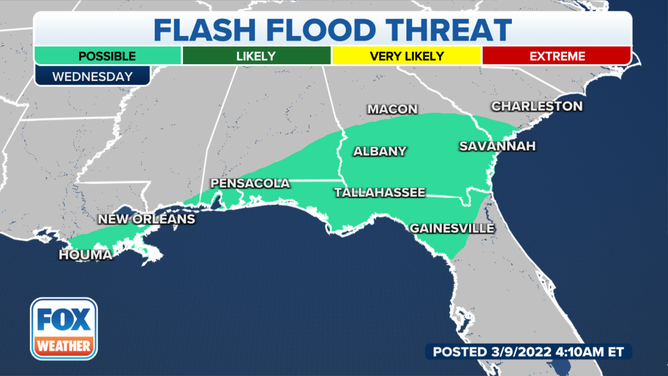 There's also the threat of flash flooding in areas where the heavier showers and storms set up.
Areas of concern include New Orleans and Houma, Louisiana, across the Florida Panhandle and southern Alabama into southern Georgia and southwestern South Carolina.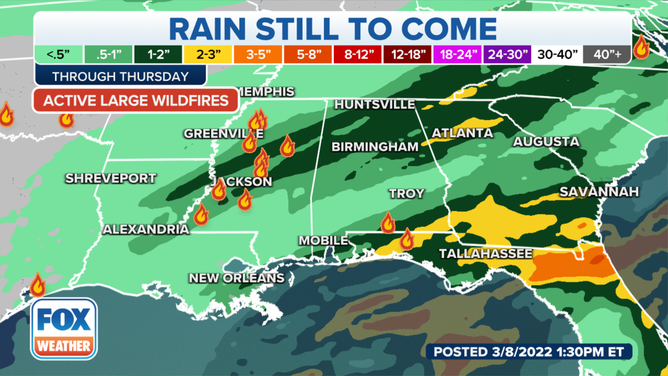 The heavier rain could also help firefighting efforts in the Southeast as several large wildfires are burning in Florida and Mississippi.
The Chipola Complex fires in the Florida Panhandle have now consumed nearly 30,000 acres with minimal containment as firefighters continue to battle high winds. Rain in the Panhandle cannot come soon enough for Florida Forest Service teams and firefighters across Gulf, Bay and Calhoun counties.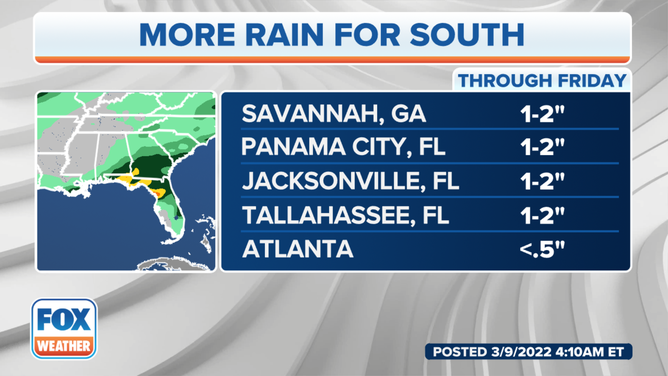 In total, several inches of rain could fall across the Southeast by the end of the week.
Savannah, Georgia, and Panama City, Jacksonville and Tallahassee, Florida, could all pick up 1 to 2 inches of rain, while the Atlanta area could see less than a half-inch.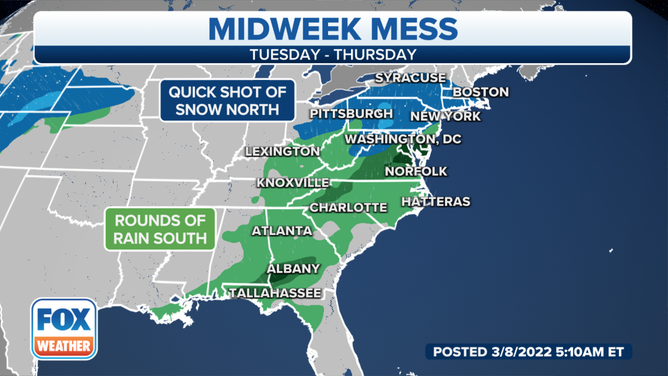 And as the Southeast deals with the heavy rain and severe thunderstorms, parts of the mid-Atlantic and Northeast will have to deal with winter weather.
NEXT SNOWMAKER TAKES AIM AT MID-ATLANTIC, NORTHEAST ON WEDNESDAY
The snow will arrive from south to north early Wednesday morning, first overspreading areas from eastern West Virginia to northwestern Virginia, northern Maryland, central and southern Pennsylvania, northern Delaware and southern New Jersey.
It will expand northward through the day into northern Pennsylvania, northern New Jersey, New York state and New England.